LA, Long Beach Ports Set Cargo Records in October
Monday, November 23, 2020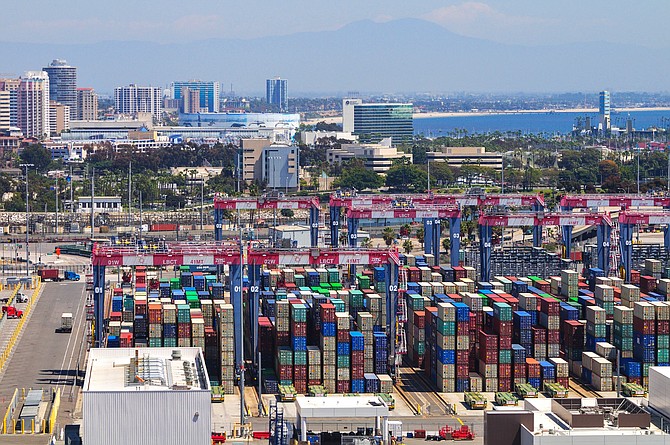 Local ports reported record cargo volumes last month, but year-to-date results for the San Pedro Bay complex are still 2% below the first 10 months of 2019.

Dockworkers and terminal operators at the Port of Long Beach moved 806,603 twenty-foot equivalent units (TEUs) in October, a 17.2% jump, which added to a total of 6,513,908 TEUs for this year, a 2.3% uptick.

The Port of Los Angeles also saw a surge in cargo to the tune of 27.3% and 980,729 TEUs last month, but year-to-date cargo volumes are trailing 2019 results by 5.3%.

"Since the summer we have moved to the other end of the spectrum when it comes to trade volume," Executive Director Gene Seroka said during a video press conference on Nov. 18. "We've now experienced a surge in imports as businesses make up for lost time and race to restock shelves and warehouses ahead of the holiday shopping period." 

The surge can also be attributed to making up shipments that were stalled by the pandemic earlier this year. The Port of Long Beach processed 94 container ships in October, 18 of which were unscheduled vessels, while its neighbor handled 97 ships and 16 extra sailings.

The increase in cargo volume is creating supply chain complexities — container dwell time on terminals has doubled to five days while street dwell times for warehouse space has doubled to seven days, according to Seroka.

"Marine terminals are getting squeezed from both sides," he said. "Vessels are coming in very full and at a faster pace. They're also looking to turn back to Asia as quickly as possible. On the other side, we see trucking and railroad resources that are stretched thin and local warehouses that are at or near capacity and experiencing reduced staffing due to physical distancing requirements. 

"This has dramatically slowed the ability to absorb cargo and return equipment such as chassis and containers back to the system. And with cargo coming into terminals much faster than its going out, containers are accumulating in large numbers, with fewer and fewer places to put them," he added.

Seroka pointed to the port's online tools, which can assist with cargo tracking, and said his team is also planning to expand financial incentives aimed at creating operational efficiencies.

"Presently, we have an ocean carrier incentive program to drive more cargo here to Los Angeles," Seroka said. "In a few weeks, port staff will present to the Los Angeles Harbor Commission two unique programs for cargo terminals. One is a turn-time incentive that will pay for every minute turn times are reduced. The faster a truck gets in and out of our terminal, the more the terminal will be monetarily rewarded. 

"Additionally, our board will consider a dual transaction incentive. That means for every trucker that comes to the port, terminals will be monetarily rewarded to make sure the trucks enter the gate with a container and also leave with one," Seroka said. "We believe these financial incentives will in part play a role in assisting to approve efficiency."

Seroka said he anticipates a double-digit increase in cargo volume for the rest of the year, projecting a 23% jump for November and a 12% rise for December, depending "on the fluidity of the supply chain and the ability to get the ships in and out of berths."

Port of Long Beach Executive Director Mario Cordero also hedged his enthusiasm.

"The peak holiday shipping season is supporting our ongoing recovery and record highs, but we are now facing a new wave of Covid-19 cases spreading across the country and remain locked in a trade dispute with China," he said in a statement. "We are optimistic about the gradual economic recovery while bracing for any shocks still to come."
For reprint and licensing requests for this article, CLICK HERE.