Bobacino Brings Automation to Trendy Bubble Tea
Monday, November 23, 2020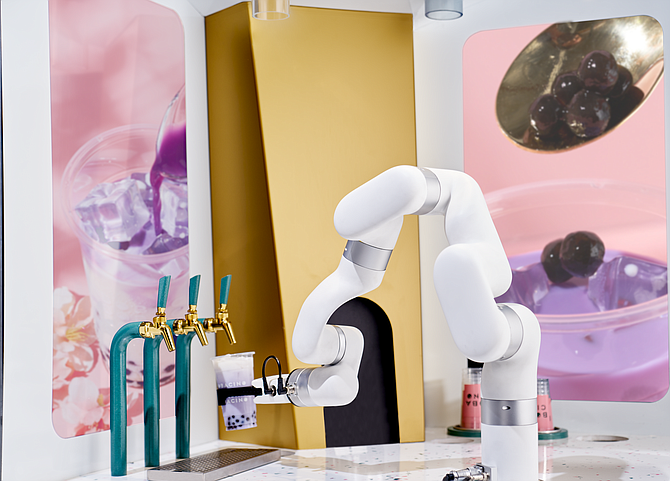 As the restaurant industry embraces new forms of high-tech automation, a local startup is applying robotic technology to the trendy bubble tea business.

Future Pearl Labs Inc., doing business as Bobacino, unveiled a prototype of an automated tea bar on Nov. 17, which it says can produce multiple flavors of milk tea complete with tapioca pearls, or boba.

Chief Executive Darian Ahler said the automated technology could, in the short term, draw in customers concerned about the safety of food service amid the Covid-19 pandemic.

"In this time, people want to feel safe," he said. "Automation is a great opportunity for people to still get the beverages they love and feel assured that what you're getting is still going to be delicious but hasn't been handled."

Should concerns about the spread of the virus dissipate, he said, the automated tea bar could be successful in spaces that are now largely deserted — like college campuses and shopping centers.

The company's robotic bubble tea maker will face competition, however, from restaurants and coffee shops already serving the beverage, which originated in Taiwan and became popular in the United States in the 1990s.

According to research from Coherent Market Insights, the global bubble tea market was valued at more than $2 billion in 2018 and could surpass $3 billion by 2027.

Ahler said Bobacino's product could be leased by restaurants looking to add the beverage without having to train staff to prepare orders containing a relatively complicated array of flavors and sweetness levels.

The machines could also work outside traditional coffee shops and restaurants, he said, occupying tiny storefronts with relatively low rents.

Early investors in Bobacino include Wavemaker Partners and Embark Ventures. The automated tea bar was developed in Santa Monica at Wavemaker Labs, which also birthed food automation startup Miso Robotics Inc.

Bobacino aims to draw in funds to develop the product further in a seed capital round through crowdfunding site StartEngine. The company has a $3 million goal for the round.

Ahler said the company's goal is to use those seed capital funds to scale up its business and bring the robotic tea bar to market by the second half of 2021.

"The first step is to raise some money," Ahler said. "That will accelerate our product development, so we can get this thing out into the market."
For reprint and licensing requests for this article, CLICK HERE.