Lundquist Institute Approved to Build Big Biotech Park Near Torrance
Tuesday, November 17, 2020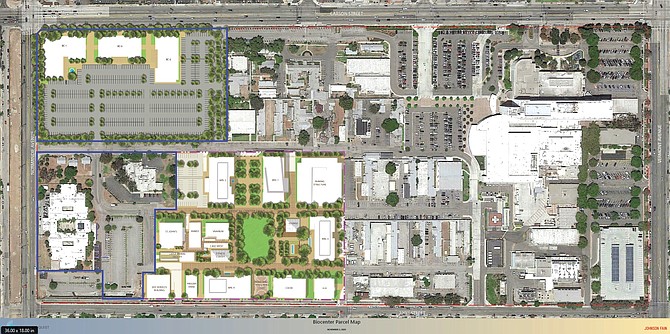 The Lundquist Institute's proposal for a 15-acre biotech park near Torrance has been approved by the Los Angeles County Board of Supervisors.
The project will sit on the campus of county-owned Harbor-UCLA Medical Center.
The Lundquist Institute was granted a 55-year ground lease on the site with two 20-year extension options to develop the campus.
The institute already occupies space on the campus, where it opened BioLabs at the Lundquist last year.
The site is now home to more than 20 early stage startups. The fact that space filled up so quickly, David Meyer, president and chief executive of the Lundquist Institute said, "speaks to the need for space for startup companies in L.A. County."
The new Lundquist project will allow companies to move from BioLabs to a larger property with permanent office space and expanded services.
Meyer added that he hopes the new development will help keep bioscience companies in L.A. instead of having them move to the Bay Area or other regions as they grow.
"The Lundquist Institute is a transformational asset to the region, and I am proud it will become the home of this revolutionary biotech park," Supervisor Mark Ridley-Thomas said in a statement. "I have long been a proponent of establishing a bioscience hub in Los Angeles, and this is concrete and catalytic progress to realize that dream. The bioscience boom is on its way to L.A."
The new project will replace World War II-era barracks that were built when the hospital was used as a military facility.
The biotech park is expected to become home to both established companies and early stage startups.
The first phase of the project will build out three buildings totaling up to 250,000 square feet and will include a laboratory, manufacturing and office space.
In all, the biotech park will cover 15 acres divided into a north and south parcel. The north parcel will be developed first and already has necessary clearances.
The Lundquist Institute is looking for a developer for the project.
"Our goal is to have a qualified developer come in, design the facility, build the facility and run the facility," Meyer said.
"We don't want to assume a lot of risk by getting into a business of real estate and real estate developer," he added
The Lundquist Institute holds the space under a ground lease and plans to sublease it to the developer.
For reprint and licensing requests for this article, CLICK HERE.