Tennis Clubs, Pros Struggle to Keep Pace With Demand During Covid
Monday, November 16, 2020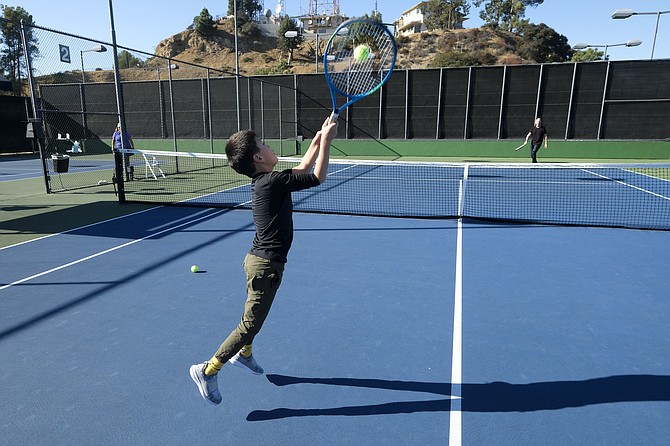 At Mulholland Tennis Club, situated high in the hills of Beverly Crest, business these days is anything but usual.

The membership-only club is open but with strict protocols, shorter hours and limits on how much of the club players can access because of Covid-era restrictions.

"Before members could come in, go to any area they'd like," said Celine Ramillon, the club's general manager. "Now, everything is reservation only. It's a big shift for our members. We have had to completely overhaul how we run the club." 

But these adjustments aren't stopping members from coming out. 

John Austin, director of tennis at Mullholland Tennis Club, said seven of the club's courts are at capacity during peak hours. And when it comes to lessons, Austin said he's 35% busier compared to this time last year. 

Tennis clubs, clinics and coaches across L.A. County are experiencing a pandemic-fueled boom in demand for court time and lessons. 

The sport is largely socially distanced and carries a low risk of coronavirus transmission, according to health experts. Add in L.A.'s year-round warm weather, and it's not surprising the game is thriving here.

"All across the country, tennis pros have been just swamped," said John Embree, executive director of the Orlando, Fla.-based United States Professional Tennis Association. 

"Business is way up as compared to pre-pandemic times. They can't keep up with the demand. It's a phenomenon we didn't anticipate."

Reduced revenues

While tennis businesses in Los Angeles are struggling to keep pace, restrictions on lessons, group activities and court availability have dramatically curtailed revenues.

At Mulholland Tennis Club, for instance, the nonprofit facility has seen revenue plummet to $1.4 million this year compared to nearly $3 million in 2019. 

The club furloughed 30-40 workers in March due to the pandemic lockdown. Now, it has 70% of them back, working different roles due to pandemic-era adjustments.
On weekdays, the club opens at 7 a.m. instead of 6 a.m. like it did before the pandemic, and it closes at 8 p.m. instead of 10 p.m.

A check-in station is set up outside where staffers take members' temperatures. Members also must complete a quick Covid evaluation, answering a series of questions every time they enter the facility. 

There's a section of shaded tables where members can grab snacks and drinks because the indoor dining options are closed. Courts, pools and other facilities are all reservation-based.

Group lessons that used to accept 10 to 15 people are now limited to just four.
"The staycation concept that happened after 9/11, it's the exact thing now. People don't want to get into planes. They are participating at facilities they are members in," said the USTA's Embree.

The boom extends to tennis equipment suppliers. According to the Chicago-based Tennis Industry Association, big-box retailers like Dick's Sporting Goods Inc., Target Corp. and Walmart Inc. have experienced high demand for racquets, with more than 100,000 additional shipments in 2020 compared to 2019. Racquets for beginners start at about $20, whereas high-end racquets are priced well north of $300.

Colleen Connors, membership and communications director at Los Angeles Tennis Club in Hancock Park, said the club has seen a huge uptick in interest and participation.

Reservations required

In addition to courts and other facilities at the club now available only by reservation, group activities are heavily restricted, and programs like summer camps or tournaments have changed to adapt to regulations established during the pandemic by L.A. County. 

Still, members are coming in to play.

"People talk about just seeing people on the other side of the court. We're craving relationships, connections, but we need to do it at a distance," Connors said.
Open time slots on the club's 16 courts are hard to come by, especially during the evenings. 

"Starting at 2:45 p.m. up until 9 p.m., we're about 90% booked, including lessons. And that's on a Tuesday night," said Cari Buck, tennis director at the Los Angeles Tennis Club. "There's a lot of times I get a call saying there's something wrong with the app. I tell them the courts are all booked. It's a good problem to have."

Rodger Lolley, head pro at Marina Racquet Stringers at the Pearl Apartments in Marina del Rey, said he's busier than ever with racquet repairs, regripping and restringing. 

"People are coming out of the woodwork, and they bring in a toxic waste of a racket with the grips so bad they are returning back to oil," Lolley said. "I haven't put that many grips on in my entire life." 

Interest in lessons, he added, is triple what it was as this time last year. "It's absolutely a boom," he said during a call between lessons.

The biggest challenge pros face, Lolley said, is finding courts. He said people came from as far as Pasadena to play at Pearl Apartments, but he had to show them the door because they weren't residents.

Shawna Wilson, founder of West Los Angeles-based SBW Tennis Academy, which works out of private homes, echoes similar sentiments. She has a list of 20 people waiting for time slots.

 "The biggest problem we have in our industry is courts. There's so many people that want to play and will pay a high price to play," said Wilson, who oversees five pros and six private courts located in Pacific Palisades, Brentwood and Santa Monica. 

Although SBW had to cut down on the number of people allowed for clinics and tournaments, Wilson said business is busier than ever. 

She said SBW and its pros "haven't really experienced financial difficulties."

Bookings for lessons, which run $130 to $150 an hour, have increased 10% since the pandemic began, and she's been getting more calls and inquiries about lessons. 

Wilson's main concern now goes back to the need for more courts. "If I had more courts," she said, "I'd hire more pros to teach."
For reprint and licensing requests for this article, CLICK HERE.