ROKiT Group Adds Ebikes to Growing Portfolio of Consumer Products
Monday, November 16, 2020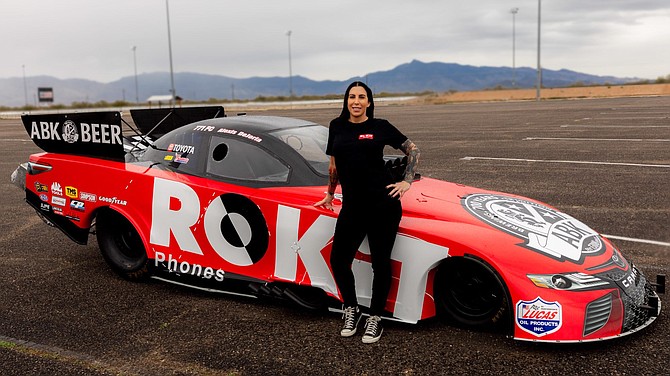 Rokit Group of Cos.' latest venture, Rokit Made, is poised to take advantage of a growing consumer trend — electric bikes.
The Pacific Palisades-based company plans to set up shop in Las Vegas and assemble e-bikes with parts manufactured overseas. The 150,000-square-foot facility, dubbed the Orb, is expected to produce some 25,000 e-bikes each month and to be fully operational by Aug. 1.
The venture will create "between 1,000 and 2,000 jobs in the first 36 months," according to Rokit Made Chief Executive Dean Becker.
Las Vegas surfaced as the prime location for the e-bike factory.
"We like the climate, we like the weather, we like the job market, we like the cost of living, and it's very close to our facility in California," Becker said. "It's easy for us to get up and back, and it's in a (foreign trade zone). We import our products from around the world, and as long as they stay in our facility, we don't pay any duties until we ship them out."
Market indicators suggest Rokit's timing is spot on. Domestic e-bike sales grew 190% for the 12-month period that ended in June, according to New York-based researcher NPD Group Inc. The United States imported some 278,000 units last year, up from 140,000 in 2015.
Rokit Made has licensed the exclusive rights to 10 e-bike designs from established brands and plans to add more. The e-bikes will be available for purchase online and in stores. Becker declined to name the brands or its retail partners, saying the company is "very tight-lipped because right now we're working on putting ourselves into a public vehicle."
He was referring to Rokit Made's plans to merge with a special purpose acquisition company, or SPAC.
Also known as blank-check companies, SPACs are business entities that have no operations of their own. They are created to raise funds through initial public offerings. Managers then use the funded vehicle to acquire a target business looking to go public in a reverse merger.
Rokit Made's merger is expected in the first quarter of next year, and it will provide additional growth capital, according to Becker.
Rokit Group, the parent company, will not be part of the SPAC.
Co-founded in 2018 by serial entrepreneur Jonathan Kendrick and John Paul DeJoria, a billionaire behind the Paul Mitchell hair care and Patron tequila brands, the group has its hands in many pots — it sells mobile phones, Wi-Fi services, beverages, and produces and distributes interactive content.
Rokit Group employs some 900 workers and runs offices in China, Japan, India, the United Kingdom, Vietnam and Singapore, among others.
In addition to Rokit Made, it operates Rokit Cities, a division that provides Wi-Fi hotspots in developing communities; and Rokit Drinks, which employs some 120 workers and sells Bandero tequila, ABK beers that are brewed in Bavaria, Iskabar Scottish mineral water and Rokit Fuel energy drinks. Rokit Drinks is focusing on building out the California market and then will expand to other markets, according to the company.
Rokit also has a smartphone division, Rokit Phones. The phones come with ID theft protection, accidental death insurance, roadside assistance, and burial and cremation insurance plans. In March the division became a founding sponsor of Allegiant Stadium, home of the National Football League's Las Vegas Raiders. Rokit also sponsors Alexis DeJoria, funny car racer and John Paul DeJoria's daughter.
In May, the group partnered with MeMD in Phoenix to launch the Rokit Telemedicine app, which provides access to a virtual consultation with a doctor, and when necessary, sends medication prescriptions to the user's pharmacy. The service requires a $10 monthly subscription fee and $38 for each consultation.
And there's more — Becker, according to his LinkedIn profile, also runs Rokit Pharma, a public-benefit corporation "dedicated to combating cancer through more natural sources."
"We are an interesting group of companies that are self-funded, and we call ourselves a venture capital conglomerate," he said. "We own majority or 100% of every one of our ventures. We are not investors; we are operators."


Rokit Group of Cos.

FOUNDED:
2018
FOUNDERS:
Jonathan Kendrick and John Paul DeJoria
HEADQUARTERS:
Pacific Palisades
CEO:
James Andrew Gold
BUSINESS:
Venture capital conglomerate
EMPLOYEES:
Nearly 900
OFFICES:
China, Japan, India, United Kingdom, Vietnam and Singapore, among others
DIVISIONS
: Rokit Made, Rokit Cities, Rokit Drinks, Rokit Pharma, Rokit Phones
For reprint and licensing requests for this article, CLICK HERE.