Pivot to PPE Products Pays Off for Liberty Paper
Monday, November 16, 2020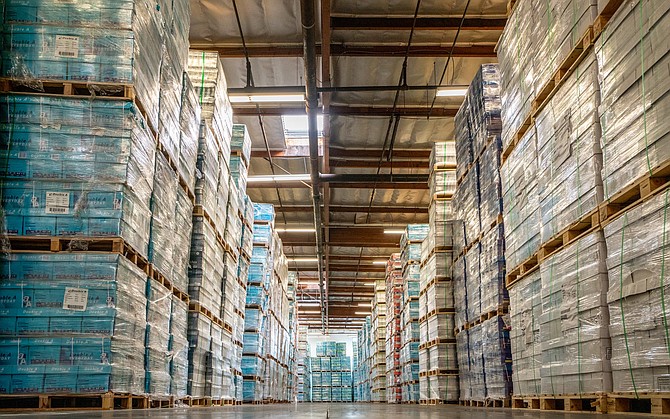 The pandemic could have easily tanked Alex Ismail's business.

His company, Liberty Paper, focused on delivering crates of copy paper to schools and offices — a commodity that was not in high demand during the Covid-19 shutdown.

Yet the Vernon-based firm not only survived, it's thriving.

"We've done extremely well this year, and if things go well, our revenue should be around $75 million," Ismail said.

He attributed the anticipated 17.5% year-over-year increase in sales to his team's ability to cash in on established relationships with overseas companies to pivot from importing copy paper to personal protection equipment such as face masks, face shields, gloves and hand sanitizers.

"At the end of March, we were approached by our big clients, because there was a run on the hand sanitizers," Ismail said. "I used my sourcing ability and connections to get them made in Korea, where I buy copy paper, and we brought in millions of bottles for Walgreens, CVS, Kroger Foods and Ross Dress for Less and many other accounts. These hand sanitizers were not for resale but primarily for their own employees."

"We were also able to sell them masks from China, and then they said, 'OK, can you also get us wipes?' And the next thing you know, my paper business is completely dead, but I'm here sourcing wipes from China," Ismail added.

Before the pandemic, Liberty Paper was importing about 3,000 truckloads of copy paper from various paper mills, including Smurfit Kappa in Dublin; Hankuk Paper Manufacturing Co. Ltd. in South Korea; and April Group in Indonesia.

"We have (third-party logistics) warehouses at all major ports in the U.S. — Seattle, Oakland, Los Angeles, Houston, Savannah, Baltimore and New Jersey," Ismail said. "We have our own trucks for deliveries in the greater L.A. area, and besides that we use third-party trucking."

Liberty Paper's client list included Los Angeles County, local school districts and offices, as well as the Social Security Administration and the military. The company also has wholesale accounts with CVS Pharmacy Inc., Costco Wholesale Corp., Sam's Club, Wakefern Food Corp. and other big-box retailers.

Ismail acquired Liberty Paper in 2001 when it was a small outfit serving a handful of local offices, and now it has 20 employees. Over the years, his team faced several challenges as they grew the business, including anti-dumping duties the Commerce Department imposed in 2016 that forced Liberty Paper to change paper suppliers, as well as an ongoing push to reduce paper consumption.

"People always say, 'Everybody's busy cutting off paper, and your company keeps growing,' and the answer to that is that we are resilient," Ismail said. "We don't expect any of our customers to buy more; we just take more and more of market share from our competitors. We run a very lean organization, we are very good at what we do, and we take care of our customers."

The pandemic pushed him to expand his product line, something that he's been contemplating for a while.

"We've always been focused on one thing — copy paper," Ismail said. "I have thought about expanding into packaging or diversifying my business, but I always struggle with it … all it did is slow down my progress in copy paper. But when the copy paper completely stopped, it forced my hand."

Once the pandemic is over, Ismail said he expects a couple of his competitors will probably be gone, which will help Liberty Paper gain a larger share of the market.  

"We will probably be even stronger on the copy paper side, but I think we'll have a couple of lines of PPE (and) carry that as part of our offering as we move forward
For reprint and licensing requests for this article, CLICK HERE.