LAX Would Add 2 Terminals Under New Proposal
Monday, November 16, 2020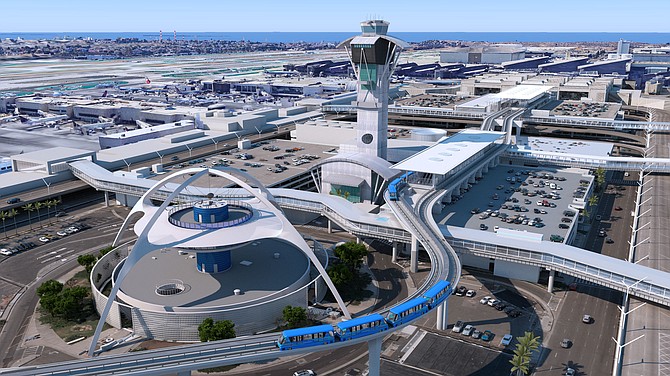 Plans for two new terminals at Los Angeles International Airport took a step forward late last month as airport officials released an environmental planning document.

The document — the centerpiece for a series of hearings expected to take place in coming months — said major construction on Concourse 0 and Terminal 9 would begin in late 2023.

Preliminary construction, including utility relocation and site preparation, could begin as early as next year. Work is expected to wrap up in time for the 2028 Summer Olympic and Paralympic Games.

Concourse 0 would be attached to the southwest corner of Terminal 1, which is now occupied by Dallas-based Southwest Airlines Co.

The passenger terminal would include up to 745,000 square feet of space and nine new gates. There is also an option for an additional 318,000 square feet of office space for airport staff.

Terminal 9, meanwhile, would be located southeast of the main airport entrance and its iconic light pylons, across Sepulveda Boulevard from the main terminal loop.

The 1.2-million-square-foot facility would include 12 aircraft gates initially, with the capacity to expand to 18. It would be connected to the main terminal loop through a pedestrian bridge over Sepulveda Boulevard, though there would also be separate passenger drop-off and pick-up areas.

The Terminal 9 project would also include a station to connect to the people mover line now under construction.

Both terminals would have the ability to house the Customs and Border Protection facilities that are required for international flights.

The project also includes numerous ancillary facilities and improvements, such as parking structures, new roadways and airfield taxiways to ensure access to the new terminals.

All of this would require the relocation of several existing facilities at the airport, including an air cargo terminal operated by Mercury Air Group Inc., the recently established LAX-IT parking lot that consolidates rideshare and taxi pickups and the aforementioned light pylons.

The environmental document does not include costs, although given the scope of the proposal the total price tag could top $5 billion. That would be in addition to the $14 billion in current terminal and ground access improvements, which include a $2 billion people mover and a $1 billion consolidated car rental facility.

Ironically, the plans for the new terminals were released at a time when existing airport terminals have been forced to close due to lack of passenger traffic as the Covid-19 pandemic has slammed the air travel industry.

LAX air passenger traffic in September was down 75% compared to September 2019, and overall passenger traffic for the first nine months of 2020 was down about 66% from the same period in 2019.

The environmental planning document includes alternatives to building both terminals, including no new terminals or just one of the terminals.

An airport spokesman said earlier this month that the recommended alternative remains building both new terminals. Heath Montgomery said that's because airport officials expect passenger traffic growth to resume later in the decade and, by 2028, passenger counts are expected to again outstrip the capacity of the existing terminals.
"In order to meet projected future activity levels for 2028 and beyond, it was determined that both C0 and T9 facilities would better meet that future demand," Montgomery said.

Prior to the pandemic, 18 remote terminal gates at the western end of the airfield were being used with increasing frequency when all available gate space was taken at the eight existing terminals and the Tom Bradley International Terminal. Passengers aboard those flights using the remote gates then had to be transported on shuttles to the main terminal loop.

Alleviating that gate crunch was one of the main driving factors for the proposed addition of the two terminals, according to the environmental document.
For reprint and licensing requests for this article, CLICK HERE.