Broadway Financial Reports Loss Ahead of Merger
Wednesday, November 11, 2020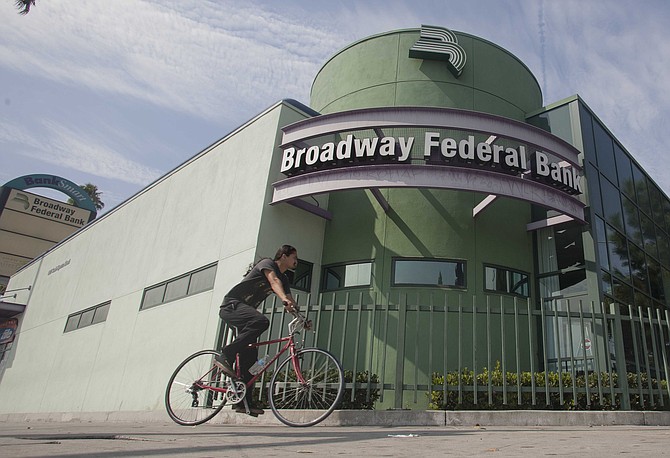 Hancock Park-based Broadway Financial Corp. reported a net loss of $244,000, or 1 cent per share, in its third-quarter earnings. The results were up roughly 12% from the same quarter last year, when the banking company reported losses of $279,000.

Net interest income for the quarter was $3.4 million, up $1 million from the third quarter of 2019. The bank attributed this boost largely to higher interest income and fees on loans receivable.

The third-quarter gains were nullified by both growing expenses and a decline in non-interest income. These included an increase in non-interest expense of $588,000 and a $271,000 increase in income tax expenses. The bank also paid professional services expenses of $840,000 in the third quarter, more than 70% of which were attributed to its planned merger with CFBanc Corp., announced in late August.

Broadway and CFBanc are among a relatively small number of Black-led banking institutions across the country. The two banks made headlines on their merger announcement, which would create the largest federally insured, Black-led commercial lending institution in the United States, with assets under management of more than $1 billion, according to the banks.

The new company, to be dual-headquartered in Los Angeles and Washington D.C., will retain Broadway Financial Corp.'s branding as the title of the combined holding company, while aligning its banking subsidiaries under the City First Bank brand.

Management commentary on Broadway's earnings largely focused on the pending merger. In a statement, Chief Executive Wayne Bradshaw attributed much of the incremental expense in the quarter to merger-related costs.

"The financial impact of the merger on Broadway's results for the third quarter was manifested in significantly higher fees for legal and financial advisory services, which totaled $595,000 for the quarter, and higher income tax expense because of the non-deductible nature of certain merger costs," Bradshaw said. "These non-recurring expenses offset the strong performance by the Bank."

Bradshaw added, however, that the one-time expenses were necessary to Broadway's plans for achieving long-term profitability.

"The merger is expected to lower Broadway's cost of funds, expand the Bank's product lines and reduce loan concentration levels that have persistently compelled Broadway to sell loans over the past seven years, including $77.4 million of loans this year," he said.

The impact of Covid-19 to date on the bank appears mild relative to other lenders. Broadway said it has had no Covid-related loan defaults and has not received any requests for loan modifications — such as deferment or forbearance — to date. The bank also said it has not laid off or furloughed any of its employees as a result of the pandemic.


For reprint and licensing requests for this article, CLICK HERE.