Virgin Hyperloop Sends First Passengers Through Test Tunnel
Monday, November 9, 2020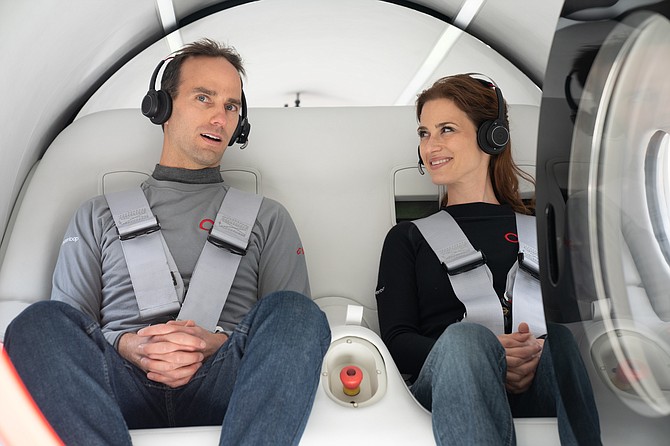 Transportation technology company Hyperloop Technologies Inc., doing business as Virgin Hyperloop One, transported live passengers for the first time on Nov. 8.
Chief Technology Officer Josh Giegel and passenger experience director Sara Luchian were the first humans to ride through the futuristic hyperloop system that the company has been developing since it was established in 2014.
Downtown-based Virgin Hyperloop is focused on the production of vehicles that travel at high velocities through tunnels in which vacuum-like conditions have been created.  
The company has completed multiple tests of the technology, but this is the first time it has transported human passengers.  
The test was overseen by an independent railway safety assessor and took place at a 500-meter test track in Nevada, where Giegel and Luchian rode in a small pod with two seats.
According to the company, the vehicle reached a top speed of 48 meters per second, or just over 100 miles per hour.
Chief Executive Jay Walder said that the test should help to answer questions about the safety and viability of hyperloop technology, which multiple companies have been racing to perfect since the concept was introduced in a study jointly released by Tesla Inc. and Space Exploration Technologies Corp. in 2013.
"With today's passenger testing, we have successfully answered this question, demonstrating that not only can Virgin Hyperloop safely put a person in a pod in a vacuum environment, but that the company has a thoughtful approach to safety which has been validated by an independent third party," Walder said in a statement.
Eventually, the company plans to develop cars large enough to carry up to 28 passengers at a time.
In September, Virgin Hyperloop inked an agreement with Bangalore International Airport to study the feasibility of developing a passenger transport system to and from the airport.
The company also has its eye on potential domestic contracts and last month announced plans to build a certification center in West Virginia with a six-mile test tunnel.
The company says the center will be a place to prove the safety of its hyperloop technology and to complete certifications necessary to compete for federal transportation dollars.
For reprint and licensing requests for this article, CLICK HERE.