AccessHope Looks to Build Cancer Care Network
Monday, November 9, 2020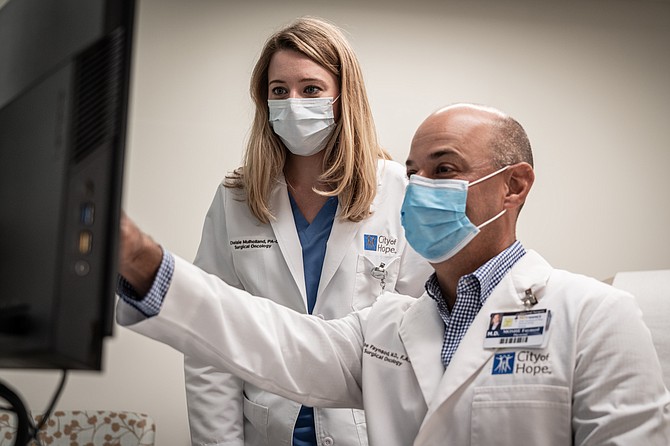 A year ago, Duarte-based City of Hope launched AccessHope, a spinoff company that provides employees of large, self-insured employers access to its cancer treatment specialists. 

It was City of Hope's first large-scale foray into providing services directly to employers.

Now, with 34 large employers signed up, AccessHope is looking to expand to tap into a nationwide network of cancer centers.

Under the current AccessHope program, employees with cancer diagnoses are able to add City of Hope cancer specialists to their own oncologists' treatment teams. 

The aim is to improve diagnosis and treatment plans for employees who become cancer patients. The actual treatment is still carried out at the employee/patient's medical provider, but with the help of City of Hope specialists. 

"With over 100 subspecialties of complex cancers, it's not possible for a single oncologist to keep up to date with all the developments and improved understanding of each specific type of cancer," said Mark Stadler, AccessHope's chief executive. "That's where the AccessHope specialists come in. With the knowledge they bring, outcomes for patients can be improved."

Stadler said the company has targeted the self-insured employer market because for those companies, cancer treatment consumes between 10% and 15% of their entire health care budget. AccessHope's goal is to cut that cost through improved diagnoses and access to the latest treatments.

AccessHope offers three services. The first works with the employee/patient's oncologist in a peer-to-peer review of the most appropriate treatment for the patient's specific subspecialty of cancer.

The second offers the patient a chance to get a second opinion from the most appropriate specialist from City of Hope's oncologist teams.

The third service provides a cancer support team to answer treatment questions from patients.

Over the past year, AccessHope has enrolled 1.9 million employees and dependents from 34 companies. Stadler said each employer negotiates separately with AccessHope for the mix of services and the cost of the physician consulting.
 
He declined to disclose how much employers are paying to enroll employees in the program. And he would not reveal the names of companies, save one that has been previously publicized: Seattle-based Amazon.com Inc.

AccessHope has a staff of about 60 to administer and coordinate physician services. That team shares office space with City of Hope at the latter's Duarte headquarters.

Now, Stadler said, AccessHope is beginning to branch out beyond City of Hope. The spinoff company is in discussions with four other cancer centers about adding their specialists to its consulting network. Stadler would not name the cancer centers, saying the discussions are still in preliminary stages.

"Our vision is to bring in as many of the 51 national cancer centers as possible to participate in the AccessHope program," he said.

If and when these cancer centers are added, Stadler said, that would be the point when the company cuts its remaining cords with City of Hope and becomes a completely separate company. 

Stadler added that the company wo
uld search for a new corporate office if the growth continues. "We do expect the new headquarters to be somewhere in Southern California," he said.
For reprint and licensing requests for this article, CLICK HERE.