Skanska Gets De Briere Back in the Game
The LABJ Interview
Monday, November 2, 2020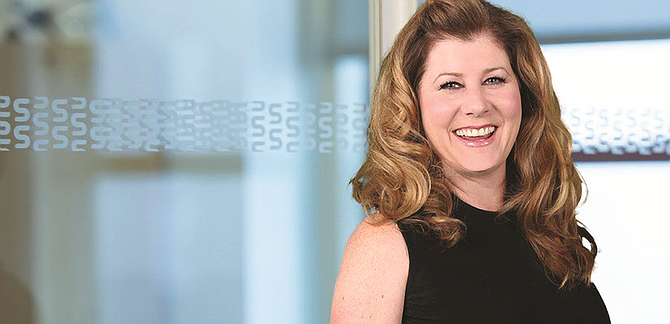 After more than 25 years at Ratkovich Co., it seemed Clare De Briere had done just about all she could do in commercial real estate.

During her time as the company's executive vice president and chief operating officer, she oversaw iconic projects including the Hercules Campus in Playa Vista and the Bloc downtown.

For the Hercules Campus, Ratkovich transformed the aircraft production facility where Howard Hughes manufactured the H-4 Hercules, also known as the Spruce Goose. The hangar was turned into creative office space, with nods to its original use. 

Ratkovich also helped convert the Bloc — a 1.8-million-square-foot office, hotel 
and retail complex — into an open-air shopping mall that counts Macy's and Alamo Drafthouse Cinema among its tenants.

De Briere left Ratkovich in 2016 and unplugged, traveling the world with her husband. Her new life, however, was interrupted by a new opportunity.

Skanska, which was launching a commercial development division in L.A., convinced De Briere to reenter the workforce and lead the unit as executive vice president.
The company's 100-year history in L.A is dotted with major projects — the Metro Purple Line extension and the 6th Street Viaduct replacement among them — and Skanska has invested more than $2 billion in projects in gateway cities since 2009. The company finances most of its own projects and serves as its own construction manager.

De Briere spoke with the Business Journal about returning to the industry, the impact of Covid-19 on the business and the importance of landscaping for every project.

How has Covid affected what you are doing with Skanska and the projects you are working on?

We have regular meetings constantly with each other and our team and are always on the phone with each other or on video calls. Our connection is super strong. I think we're a little bit less efficient, a little bit less productive and maybe even a little bit less creative. It takes more work to be as productive, as creative and as efficient.

Does the pandemic change the kinds of buildings Skanska develops?
As far as our buildings go, we haven't really been terribly impacted by it. The kinds of buildings that Skanska builds are exactly what a post-Covid world wants to see. We do everything to LEED Gold or LEED Platinum, which means we have phenomenal air quality.

Are there certain things that give Skanska an advantage in this environment?
We have a ton of innovation and technology that we try to inject into all our buildings. We have touchless elevator systems and door systems and concierge systems. And controlling your AC, you can do it on an app on your phone, and you don't have to worry about calling anybody or touching anybody.

How did you get interested in real estate?
I was a history major at UCLA, and I took a series of classes at UCLA about the history of architecture. … We talked about cities and their ability to change the way people live their lives and how improvements and changes in architecture can have people come together, pull people apart, have them live and work in a more dense area, have them be more efficient. As a city builder, you have the ability to change people's lives on a daily basis. I hadn't ever thought about it like that before.

What were your first steps after graduating?
The only developer I knew was Wayne Ratkovich. I went to him when I was right out of college and said I want to be an architect and he's like, 'Well that is a terrible job.' I'm paraphrasing, by the way. It was a long time ago.

But you still tried your hand at architecture, though?
I went and worked for an architecture firm for a year, and I loved the people I worked with and the firm was great, but the actual job of being an architect was not what I wanted to do. But I still was in love with this idea of being a city builder.

What appealed to you about the development business?
When we made presentations to developers, I kept thinking, I want to be on that side of the table, the side of the table that gets to make the decisions on what property to buy and what to do with it. I really care about design, but I didn't necessarily need to be the one creating the design. I wanted to be the one creating the (building) and the mission and what was going to be at the sites. And then, a year after that, I started working with Wayne, and I never looked back.

What was your career like at Ratkovich Co.?
I started as an intern. I had a lot of jobs there over the course of 26 years. I was a development manager. I oversaw leasing, construction for (tenant improvements) and things. I did property management there. ... Ultimately, I was the chief operating officer there for about a decade, maybe a little longer.

Why leave Ratkovich Co.?
I retired. I was turning 50, and we had sold a couple of really awesome projects, and I wanted to travel the world forever. My husband was totally game to go with me, and we did. We traveled for a year and a half, and we had to come home at some point, so we came home.

What drew you back into the business?
I hadn't had any intention of working again, but this opportunity (with Skanska) came up that was so unique that I couldn't say no. It was too good of an opportunity to continue to do the thing that I love to do.

What was it about Skanska that pulled you in?
I went and sat down with Dave Schmidt, who is our chief operating officer, and the woman at the time who was our chief strategy officer, and we spent the entire time talking about values and what we valued as developers and builders. My interests and values were so in line with theirs, like their focus on sustainability.

Which aspects of Skanska did you find so appealing?
The platform that Skanska has really gives us the flexibility to do the right thing at the right time for the property. We are 100% self-
financed, so we don't have to worry about any sort of skewing of doing the right thing that could be caused by having an equity partner whose portfolio manager has changed and now they don't like office so you have to do residential, or vice versa.
Or having a bank that has to be paid interest. Well, you don't really want to start your construction if it's not the right time because of Covid or whatever it is, but you have to because you're going to lose your financing.

That financial independence makes a big difference?
It gives you such freedom to take advantage of buying things in a really short time frame. If somebody needs to sell and needs to sell quickly, we can do that. Or we can buy something and know that that market or that neighborhood is going to be changing in a few years, but we have a great opportunity to buy something now. We can buy it and sit on it for a few years and wait until the market reaches where we think it is going to be and then develop it.

It must be energizing to have such flexibility.
I've never had that kind of freedom before and that kind of flexibility. I was completely intrigued. It was like somebody designed a dream job for a developer, and they were offering it to me. You just can't say no.

You're a big proponent of landscapes in projects. What's the appeal of that aspect for you?
(Current Skanska project) 9000 Wilshire is a great example of why I think this is so important. Particularly when we live in Southern California, and we have the kind of weather that we have here, having the ability to go outside and get some sun in the middle of the day and having that be easy (is great).

It sounds like the outdoor space matters just as much as the indoor space to you.
There's something incredibly restorative about having a beautiful outdoor space to be able to use as a retreat even if you're not really retreating, even if you are still working. Being able to work in nature and have it feel like nature — not an overly sculpted Versailles kind of experience, but something that feels natural and warm and embracing — it provides your brain a little bit of rest. I think having opportunities like that are really critical in this urban environment we're living in.

What projects does Skanska have in the works beyond 9000 Wilshire?
We have projects all over the city. We think L.A. is the place to be and the place to grow, and we will have a new project to announce, hopefully in the very near future.

What do the next few years look like for Skanska?
I think great things are going to happen for this company in the next few years. We really are looking to be a major player in the L.A. development world. We are building things that are different, and we are doing it differently than a lot of other people.

What is the company's focus in L.A.?
We are going to continue to follow the rail lines. ... We are going to continue to look at really great spaces where the creative class wants to (have offices), so Arts District, Westside, Hollywood. We are going to keep finding these great places to build really fantastic buildings and apartment buildings, too. At some point, we will jump back in and do our multifamily apartment buildings and start creating those spectacular places, too.
For reprint and licensing requests for this article, CLICK HERE.