Malibu Beach Inn Gets Creative During Crisis
Luxury hotel converts rooms into work, dining suites
Monday, May 18, 2020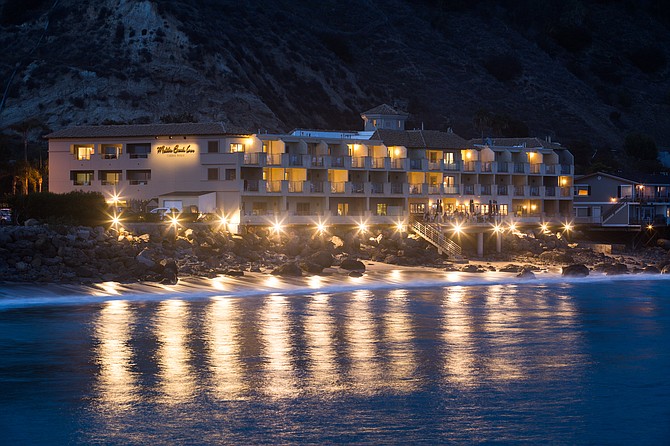 Covid-19 has greatly impacted the hotel industry worldwide, and occupancy rates have fallen dramatically in Los Angeles.
To make the best of difficult circumstances, Malibu Beach Inn had to get creative.
The luxury hotel, which is still open to guests, has converted some of its rooms into offices and others into private dining suites.
The hotel's "YOUWork Package," for instance, provides guests with a private workspace.
"That started because we had occupancy in the early days of 9% to 20%," General Manager Gregory Day said. "You had an awful lot of rooms open with nothing to do."
The company started by converting one guest room, removing the bed and adding standing and sitting desks.
The space became so popular that the hotel converted two more rooms.
Rates started at $150 a day for rooms, which are available from 9 a.m. to 5 p.m. and come with free parking and a meal.
The hotel recently increased the price to $250 a day, and the rooms are booked every day, according to Day.
Between the Malibu fires at the end of 2018 and the Covid-19 crisis this spring, the inn has shown an ability to adapt to unique circumstances.
"Coming from the fires from the year prior, we already had a fair number of emergency procedures such as sanitization ... and masks," Day said.
Malibu Beach Inn began taking safety measures on March 13, expanding room service and shutting its restaurant for dine-in service. The hotel also purchased more than $9,000 worth of hand sanitizer, Day said.
When the state's Department of Alcoholic Beverage Control eased rules around alcohol delivery in March, making it easier for restaurants to deliver alcoholic beverages, the hotel took advantage of the opportunity.
Of the four delivery partners used by the hotel's restaurant, two are able to deliver alcohol.
"It increased our demand exponentially," Day said.
Other protocols have also been put in place. Valet parking attendants, for example, use gloves and Clorox wipes to clean each car's seat, steering wheel and door handles.
The hotel has also placed an order for an electromagnetic device to sanitize rooms in seconds.
Additionally, the Malibu Beach Inn has increased other sanitation processes and has a doctor available for hotel guests with symptoms.
Private dining suites with an ocean view are also an option for people looking to get out of their homes. The rooms have a tasting menu paired with wine that's based on the diners' personal preferences. The dining suites must be booked 72 hours in advance.
The inn is also doing virtual winemaker dinner parties where a curated menu will be dropped in front of a guest's room with a Zoom link to make guests feel like they're in Napa for the night.
The changes have allowed the hotel to retain about 50% of its staff, and Day said the increased business may allow it to bring more workers back.
For reprint and licensing requests for this article, CLICK HERE.