City National Site Refinanced for $550 Million
Downtown property secures 10-year loan for use on existing debt
Monday, May 18, 2020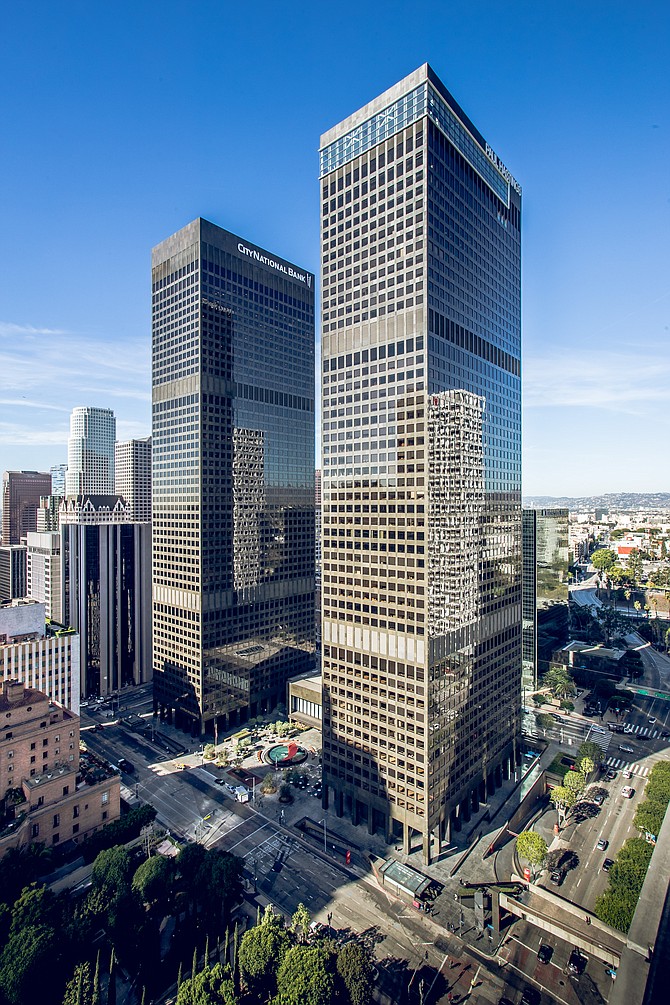 The iconic 2.5 million-square-foot City National Plaza in downtown has been refinanced for $550 million.
The property, at 515 S. Flower St., is owned by a joint venture of the California Public Employees' Retirement System and CommonWealth Pacific Capital.
The mortgage is from Morgan Stanley and Goldman Sachs Group Inc., according to credit rating agency Fitch Ratings Inc., which analyzed the commercial mortgage-backed securities loan.
The 10-year, interest-only loan is made up of $330 million of senior trust notes and $220 million in nontrust notes. The nontrust notes will be used for future securitization, according to Fitch.
Fitch said the deal will close May 19.
In addition to being used to refinance $510 million in existing debt, the mortgage will provide a $13.6 million debt service coverage reserve, which will pay debt for the first year of the loan. The reserve, according to Fitch, is being structured in that way because borrowers are able to request temporary payment forbearance due to the Covid-19 pandemic. The loan also consists of a leasing costs reserve of $26.4 million.
In addition to office space, City National Plaza has retail space. Only two retail tenants have asked for rent relief, according to Fitch. That accounts for 0.3% of the property's total rent.
Of the building's office tenants, law firm Paul Hastings and nine other occupants have requested rent relief or are in discussions with the owners.
City National Plaza is made up of two 52-story office towers with a combined 2.5 million square feet and more than 3,000 parking spaces.
California Public Employees' Retirement System and CommonWealth Pacific Capital purchased the property in 2013 from CalSTRS for $858 million, records show.
The building was 89% leased at the time of the sale, according to CoStar Group Inc.
City National Plaza was built in 1971 and renovated in 2018. The current owners have spent roughly $193 million on renovations and upgrades since acquiring the property.
The changes at City National Plaza were part of the inspiration for the Downtown Center Business Improvement District's Hacking the Highrise, an initiative by the organization aimed at reimagining downtown's skyscrapers for modern tenants.
Other downtown property owners including Coretrust Capital Partners, KBS and Brookfield Office Properties Inc. have also made, or are in the process of making, large-scale changes to attract new tenants.
City National Plaza is roughly 81% leased, according to CoStar. Office tenants at the property include City National Bank, a subsidiary of Royal Bank of Canada; Jones Lang LaSalle Inc.; UBS Financial Services Inc. and Paul Hastings. Retail tenants include a 24-Hour Fitness USA Inc. location and Italian restaurant Drago Centro.
Office space in downtown has been in high demand. During the first quarter the vacancy rate for office properties in area was 16.6%, according to JLL data. Asking rent in the submarket was $3.86 a square foot, up 11 cents in a year.
But numbers could falter nationwide.Downtown-based CBRE Group Inc. predicts a 10% decline in office rent in the United States by the end of the year.
For reprint and licensing requests for this article, CLICK HERE.