Miller Steps Down at Cornerstone
Departure of CEO comes after company closes $1.3 billion purchase of Saba
Monday, May 18, 2020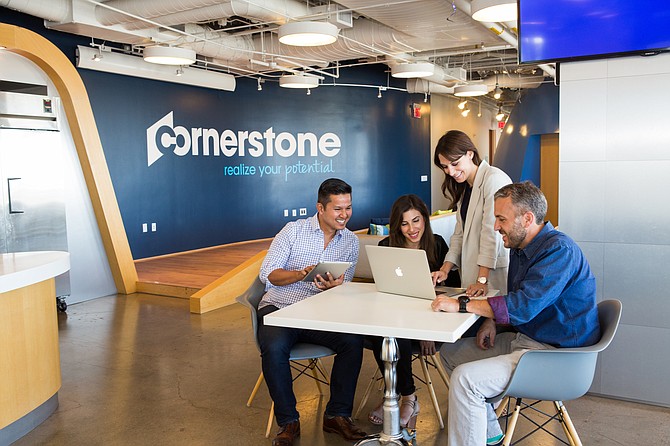 Cornerstone OnDemand Inc., the Santa Monica-based talent management software developer, said founder and Chief Executive Adam Miller will step down and transition to co-chairman, effective June 15.
The May 11 announcement came after the company completed its $1.3 billion acquisition of Saba Software Inc., a talent management technology company headquartered in Dublin, Calif.
Saba Chief Executive Phil Saunders, who joined Cornerstone as Chief Operating Officer in May, will replace Miller as CEO, the company said.
On May 12, Cornerstone reported earnings for the first quarter, ended March 31, and disclosed more details of the Saba acquisition.
Cornerstone posted first-quarter revenue of $150 million, a 7.2% increase from the same period a year earlier. Net loss for the quarter was $13.8 million, compared to $3.5 million in 2019.
"We're being impacted by this pandemic, just like everyone else. About 1% of our workforce tested positive for the virus. And thankfully, they've all recovered," Miller said on the analyst call. "We have offices in most of the big cities that have been adversely affected by the virus."
Miller acknowledged that some of the company's clients, such as the airline industry, have been negatively impacted by the Covid-19 pandemic. "On the flip side, we also have clients like Amazon and UPS, both of which have had a very different experience in the pandemic than most other companies," he said.
Cornerstone's acquisition of Saba closed April 22 at a price of about $1.3 billion, lower than the $1.4 billion price announced with the deal in February. The amount was reduced "in light of current market conditions," Cornerstone said.

The company paid $1.26 billion in cash and 1.1 million shares of common stock for the acquisition. The company said it liquidated "a significant portion" of its investment portfolio to partially fund the acquisition."
Cornerstone also said it incurred more than $1 billion in debt in connection with the acquisition. The priorities of cash in the coming quarters will be to pay down the debt, Miller said.
Cornerstone and Saba develop cloud-based software for talent recruiting, development, management and engagement, and create learning content that facilitates organizations' onboarding and training processes.
Cornerstone said it had more than 3,600 clients worldwide across industries before the acquisition. Saba adds about 3,300 clients, Cornerstone said.
"Saba was one of our top competitors for the last 20 years," said Miller, who founded Cornerstone in 1999. "This move has made us, I believe, the top people-development company in the world, with over 7000 clients and over 75 million people using our software. So, we are now one of the largest cloud computing companies in the world, one of the largest enterprise software companies out there, and certainly one of the largest companies in Los Angeles."
Saba went public in 2000, three years after its launch. The company was taken private by San Francisco-based Vector Capital for a reported $268 million in February 2015 as it faced Securities and Exchange Commission-imposed deregistration following an accounting fraud scandal.
Saunders was appointed president and became a board member in July 2015. He took on the role of CEO in February 2018.
Saba expanded its global presence through the acquisition of Canadian talent management technology company Halogen Software Inc. in 2017 and British talent management technology company Lumesse in 2018.
"As in any competitive arena, you come to appreciate and respect the strengths and capabilities of others in the game — your competitors. It's truly exciting to now be one combined in what I believe to be a very powerful force, both in financial prowess and market strength," Saunders said on the analyst call.
"The casual observer would say Saba brings Cornerstone a profitable and sticky customer base while driving improved natural scale for a larger company," Needham & Co. analyst Scott Berg said in a statement. "I believe what Saba really brings is a large set of data Cornerstone can leverage to build superior and more predictive talent management solutions that can improve hiring, employee retention and employee career advancement."
Berg said Covid-19's impact on Cornerstone is minimal beyond the slowdown in sales and new customer acquisition.
"Even in a time of crisis, managing talent effectively continues to be a top three priority of corporate CEOs," Berg added. He said he is "generally positive" about the company's near-term opportunity.
For reprint and licensing requests for this article, CLICK HERE.