Life in the Slow Lane
Manufacturers like Honda are grappling with ways to move forward
Monday, May 11, 2020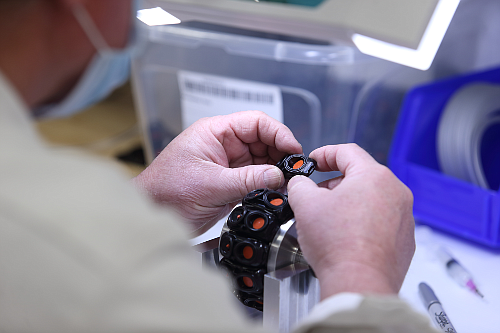 American Honda Motor Co. Inc. this week reopened its 12 manufacturing plants in the U.S. and Canada after a six-week shutdown that prompted the Torrance-based automaker to furlough some 14,000 factory workers and the majority of its salaried employees.
Honda cited the "unprecedented economic impact of the fast-changing Covid-19 pandemic," and the need to "take steps that align product supply and business expenses with market demand," as reasons for the closures.
Sales data for April supported Honda's move ― the automaker's U.S. dealers sold 57,751 cars and trucks last month, a 54.1% decrease compared to April 2019.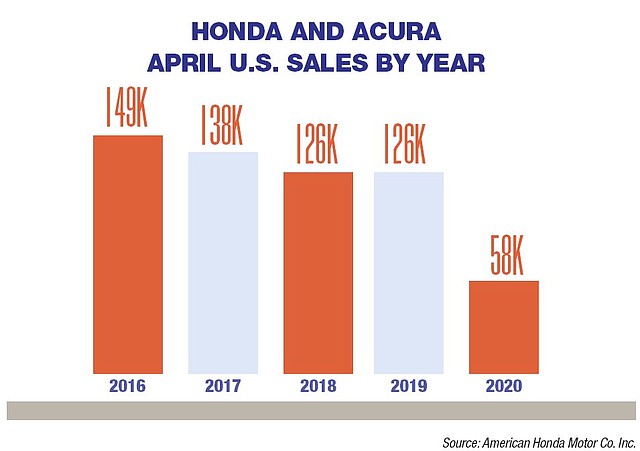 "There will be challenging days ahead as this very serious public health crisis continues, but with consumer traffic beginning to increase online and at Honda and Acura dealerships, we are approaching the coming weeks with guarded optimism," Steven Center, Honda's vice president of automobile sales, said in a statement.
Honda's plight mirrors trends in the overall manufacturing industry, which was adversely impacted by sharp declines in consumer demand. Activity in the sector contracted in April, according to a report by Institute for Supply Management, a Tempe, Ariz.-based association of purchasing managers.
The report cites a 7.6-point dip to 41.5% in the Purchasing Managers' Index for April, down from 49.1% in March. A PMI above 50% indicates manufacturing is expanding, while results below 50% indicate it's generally declining. April marks the lowest PMI since April 2009 when it dropped to 39.9%.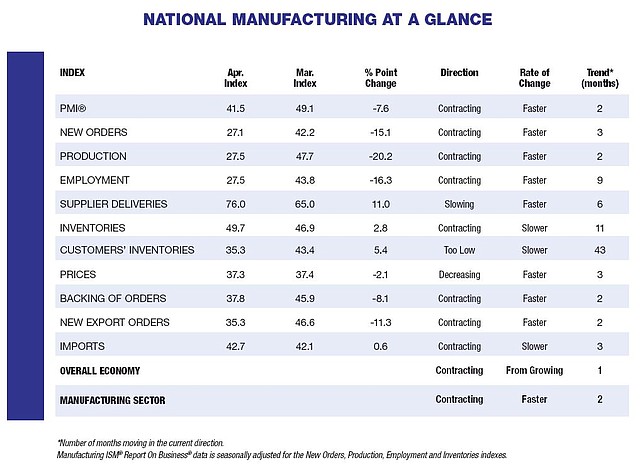 "The coronavirus pandemic and global energy market weakness continue to impact all manufacturing sectors for the second straight month," ISM's Timothy Fiore said in a statement. "The past relationship between the PMI and the overall economy indicates that the PMI for April … corresponds to a 0.4% decrease in GDP on an annualized basis."
ISM's New Orders Index was at 27.1% in April, compared to 42.2% in March. Of the 18 manufacturing industries tracked, just three — food, beverage and tobacco products, and paper products — reported growth in April. The remaining 15 declined, including textile mills, printing, transportation equipment, petroleum and coal products, furniture, fabricated metal products, machinery, electrical equipment, appliances and components, plastics and rubber products, computer and electronic products, and chemical products.
"The New Export Orders Index contracted heavily with none of the six big industry sectors expanding," Fiore said. "This indicates a clear slowdown in global demand."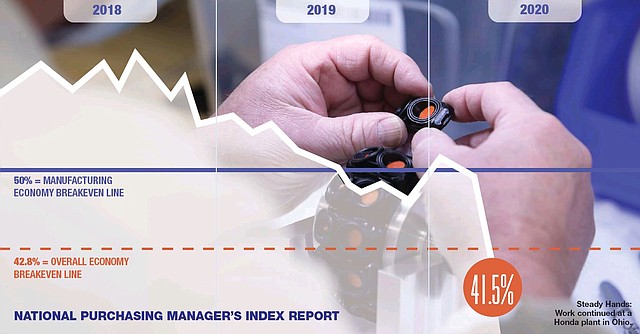 ISM's indexes for production and backlog of orders took a similar dive, sliding to 27.5% and 37.8%, respectively. Food, beverage and tobacco products, and paper products reported growth in both categories while the rest slowed. The outlier was computer and electronic products, which also showed an increase in backlog of orders, and which Fiore attributed to supply chain disruptions.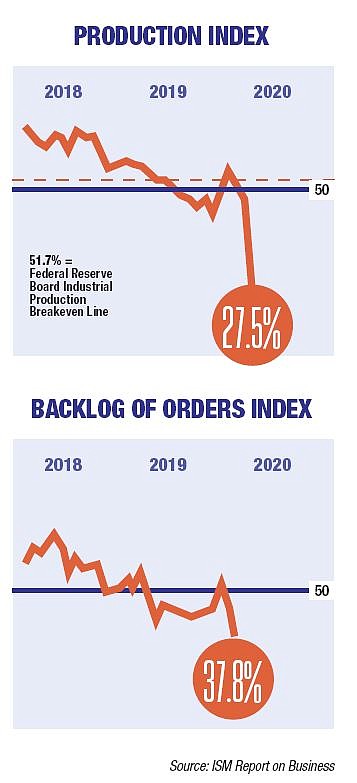 Looking Ahead
A May 1 report by market researcher IBISWorld suggests that durable goods manufacturers such as automobiles, washing machines and furniture will "get hit the worst" as the pandemic runs its course.
Those purchases are "a burden on most households and are often made on credit," the report said.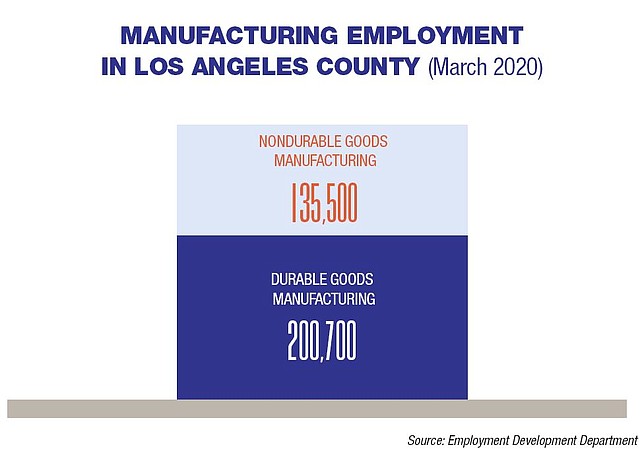 Durable goods manufacturers employed 200,700 workers in Los Angeles County in March, the latest data set available from state's Employment Development Department.
Transportation equipment manufacturing accounted for 49,700 jobs in the county while furniture and related product manufacturing employed 11,400 workers. Electrical equipment and appliance manufacturing jobs added up to 8,600.
Durable goods also includes computer and electronic products. The subsector, accounting for an estimated 12.4% of manufacturing's gross domestic product in the United States, will likely suffer "the largest economic blow," according to IBISWorld.
The market researcher, which has an office in Brentwood, pointed to Apple Inc. and Microsoft Corp., which have issued warnings of potential lower-than-expected earnings due to supply chain issues and lower consumer demand in China. The computer and electronic product manufacturing sector employs 40,200 workers locally.
Chemical manufacturing, accounting for an estimated 15.9% of the U.S. manufacturing gross domestic product, is also expected to be "adversely impacted by a global decline in industrial activity," according to IBISWorld.
The exception could include companies focusing on pharmaceutical and soap manufacturing. Some 19,700 employees worked for chemical manufacturers in L.A. County in March.
Companies making nondurable goods, including nondiscretionary items such as toilet paper, food and household products, are expected to sustain or grow sales in coming months.
Also poised to do well are manufacturers of medical supplies and personal protective equipment, which will "stand out as a major outlier of growth within the broader sector," according to IBISWorld. Local jobs in the nondurable goods category added up to 134,500 in March.
Restarting engines
To restart production, Honda has implemented various safety practices at its facilities. The measures vary by location and include temperature checks upon arrival, requiring and providing face coverings, staggering shift start times and lunch times to reduce congestion, as well as process adjustments to reduce associate interaction.
Only business-essential visitors are allowed to access each Honda facility, and all international travel is prohibited.
Honda's factory shutdowns did not include its Technical Development Center in Marysville, Ohio, where Honda employees are making diaphragm compressors, a key component of portable ventilators that are used in hospitals and by first responders. Dynaflo Inc. makes the ventilators, but the Reading, Pa.-based manufacturer did not have capacity to ramp up production to the current rate of 10,000 compressors per month. The collaboration will continue through August.
For reprint and licensing requests for this article, CLICK HERE.
Stories You May Also Be Interested In