Revenues Give Boost to Skechers
Footwear manufacturer sees strong rebound in market cap
Monday, May 4, 2020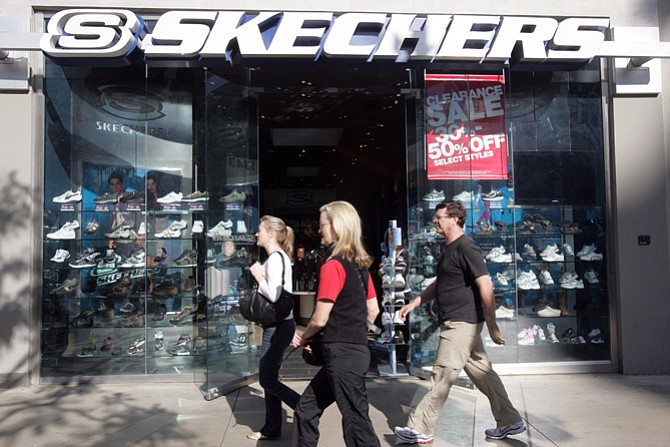 Shares of Skechers USA Inc. rose about 25% after the footwear and apparel manufacturer reported first-quarter sales that were 2.7% below results for the same period a year earlier.
Under normal circumstances, the April 24 report might have caused the company's stock to tumble. But during the Covid-19 pandemic, when analysts' expectations are low, the lukewarm results met with a positive reception from investors.
Skechers' market value reached $4.4 billion on April 28, up from $3.23 billion on March 17 but still well below the $6 billion it recorded in February.
The Manhattan Beach-based company's revenue for the quarter totaled $1.24 billion, a decrease of $34.4 million. While that marked a 2.7% dip from the prior year, it was $31.7 million above analysts' expectations. 
Adjusted earnings for the period were $59.9 million, or 39 cents per share, a 45% decrease. Domestic wholesale was down 9% for the quarter while same-store sales at 508 company- owned stores in the United States decreased 4.7%.
Bright spots included company-owned ecommerce, which generated a 70% increase in sales in the first quarter.
"We have plans to continue growing the site," Chief Operating Officer David Weinberg said during the earnings call with the analysts. "We will be in all countries that we operate as subsidiaries, hopefully in the next year to 18 months. So, this only has the possibility to continuing to grow and continuing to compound — even in the current environment."
To adjust to challenges brought on by the pandemic, Skechers drew $490 million from its unsecured credit line, which gave the company more than $1.3 billion in liquidity.
The company curtailed operating expenses, including nonessential business travel and nondigital advertising. It also reduced staff, furloughed employees, and froze headcount and compensation levels, according to Chief Financial Officer John Vandemore.
For reprint and licensing requests for this article, CLICK HERE.