Macerich Taps Credit Line for $550 Million
Mall operator also cuts dividend and capital expenses
Monday, May 4, 2020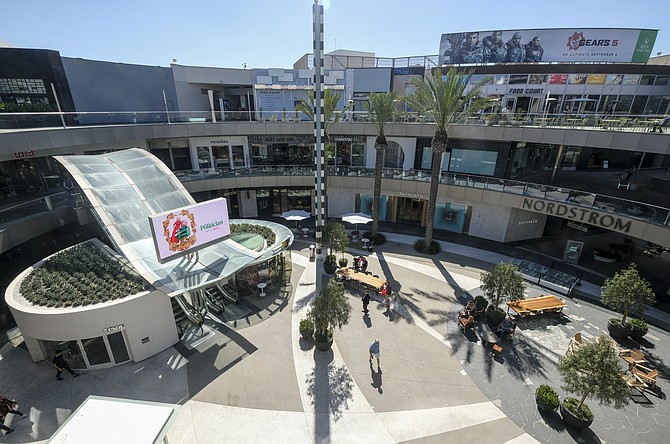 Macerich Co., coping with the fallout of the Covid-19 pandemic, recently borrowed $550 million on its revolving line of credit.
The publicly held Santa Monica-based real estate investment company, one of the nation's largest shopping mall operators, secured an additional $98 million per quarter by reducing its dividend payout to shareholders, consisting of 20% cash and 80% shares of the company's stock.

Macerich said it also plans to reduce capital expenditures.
"These actions ensure that funds are available to meet the company's obligations for a sustained period of time as the extent and duration of the pandemic's impact becomes clearer," Macerich management said in a statement to investors.
"State and local authorities in several markets in which we operate have required that a large majority of our tenants and components of our centers close or modify activities to further social distancing. … Mall traffic and tenant occupancy at properties that remain open have been significantly impacted by this crisis. The company will continue to work with employees, tenants and relevant authorities to maximize the health and safety of the communities we serve and to reopen locations when possible."
A report issued last week by Newport Beach-based Green Street Advisors, one of the country's top research and advisory firms in the commercial real estate sector, predicts an uphill battle for mall owners, including Macerich.
Macerich, which earned $96.8 million on $927.4 million in revenue last year, owns interests in 47 properties, comprising 51 million square feet of leasable space. Its portfolio includes a number of anchor tenants that are likely to file for bankruptcy in the near future, including JCPenney Co. Inc. and Neiman Marcus Group, according to Green Street researchers Vince Tibone, Nick Fromm and Paulina Rojas Schmidt. About 55% of Macerich's shopping centers have a JCPenney department store, and 7% have a Neiman Marcus.
For JCPenney, the report forecasts "a complete liquidation … given the retailer's business model was broken prior to Covid. … For mall landlords, JCPenney pays a negligible amount of total rent, but the impact on (net operating income) from a liquidation could be much greater due to the likely triggering of co-tenancy clauses — a clause in many inline tenant leases that allows for reduced rent payment in some form if there are multiple anchor vacancies at a center."
Macerich, which operates Los Cerritos Center, Lakewood Center, The Oaks and Santa Monica Place, also has a substantial fleet of Macy's stores. The department store chain, according to Green Street, is "exploring options to raise additional liquidity and appears unlikely to file for bankruptcy during the Covid crisis. That said, Macy's is expected to accelerate store closure plans, likely beyond the 125 closures over the next three years that were outlined at its February '20 investor day."
Some 70% of Macerich properties have Macy's as an anchor, and 15% of those sites also have an anchor space that's already vacant.
Department stores occupy about 60% of anchor space at malls nationwide, with JCPenney accounting for 19%, Macy's for 18% and Sears for about 4%. Green Street predicts that more than half of the department stores will close by the end of 2021 ― about 600 this year and another 400 the next year.
Alongside anchor issues, many tenants will have a hard time paying rent, according to Green Street, and will "require modified lease terms (lower rent) going forward, in addition to temporary rent relief." That will also create cash-flow issues for mall operators, and Macerich appears to be in a tight spot in this regard as well.
"Macerich's alarmingly high leverage ratios are partially mitigated by the use of mostly secured debt," the researchers said. "However, most of the REIT's asset value is already encumbered, and there is ~$1.4 billion outstanding on the line of credit, which matures in July 2021, inclusive of extension options. Further extending this maturity would be an important step for Macerich's liquidity profile, but taking other actions could be a necessary first step, such as raising fresh common equity."
For reprint and licensing requests for this article, CLICK HERE.