Large Office Properties Set Major Renovations
Work underway at big-ticket sites in Pasadena, DTLA
Monday, March 30, 2020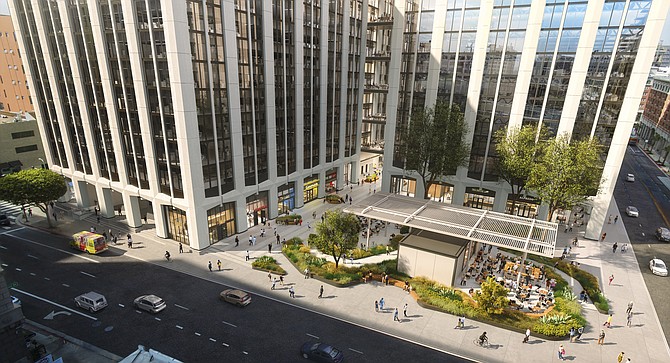 The office space construction boom in Los Angeles is extending to large properties in Pasadena and downtown.
The Pasarroyo, formerly known as Corporate Center Pasadena, occupies a 6-acre city block and is comprised of four buildings containing more than 650,000 square feet of commercial space.
The property's downtown-based owner, Coretrust Capital Partners, is working on a $50 million renovation of the space, which it purchased in 2018 for $254 million.
Brookfield Properties, meanwhile, is in the midst of a $170 million remodel of downtown's iconic California Market Center, also known as CalMart or CMC.
Brookfield announced March 16 that it had completed renovations of one of the complex's three 13-story buildings. The property also includes a two-story building that once housed a bank. That structure will be removed with the goal of making the site more inviting and creating public space.
The two buildings join a string of properties that are undergoing or have completed overhauls in the area.
During the fourth quarter of 2019, 3.8 million square feet of office space was under construction in Los Angeles, according to data from Jones Lang LaSalle Inc. That includes about 577,000 square feet of large-scale renovations such as conversions.
Pasarroyo revamp
Changes at Pasarroyo include revamping public spaces, updating elevators and lobbies, and adding service businesses.
One of the biggest undertakings has been converting a 60,000-square-foot "concrete slab" into a desirable plaza area for tenants, said Spike Whitney, executive vice president at Coretrust.
Adding shade to the area was a big part of the project, he said, in order to "get people outside."
Coretrust acquired leases of some of the ground-level spaces, including a Souplantation, to further execute its vision for the space. Whitney said Coretrust will likely introduce two or three restaurants into the space.
Coretrust has signed 100,000 square feet in leases and 90,000 square feet in lease renewals since acquiring the property.
The company recently signed coworking company Industrious to two floors at the building. It has also signed a lease deal with luxury brokerage The Agency.
"We were attracted to Industrious and their sense of hospitality," Whitney said, adding that the company had more mature businesses than other coworking companies, which was good for the building.
Renovations at Pasarroyo are expected to be completed later this year.
"We're reimagining an office property with a 1980s feel to be attractive and intriguing for today's workforce," Whitney said. "We have to serve the needs of our existing customers and attract new talent."
JLL is handling leases for the property.
Downtown makeover
Brookfield Properties' reimagining of the CMC is aimed at creating a mixed-use creative office and fashion campus. It will include a 5,000-square-foot rooftop tenant amenity space and a ground floor with public space and retail.
The remodel is designed by Gensler. It is expected to be completed in 2021.
"Spanning an entire city block, this large-scale, adaptive-reuse mixed office development is emerging as an unparalleled urban nexus in the heart of Los Angeles' fashion district," Bert Dezzutti, Western region executive vice president at Brookfield Properties, said in a statement. "The new CMC improvements include floor-to-ceiling exterior glass, enhanced tenant amenities and a lively retail and fashion hub. CMC will soon reorient and redefine L.A.'s approach to the 21st century workplace, drawing top office firms and fashion labels from across the West Coast."
A handful of large office properties underwent extensive renovations in the L.A. market last year.
Playa District — formerly the Howard Hughes Center — completed a $32 million renovation in June.
The Colorado Center in Santa Monica wrapped a $40 million upgrade to its common areas in June, as well.
For reprint and licensing requests for this article, CLICK HERE.