CGI Secures $48 Million in Financing
Developer will use funds for project in Koreatown
Monday, March 30, 2020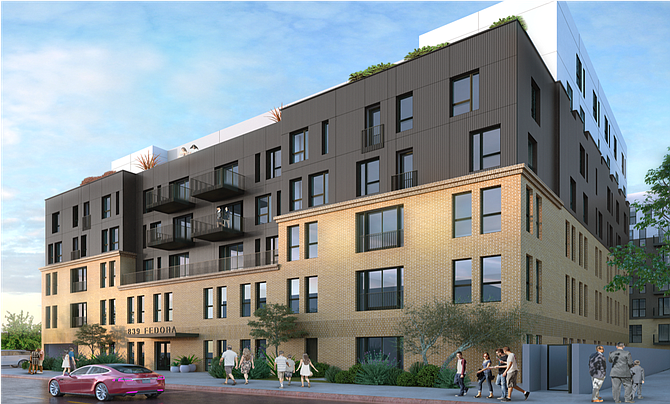 Woodland Hills-based CGI Strategies has received a $47.8 million construction loan from an unnamed national lender for a project in Koreatown.
Century City-based Dekel Capital Inc. arranged financing for the project, known as The Fedora and located at 837 S. Fedora St.
The building is slated to have seven stories and two levels of parking.
It will offer 200 units, with 10% set aside for low-income renters. The property will feature studio, one- and two-bedroom options.
The Fedora will have a clubhouse, courtyard and rooftop lounge. It is expected to wrap construction by mid-2022.
The project is CGI's third ground-up multifamily development in Koreatown in the past 36 months, adding a total of 380 units to the area.
"CGI is an experienced developer that has a strong track record of developing ground-up developments and income-producing real estate in Southern California, including several other developments in the Mid-City/Mid-Wilshire/Koreatown neighborhoods," Dekel Principal Shlomi Ronen said in a statement. "Given the strength of the market and the sponsor's expertise, we received a robust response from potential lenders."
Multifamily development in Koreatown has been booming for the last few years. Koreatown-based Jamison has more than 1,000 units in development in the area, and properties are commanding high sale prices.
Century City-based Cityview sold an equity stake in the 346-unit The Pearl on Wilshire last year that valued the property at $171 million. And Equity Residential purchased the Next on Sixth apartment building for $189 million. Alhambra Place Partnership purchased the 60-unit Kodo nearby for $29.3 million.
Sales volume for multifamily properties in L.A. in 2019 was $9.5 billion, up 350% since 2009, according to data from CBRE Group Inc.
Multifamily housing properties gave investors a 9.2% return on investment over the last five years, according to a CBRE study, making the category a desirable investment.
Dekel Capital is off to a busy start in 2019. The company announced in March that it had secured $59.3 million in construction financing for a 74,000-square-foot mixed-use creative office building in West Los Angeles being developed by Sawtelle-based Urban Offerings Inc. and Meridian Group.
For reprint and licensing requests for this article, CLICK HERE.