Xos Marks the Spot
Regulations boost electric truck-maker
Friday, March 6, 2020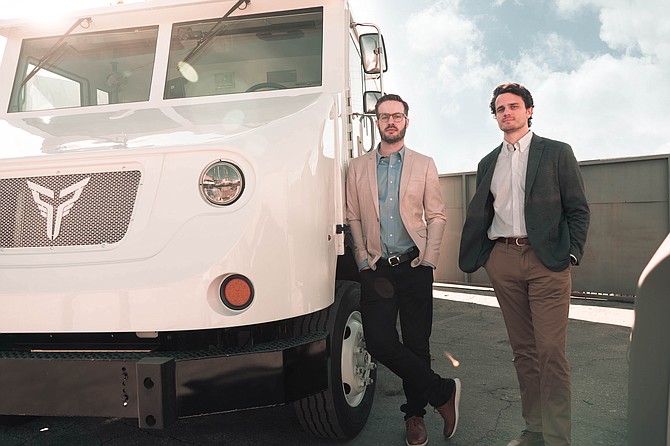 Dakota Semler's first experience with stiff government emissions regulations didn't end well.
Facing new state laws in 2008, his family's small trucking business ended up liquidating its fleet and closing its doors.
Today, as chief executive of North Hollywood-based Xos Trucks Inc., Semler's business is thriving, and this time an upcoming wave of regulations for the trucking and transport industry is working in his favor.
California Air Resources Board emissions standards, which take effect in 2023, will limit fleet operators to using vehicles with engines made in 2010 or later that also meet rigorous guidelines.
To help enforce the rules, the Department of Motor Vehicles will no longer register noncompliant vehicles.
That means large fleet operators like United Parcel Service must upgrade their vehicles to become compliant, and they're increasingly attracted to electric vehicles, which are exempt from emissions limits and can be more durable than standard vehicles.
"Since these new emission regulations have come into the fold for commercial vehicles, fleet operators have had to rethink their entire procurement strategy," Semler said. "What we realized was (that) zero-emissions vehicles were going to be the only vehicles that didn't have to adhere to these regulations."
Two models
Xos currently manufactures two types of electric truck: a Class 6 medium-duty step van for light, short-range deliveries and a Class 8 heavy-duty truck for longer journeys called the ET-One.
The ET-One is capable of carrying 80,000 pounds with a range of 150 miles per charge. The Class 6 step vans average 100 miles per charge, Semler said.
"Most of our customers travel under 100 miles per day, (and) that's not atypical for these types of fleets, local delivery trucks that have local or regional delivery centers," Semler added.
Several Xos step vans are in operation, but the ET-One is still a prototype. Semler said the company is targeting completion of a production model of the heavy-duty truck by the end of this year.
UPS was one of Xos' first customers. The delivery company began testing Xos step vans in 2018 and has several electric vans in its fleet now, Semler said. In July 2018, UPS said it would also work with Xos to develop its own electric delivery van.
Xos also worked with Michigan-based aftermarket auto parts supplier AxleTech International Inc. to bring its twin drive eAxle to market prior to Axletech's acqisition by Allison Transmission.
Armored transport firm Loomis Armored U.S. Inc. is also an Xos customer. Xos used its flexible chassis to custom-build a line of electric armored trucks for Loomis and regularly maintains them from the small production facility at its headquarters.
While Xos can manufacture the battery packs for up to "a few hundred vehicles" at its North Hollywood facility, the company's manufacturing line is in Tennessee.
Semler said the operation is designed for rapid scaling. "The (production) line we can ship across the country," he said. "We can even parallelize it so the machinery is actually relatively fungible," he said.
EV solution
Before founding Xos in 2016, Semler worked with his family's transport business, Rockhard Transportation Inc., in Riverside.
In 2008, as the effective date for the first iteration of new emissions regulations on heavy-duty trucks approached, the family "realized that within a few years we would have to replace about 80% of the fleet, which is significant when an average truck cost around $100,000."
Unable to shoulder the costs of becoming compliant, Semler said, his family liquidated their fleet.
Semler said that he and Xos co-founder Giordano Sordoni believed electric vehicles were the solution.
"There had been tremendous progress made on the passenger vehicle front, but no one was applying it to commercial vehicles where there were real problems and new emissions standards," Semler said.
Semler and Sordoni founded their EV business with the name Thor Trucks. The company changed its name to Xos in April after settling a lawsuit with Thor Industries Inc., a vehicle-maker that claimed Semler's business infringed on its name. Semler said the new name is a reference to the exosphere, the outermost layer of Earth's atmosphere.
In 2018, Xos won Automobility L.A.'s Top Ten Automotive Startups competition at the L.A. Auto Show, a $15,000 prize.
Semler said he's using that award plus additional funding — he declined to disclose the amount — for aggressive expansions in manufacturing, research and development, and design within the next year.
The company is also on the hunt for a new headquarters in the Los Angeles area.
"We have to ramp up our battery and truck production," Semler said. "What we have is a prototype line. It's a small production line, so we can't do the volumes that we would need for long-term production, but it's great for building test batches."
Good timing
Xos inhabits a unique segment of the California electric vehicle market, which is largely dominated by passenger vehicle sales.
Competitor BYD Co. Ltd., the U.S. branch of a Chinese electric automaker, operates downtown and has secured a sizable portion of the electric bus market.
BYD's main customers are city transit organizations; it recently agreed to provide 130 buses to the Los Angeles Department of Transportation and delivered the first vehicles in a 40-bus order to the Anaheim Transportation Network.
According to PitchBook Data Inc.'s August 2019 Mobility Tech Industry Spotlight report, Xos and its cohorts are entering the commercial electric trucking market at a critical moment.
"We expect a 15x increase in the global number of medium and heavy electric trucks on the road by 2025," noted Pitchbook analyst Asad Hussain.
But in order for electric trucking to catch on worldwide, a vast network of charging systems must be built out and become as common as truck stops.
"Today, the vast majority of charging systems in the U.S. serve personally owned passenger vehicles, as opposed to commercially owned fleet vehicles," Hussain said. "But we expect this may change as more electric trucks enter usage."
For reprint and licensing requests for this article, CLICK HERE.