Arcadia Apartment Property Sells for $9 Million
Starcrest changes hands for first time in 40 years
Monday, June 29, 2020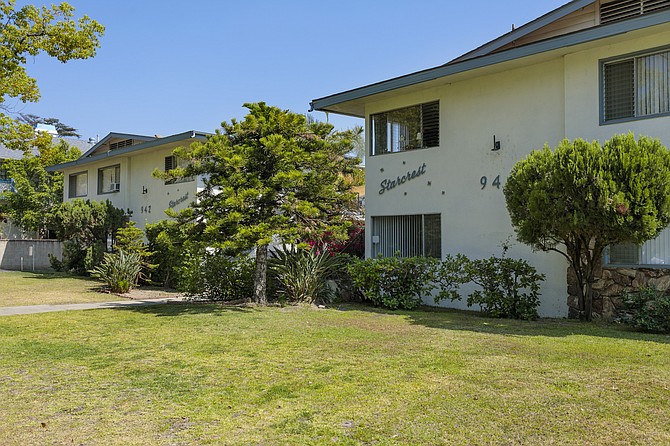 A 28-unit multifamily property in Arcadia has sold for nearly $9 million — the highest purchase price of any multifamily property in the city in the last year.
The property, the Starcrest Apartments, was purchased by a local investor.
Located at 942-944 Arcadia Ave., the Starcrest consists of a pair of two-story buildings constructed in 1959. It is walkable to Santa Anita Racetrack and the Westfield Santa Anita Shopping Center.
CBRE Group Inc.'s Priscilla Nee represented the buyer and seller in the transaction.
"This is the first time this asset has traded in over four decades," Nee said in a statement. "It sits in a premier Arcadia location with excellent market fundamentals and average housing values of nearly $1.3 million."
She added that the seller, who wanted to retire from owning apartments, was able to successfully sell the property despite Covid-19.
The buyer received a 3.4%, five-year fixed-rate loan, according to CBRE.
"Despite coming to market just as the Covid-19 pandemic started, we were still able to generate multiple bids, including a noncontingent offer at 99% of our list price, with a significant pass-through deposit upon acceptance," Nee said in a statement.
It is the highest purchase price for a multifamily asset in Arcadia over the last 12 months, according to data from CoStar Group Inc.
The Starcrest is one of only eight multifamily properties to sell in the area in the past year, according to CoStar.
The second-highest priced sale was a three-property portfolio in August for $8.2 million.
Positive Investments Inc. purchased the buildings at 314-320 S. 2nd Ave., 414 S. 2nd Ave. and 416-422 Genoa St. from Johnson & Associates. The properties have 17 units total and were built in 2000.
All other multifamily properties that sold in Arcadia over the past year sold for under $7 million.
For reprint and licensing requests for this article, CLICK HERE.