LA's the Space Place
Region's 'dynamic' aerospace industry requires huge real estate footprint
Monday, June 22, 2020
The aerospace industry, which has been a bright spot in Southern California's real estate market for years, continues to shine.
Aerospace companies have leased roughly 23 million square feet in Los Angeles, including 3.3 million square feet that have been leased since 2015, according to data from CBRE Group Inc.
That sizable presence has been accompanied by a large number of high-paying jobs, particularly in the last few years as space-related companies have increased their presence in the market.
The area saw a 400% increase in space-related employment from 2010 to 2018, according to CBRE.
"Aerospace in terms of its footprint and employment base is one of the largest sectors in Los Angeles," said Eric Willett, regional director of research and thought leadership at CBRE.
"It's one of L.A.'s more dynamic sectors," he added. "The changing role of aerospace defines for the region a lot of the economic changes of the 1990s. ... In the 2020s, the growth of the space sector and space vehicle sectors is really exciting and a reinvention of what aerospace is and what aerospace looks like in Los Angeles."
Popular markets
Southern California is dotted with aerospace hubs, including El Segundo; the Greater Airport area in Orange County, which includes Irvine, Newport Beach and Costa Mesa; and Central San Diego.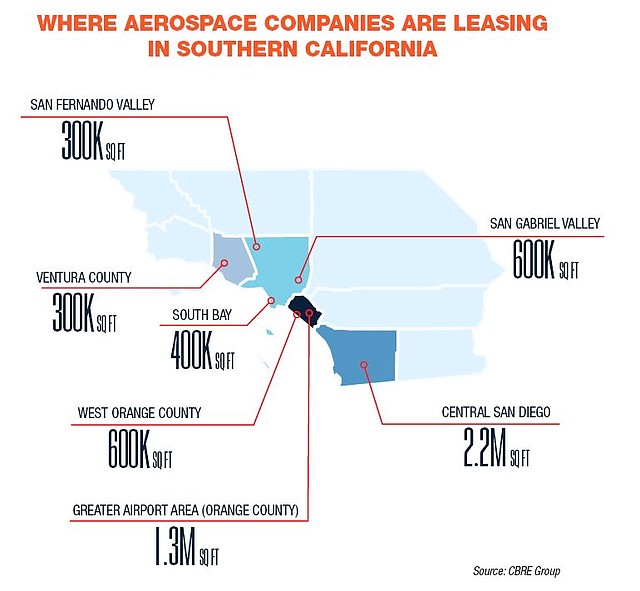 In Los Angeles County, the industry is "really focused in the El Segundo area. It also has some facilities in Santa Clarita and areas like that," Newmark Knight Frank's Bill Bloodgood said.
El Segundo is home to many large aerospace leases, as well as big campuses owned by some of the larger aerospace companies.
Bloodgood, NKF's Los Angeles-South Bay executive managing director, said much of the leased space is taken up by subcontractors. He also estimates that the industry may occupy as much as 5 million additional square feet in the area that's not officially accounted for. That's because many aerospace companies are private and don't always announce how much space they are leasing in their facilities.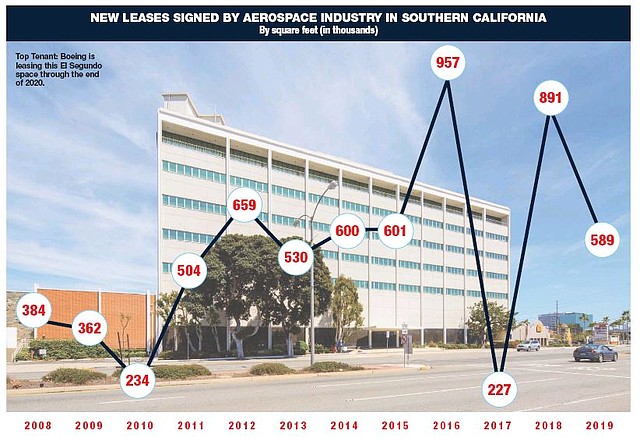 There's also a greater variety in the types of aerospace companies in the market.
"The traditional aerospace industry has grown and shrank with the overall economy. We're seeing more diversity now, and because of that, we feel like it's a more resilient industry. We've had a lot of new startups in the last six or seven years," El Segundo Mayor Drew Boyles said.
Boeing Co., Northrop Grumman Corp. and Raytheon Technologies Corp. all have a large presence in El Segundo.
"Aerospace tends to locate around federal installations," Willett said. "Certainly, El Segundo is a major hub because of its proximity to LAX and the U.S. Air Force facility there."
And aerospace, with high-paying jobs and necessary support companies, tends to be a catalyst, drawing other companies to the area, Willett said.
"For many years, it was dominated by the larger firms. It's an industry that was centralized because it requires a lot of capital. A lot of these firms have done a large number of spinoffs or had that catalytic effect for the area," Willett said.
Some of the larger firms have sold their excess land and properties, leading to new development opportunities.
"An interesting change over the last couple years is aerospace companies in El Segundo starting to monetize some of their owned real estate, which has never really been done to this extent in the past," said Jones Lang LaSalle Inc. Managing Director Gary Horwitz.
New developments on land owned by aerospace companies have in turn brought in other businesses seeking creative, updated office spaces.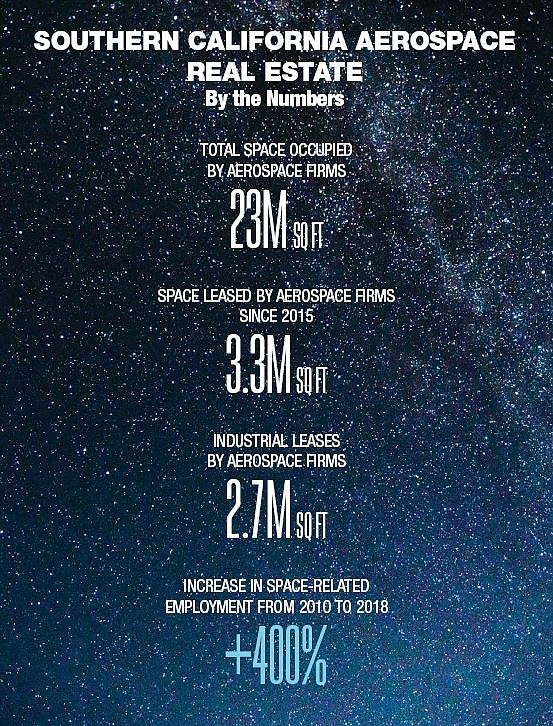 Resilient business
Aerospace may be somewhat insulated from current economic disruption.
"The benefit for the regional aerospace industry in Los Angeles is its ties to the federal government and its contracts," Willett said.
In the last recession, he added, it was very resilient.
But Bloodgood said it's a little harder to predict how the industry would fare this time around.
"Aerospace and defense leasing is based on federal government budgets. Given what is going on right now, it seems that there could be significant disruption in budgets and where that number is going and what we are going to see in the next 24 months because of that," he said.
But there are now more companies focused on space exploration as well, which some experts say will help the industry.
"It's rooted in the Los Angeles region and the talent base here," Willett added.
And companies of all sizes now are coming to the area.
"With aerospace, you are going to continue to see small and mid-size companies come into town," Boyles said.
For reprint and licensing requests for this article, CLICK HERE.