QR Codes Facilitate Contactless Ordering
Companies offer platforms to bars and restaurants
Monday, June 22, 2020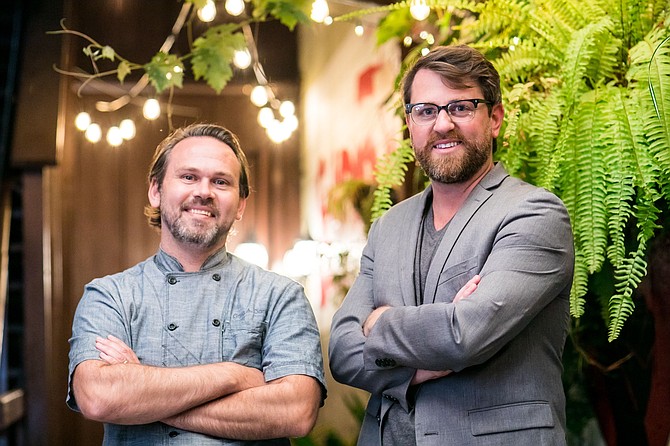 Diners might soon find QR codes popping up on tables as local restaurants reopen under new health and safety guidelines designed to prevent the spread of Covid-19.
A QR code is a two-dimensional barcode that can be scanned by smartphone cameras. In this configuration, the code would take the customer to a linked item, such as a website, images or social media pages.
The technology has been around for years, but it has gained popularity for its timely application to contactless ordering and payment.
Santa Monica-based Order For Me Co. offers a platform for restaurants to create QR code digital menus. Users, usually restaurant owners, input the number of tables at the restaurant, and the platform generates a unique code for each table.
A customer can scan the code to be directed to a digital menu where they select dishes, customize their order and pay — much like ordering meals on Uber Eats, except diners don't need to download an app.
The order with the table number is sent to a printer or a tablet at the restaurant, which can deliver the item specifically to that customer, according to Chief Executive Michael Jordan, who is seeking a $1 million seed fund for his company.
Restaurants can add and drop items instantly. The restaurant can "turn off" an item with a click when it runs out, so it's not shown to customers anymore. Each customer can pay through their smartphone, so there's no group bill to split, Jordan said.
About 25 restaurants in the Los Angeles area have started using Order For Me QR codes since March, according to Jordan.
The company charges an additional 6% fee from each transaction processed on its platform. Jordan said restaurants can pass the expense on to diners by setting up a 6% to 9% service fee as they input their tables and menus.
"We're definitely not afraid of any competition at this point," Jordan said. "We've been conceiving this product. We've prototyped it extensively. Other companies are going to do a lot of catching up at this point."
Manhattan Beach-based Barpay is another company developing QR code menus. Founded in 2015, Barpay set out to facilitate the work of busy bartenders by allowing consumers to order drinks and pay bills without having to fight for the attention of a bartender.
It also helps save bartenders from taking orders and processing transactions, time that can be used to pour drinks and make cocktails. The company charges a 2.5% processing fee for each transaction on the app, according to co-founder and Co-Chief Executive Joe De Pinto.
"When the lockdown happened, we quickly realized the busy bar scene might not be coming back for a while. We need to make a pivot to where our technology is still relevant," De Pinto said.
The company allows restaurants and bars to upload PDFs of their menus to the Barpay website, which gives them a QR code. The tool is free in exchange for the ability to deliver shoppable ads for "menu sponsors" when a diner scans the QR code. Sponsors typically would be liquor brands, according to De Pinto.
The company offers monthly paid plans starting at $24. Paid accounts will not receive ads and will be able to add multiple menus. An upgraded $59 monthly plan allows users to schedule when certain menus are displayed.
De Pinto said there were more than 1,500 sign-ups for the tools in the first two weeks of June, and about a third of them are paid users.
De Pinto said diners can only view PDF menus via the QR code for now. Starting in July, diners will be able to order from digital menus using Barpay's ordering and payment system after scanning the QR code, he said.
For reprint and licensing requests for this article, CLICK HERE.