Aerojet's Drake Joins National Space Council
Friday, June 19, 2020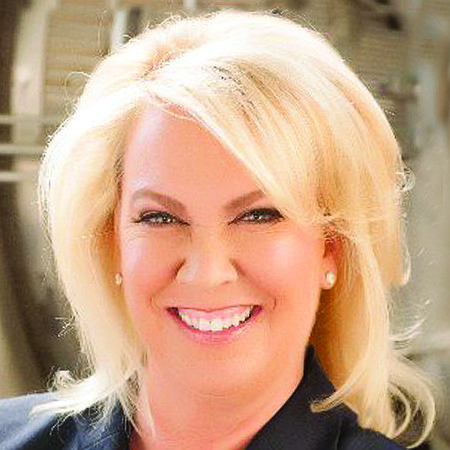 Aerojet Rocketdyne Chief Executive and President Eileen Drake is the newest member of the National Space Council's Users' Advisory Group, which serves as the voice of industry and nonfederal stakeholders on matters related to U.S. space policy.
Nominated by Vice President Mike Pence, the 28-member group includes Mandy Vaughn, president of El Segundo-based VOX Space; Gwynne Shotwell, president and chief operating officer at Hawthorne-based Space Exploration Technologies Corp.; and Tim Ellis, chief executive of Long Beach-headquartered Relativity Space.
Drake is among the five-member cohort that just joined the group while Vaughn, Shotwell and Ellis have been part of it since November 2018.
The advisory group, which also includes academics, politicians, aerospace industry professionals, and a handful of astronauts, meets three to four times a year to provide recommendations to the council on matters including the effects of U.S. and foreign government policies and laws; human and robotic space exploration priorities; and strategies to increase innovation in public and private space activities.
Congress created the advisory group in 1991, after former President George H.W. Bush established the National Space Council in 1989. The council was disbanded in 1993. President Donald Trump in 2017 revived the council, whose inaugural members were appointed by NASA Administrator Jim Bridenstine in 2018.
"The reestablishment of the National Space Council and the Users Advisory Group was a momentous milestone that reinforced the importance our government places on advancing American interests in space," Drake said in a statement. "I am honored to serve on the advisory group, and I look forward to working with my fellow members to promote policies to strengthen the American aerospace industry and U.S. leadership in space."
El Segundo-based Aerojet Rocketdyne "plays a pivotal role in NASA's Artemis program that is returning astronauts back to the Moon, enabling scientific and commercial space missions and helping to keep our homeland safe by providing space launch, power and propulsion systems for national security missions," according to the company.
For reprint and licensing requests for this article, CLICK HERE.