Metro Project Wraps Ahead of Schedule in Beverly Hills
Monday, June 15, 2020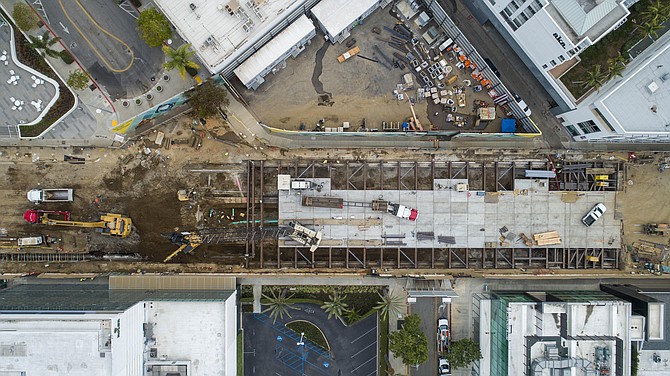 Thanks to an extended street closure made possible by light traffic during the Covid-19 pandemic, the Los Angeles County Metropolitan Transportation Authority announced June 15 that decking for the Purple Line Extension subway station on Wilshire Boulevard in the heart of Beverly Hills was finished seven months ahead of schedule.
The transit agency also announced that Wilshire Boulevard, which had been closed for 10 weeks to allow for expedited subway construction, was reopened to traffic late on June 14.
The work on the Wilshire/Rodeo Drive subway station is part of the $1.4 billion, 2.4-mile second phase of the Purple Line subway extension to Century City, overseen by prime contractors Tutor Perini Corp. of Sylmar and its project partner, Torrington, Conn.-based O&G Industries Inc.
Back in late March, as the business lockdown took hold, the transit authority saw an opportunity to fast-track work on the project. The agency reached agreement with the city of Beverly Hills to indefinitely close a half-mile stretch of the Wilshire corridor through the famed Golden Triangle.
"Wilshire Boulevard will probably never again see the light traffic conditions that resulted from our county's recent safer-at-home order," Inglewood Mayor and Metro Board Chair James Butts said in Metro's announcement. "Metro struck while the iron was hot and did our work quickly and efficiently. We saved countless local businesses and residents from significant decking construction impacts that could have lasted until early 2021."
The fast-tracked portion of the project primarily consisted of decking on Wilshire above the planned station to allow for construction of the station underneath while traffic flows unimpeded above. Prior to the pandemic, this decking work was to have taken place in a series of weekend closures from August through January.
Tutor Perini and O&G initially worked two shifts per day over a six-day work week to complete the piling and decking within the accelerated deadlines. To compensate for recent curfews imposed after looting of some businesses within the Golden Triangle during the weekend of May 30-31, the contractor's field supervision and union craft labor worked seven days per week, with some staff working more than 12 hours per day.
The early finish of the decking work was welcomed by the Beverly Hills Chamber of Commerce, which represents several of the businesses near the construction zone.
"As tough as the past several months have been on our business community, one of the bright spots is Metro finishing decking during the expedited construction," chamber Chief Executive Todd Johnson said in an emailed statement. "We are pleased with this and look forward to getting our community back in action."
For reprint and licensing requests for this article, CLICK HERE.