Buy Bye Bye
Consumer spending patterns in LA reveal impact of pandemic
Monday, June 15, 2020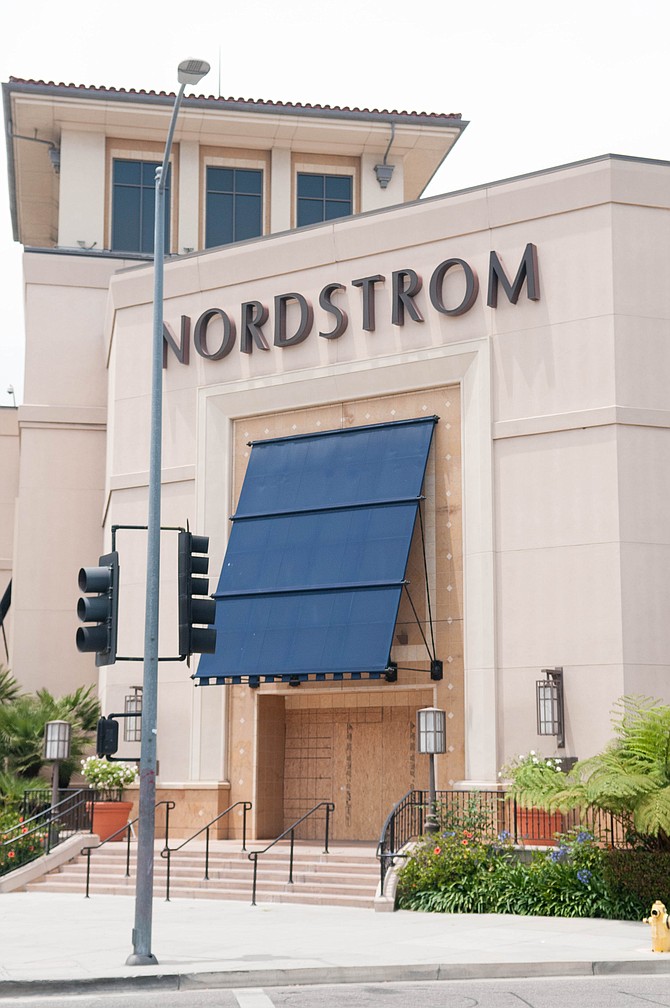 Consumer spending is the backbone of the American economy, making up roughly 68% of U.S. gross domestic product. Like nearly every other facet of the market, though, that sector has been upended by the Covid-19 pandemic.
This shift is particularly visible in Los Angeles County, which has nearly half of California's total confirmed Covid-19 cases and a majority of the state's Covid-related deaths.
Data from financial data analytics firm Facteus, which tracks more than 30 million daily transactions from a range of institutions and programs nationwide, highlights how the pandemic has reshaped local consumer spending.
Some shifts, such as mid-March spikes in grocery and pharmacy spending, affirm trends most Angelenos experienced firsthand.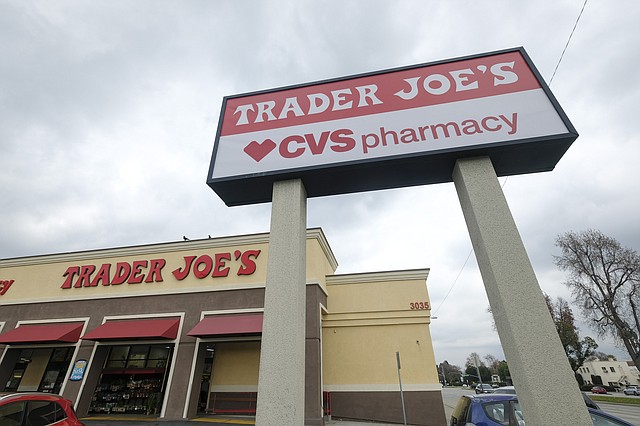 Local pharmacy and drug store spending jumped 78% year over year in the second week of March, according to the Facteus data, while grocery store and supermarket spending rose 57% over the same period. The week following, both categories saw year-over-year increases of more than 40%, according to Facteus.
Panic-buying was the main driver behind the boosts, with spending growth in these categories deflating as the pandemic wore on.
Cristel Russell, a consumer psychologist at Pepperdine University's Graziadio Business School, said this buying spree was driven by a "perfect storm" of psychological factors. "Descriptive norms," she said, caused people observing mass runs on items like toilet paper to imitate peer behavior and enter buying frenzies themselves. "Prescriptive norms," on the other hand, made people feel obligated to purchase items like hand sanitizer following guidance from health officials on hand washing, according to the professor.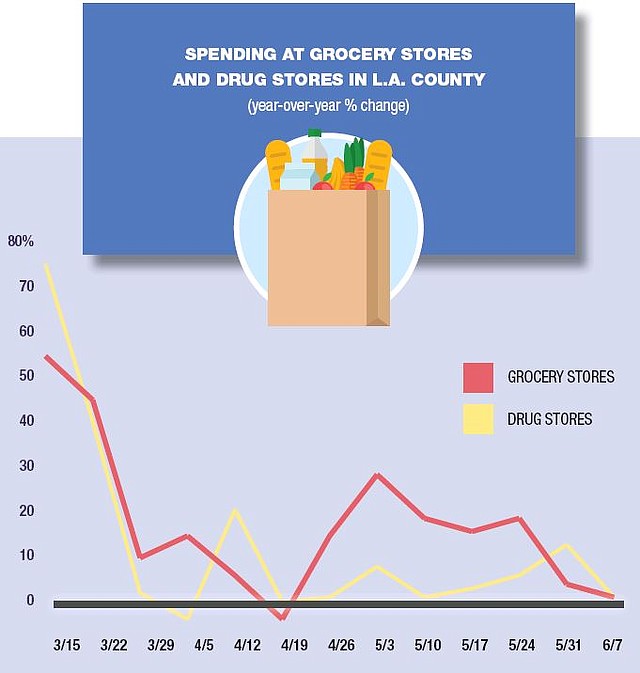 Together, she said, these factors led to the supply runs that reshaped grocery and pharmacy spending in the early lockdown period.
As demand for groceries and drugs cooled, another local sector saw an unexpected mid-pandemic boost. Home supply warehouse stores experienced large year-over-year increases in consumer spending each week between mid-April and early June, according to the Facteus data. At its mid-May peak, consumer spending at these businesses was up more than 100% year over year.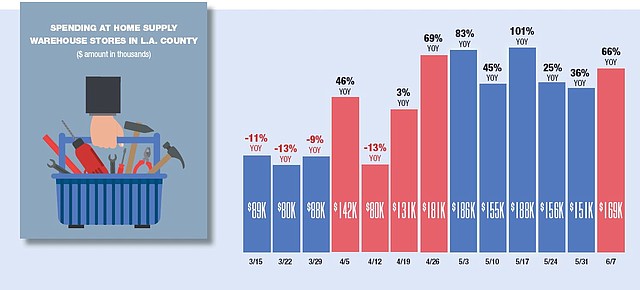 "That's when you see people trying to make the most of (being locked up)," Russell said. "They're doing home improvement projects, planting gardens and trying new recipes."
Many local sectors, however, were more negatively impacted by the lockdown. With dine-in services only recently reopened, spending at restaurants has been down between 50% and 60% each week since late March, according to Facteus.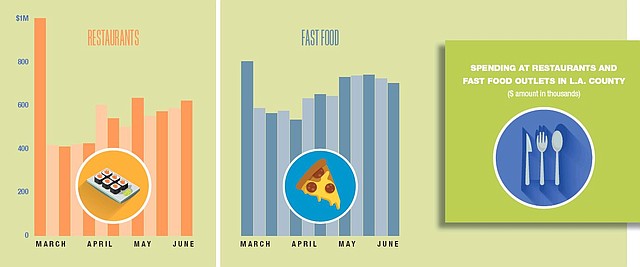 Fast-food restaurants — whose formats are often better suited to takeout — typically generate less consumer spending than traditional restaurants but overtook their formal peers in the first week of the lockdown. They have remained ahead ever since.
Department stores, which were already suffering from the general decline of brick-and-mortar retail, have seen even fewer local consumer dollars since mid-March. People spent between 61% and 86% less each week since April at these businesses compared with last year, according to Facteus.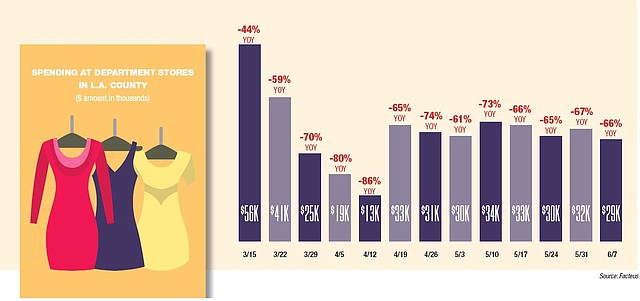 "Brick-and-mortar retail was struggling in the expanding economy," said Jerry Nickelsburg, economist and director of the UCLA Anderson Forecast. "We expected it to take a hit in the next recession, which is now."
Nickelsburg said he expects local businesses in the sector will not regain their prepandemic positions, even after a general economic recovery.
"There are going to be department stores and other brick-and-mortar that are closing stores permanently," he said.
Although most sectors are in less dire straits than physical retail, Nickelsberg predicted that much of the local economy would take years to fully recover.
"Our expectation is that it will be into 2023 before we get back into the level of employment that we had before the recession," he said. "That's the time frame for incomes to come back, and those are the basis for consumer spending."
For reprint and licensing requests for this article, CLICK HERE.