Lufthansa Resumes Flights from LAX to Munich
Thursday, June 4, 2020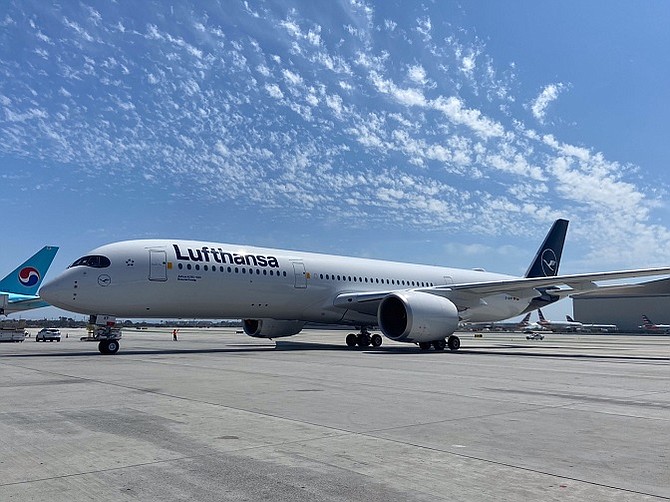 In an early sign that Los Angeles International Airport is starting to rebound from the near total halt in air travel brought on by the Covid-19 pandemic, Lufthansa on June 4 resumed service between LAX and Munich, Germany.
According to the announcement from Deutsche Lufthansa, Germany's largest airline is now operating three weekly flights on the LAX to Munich route, using an Airbus 350-900 aircraft. It is Lufthansa's first California service to restart.
"We are especially excited to resume service for our Los Angeles-based customers, especially during difficult times, expanding our network connections for the benefit of all travelers," Larry Ryan, senior director of U.S. sales for Lufthansa, said in the announcement.
Lufthansa's resumption of service at LAX was welcomed by officials with Los Angeles World Airport, the Los Angeles city agency that operates LAX.
In April, at the peak of the Covid-19 crisis, total passenger traffic at the airport was down 96% from the same month a year earlier while international passenger traffic was off more than 97%.
But in recent weeks, the airport has seen an increase in passenger traffic and flights. In remarks made June 4 to the LAWA Board of Airport Commissioners, commission President Sean Burton said 533 flights are scheduled for June 15, up from 346 flights on May 15.
"That's an increase of nearly 200 flights," Burton said. "And while we don't have final numbers for July, the trend of increased flight schedules looks like it will hold."
As for Lufthansa, the announcement is part of the airline's larger return to service in June. The carrier said it intends to operate a total of 2,000 flights worldwide by the end of the month.
At the end of April, Lufthansa said it was carrying 3,000 passengers per day, down 99% from 350,000 per day before the Covid-19 pandemic hit.
In its announcement, Lufthansa stressed its health and safety protocols to try to reduce the risk of coronavirus transmission, including additional disinfection spraying and making sure all aircraft are equipped with filtration systems that narrowly channel air flows.
Also, all passengers are required to wear masks from the moment they enter the departing airport until they leave the arriving airport, including for the duration of the flight.
For reprint and licensing requests for this article, CLICK HERE.