Lowe, Related Cos. Team Up for Arts District Project
Monday, July 27, 2020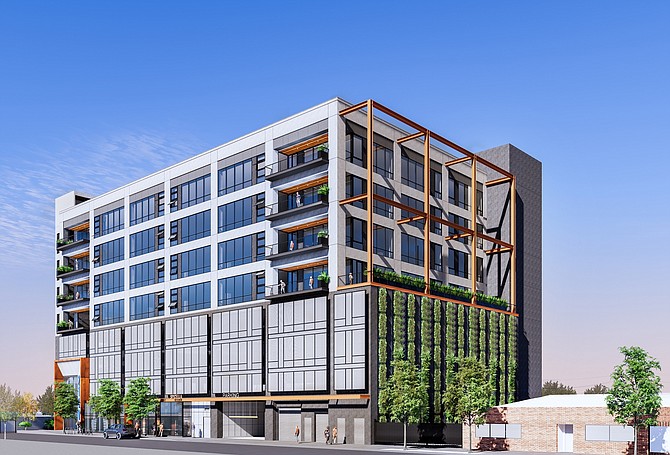 Brentwood-based Lowe and Related Fund Management, the investment management affiliate of Related Cos. have formed a joint venture to start construction on a 113,000-square-foot office building in the Arts District.
The project, which Lowe has been planning since 2017, is at 2130 Violet St. and is located in an opportunity zone. Opportunity zones allow investors to defer capital gains taxes by investing in economically distressed areas.
Once completed, the project will have open floor plates and energy-efficient building spaces. The top four floors will be flexible office space with terraces.
The office building will also have 275 parking spaces and a 3,000-square-foot rooftop deck with lounge seating.
As part of the development, the companies are installing sidewalks, crosswalks and a traffic signal, as well as street lighting and landscaping.
The property will be situated a mile and a half from the Metro Little Tokyo/Arts District Regional Connector station.
Ware Malcomb is designing the project.
Tom Wulf, executive vice president at Lowe, said in a statement that some of the building's features would make it very appealing despite Covid-19. "Located in one of Los Angeles' most distinctive markets, Violet Street will be a contemporary office building that also offers many features that have become even more desirable as companies transition their offices to meet new requirements," he said.
"With large contiguous spaces, floor-to-ceiling windows, outdoor terraces, operable windows and rooftop deck, Violet Street's combination of location and building features make it a compelling option in today's office market," Wulf added.
Jason Morrow, managing director at Related Fund Management, said in a statement that the project's "unique combination of indoor/outdoor workspace and proximity to the Arts District's vibrant array of (culture) and dining makes it the ideal office solution for forward-thinking businesses expanding in Southern California."
Swinerton Builders is the general contractor for the project, which is expected to be completed early next year.
Cushman & Wakefield's Mike Condon Jr., Pete Collins, Scott Menkus and Brittany Winn are handling leasing for the project. The venture was brokered by Condon and CBRE Group Inc.'s Todd Tydlaska and Mike Caprio.
For reprint and licensing requests for this article, CLICK HERE.