Latest Taylor Yard Multifamily Project Gets Underway
Monday, July 27, 2020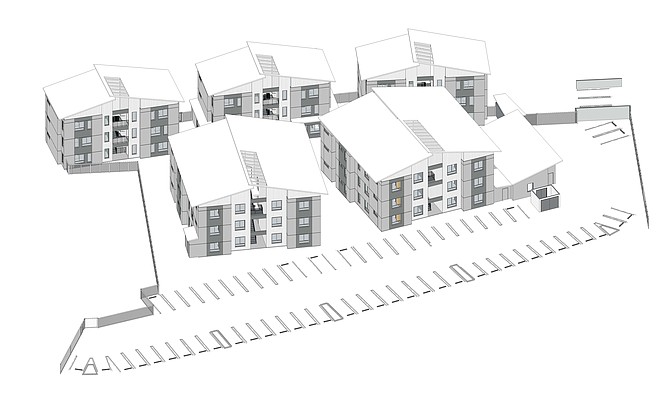 Financing has closed and construction has begun on the fourth phase of affordable housing at the $180 million Taylor Yard Village redevelopment near the Los Angeles River in Glassell Park.
The building, dubbed the Parque Vista Apartments, will have five three-story buildings and 64 parking spots. It will also include 42 affordable rental units for people earning 30% to 60% of the area's median income.
Funding for the $25 million-plus buildings comes from Bank of America and the California Community Reinvestment Corp. The city of Los Angeles Housing and Community Investment Department's Affordable Housing Managed Pipeline is also providing funding.
The first two phases of the Taylor Yard redevelopment were the Taylor Yard Apartments and the Rio Vista Apartments. Completed in 2014, the properties have a combined 155 affordable units.
The third phase was the Casa Salazar. The property, which was completed in 2017, has affordable units for seniors. The development also offers 95 market-rate units for sale.
"Building affordable housing is critical as the next phase of the Taylor Yard project moves forward, especially during the Covid-19 crisis," Los Angeles City Councilmember Gil Cedillo said in a statement. "Affordable housing is more important than ever, and I look forward to the fourth phase of this project, which will provide housing, resources and services in this vibrant, eclectic part of Los Angeles."
The project, which has more than an acre of community space, is being developed by McCormack Baron Salazar.
"The renaissance of Taylor Yard and this part of the Los Angeles River area is a wonderful example of cities and neighborhoods changing for the better," Dan Falcon, managing director of McCormack Baron Salazar, said in a statement.
"Parque Vista is everything a neighborhood should be — it's walkable, safe and close to transportation," he added. "It's also mixed-
income and multigenerational, so it's inclusive for a variety of income levels and ages."
Taylor Yard is a former railroad facility once owned by the Southern Pacific Railroad.
The L.A. River has been a hotbed for development. Major plans for the area include a 1.8-million-square-foot mixed-use development called 670 Mesquit by V.E. Equities and the Gallo family and a 1.8-acre site with 100,000 square feet of office space, retail and live-work units by Bay Capital Fund.
For reprint and licensing requests for this article, CLICK HERE.