Elevate Services Eases the Legal Load for Corporate Clients
Monday, July 27, 2020
The field of alternative legal service providers, or ALSPs, is relatively new. But it's growing quickly as corporate legal departments and law firms increasingly look for ways to cut costs.
Century City-based Elevate Services Inc., with its one-stop approach to helping companies outsource a range of legal functions, has become a leading player in the category in a short period of time.
Founded in 2012, the company today has a workforce of more than 1,000 in offices spread across four continents.
"They were the pioneer in providing the wide range of services," said Connie Brenton, chief of staff and senior director for legal operations at longtime Elevate client NetApp Inc., a Fortune 500 company based in Sunnyvale.
"It's a very small field," Brenton added. "We know everyone, and they are still the only service provider that can provide such a broad range of services: temporary help, offshore or onshore; lawyers who have a year of experience; lawyers with 25 years of experience; court writing templates; litigation support; creating contract templates; negotiating contracts; supporting whole segments of the business."
Over the last 10 years, NetApp, a cloud services and data management company, has reduced its in-house legal department from 100 employees to 50 — in part because of the support provided by Elevate.
Brenton estimates that Elevate, which Net-App has used since 2012, now handles about 20% of the company's legal work.
Seeking efficiency
Elevate was created by law industry veterans and entrepreneurs Liam Brown and Kunoor Chopra, who both figured there were more efficient ways to deliver legal services, especially given the strides made in technology and data capabilities.
Chopra, who serves as Elevate's vice president of legal services, built and sold her own legal services company between stints at conventional law firms.
She reached out in 2012 over LinkedIn to Brown, who would become Elevate's chief executive. He had built and sold two ALSPs.
Over a two-hour lunch at the Fig Restaurant in the Fairmont Hotel in Santa Monica, Brown told Chopra he was ready to start his third company.
"I saw that this was going to be a place where … people could bring their authentic selves to work each day," Chopra said. "At the end of that lunch, I knew I wanted to build with Liam. I said, 'I'm not going to take any salary.'"
They launched Elevate on April 1, 2012, working out of a bedroom of the Century City home Brown shares with his family.
Elevate grew quickly through acquisitions, creating a legal services conglomerate.
The company has been cited for the quality of its work, as well as its breadth. In 2019 alone, it received top honors from several industry trade publications, including American Lawyer, Law360.com and Britain's Legal Week.
Elevate's 1,208-member workforce is located in major U.S. cities as well as an array of overseas locations, including Singapore, Australia, the Philippines, Hong Kong, India, Britain, France, Switzerland, Poland, Germany and the Netherlands.
Its clients include HSBC Holdings, Fitbit Inc., Dolby Laboratories Inc., Reed Smith, VMware Inc., Juniper Networks Inc., Seattle Genetics, Gowling WLG and Clifford Chance.
Growing sector
The ALSP sector — which provides legal, law-associated, technology, business management and consulting services for corporate legal departments and law firms — is a growth industry.
Overall, the ALSP space is projected to expand 24% annually, according to a joint report from Thomson Reuters and several universities.
In 2015, the sector logged $8.4 billion in revenue, and by 2017 that number had grown to $10.7 billion.
Increasing demand and strong returns have even attracted the big four accounting firms — PricewaterhouseCoopers, Deloitte, Ernst & Young and KPMG — which have aggressively pushed into the field in recent years.
ALSP businesses employ a variety of tools to lighten their clients' legal load, including the use of artificial intelligence and other technological innovations.
They also rely on lower-paid attorneys and support staff, typically based overseas, to search millions of document pages and untold numbers of emails during legal discovery.
The firms can help clients standardize contracts and manage their workflow, review outside law firm billings for unnecessary charges, analyze medical claims, analyze the past success of specific arguments in court briefs and even write briefs.
"If you want to be very effective, you have to be able to offer people a suite of services. Elevate is in that handful of outsourcing entities," said Vikramaditya Khanna, a law professor at the University of Michigan who has studied ALSPs.

'A rich tapestry'
Part of Elevate's success, said Chopra and Brown, stems from recruiting employees and partners with cultural and multidisciplinary differences who would be likely to disagree.

"It's good for Elevate because we are in the legal innovation business," Chopra said. "And, in particular, a diverse workforce has been shown through the data to especially drive innovation. … You need the conflicts and debates to end up on the better track."
For his part, Brown said, "Elevate is a rich tapestry, a real kaleidoscope of different points of view. I consider it to be a massive competitive advantage."
Brown and Chopra identified equity as a core value for attracting diverse talent — "and because it's just right," Brown said.
Elevate pays women 10% more than men in the same roles, on average, according to a report published by the company.
Women constitute 60% of its European leadership team, 53% of its U.S. leadership team, and 44% of its corporate and advisory boards.
Moreover, 180 of its employees own a total of 52% of Elevate's equity though Brown retains voting control, he said.
Still, Elevate has its challenges.
Due to the pandemic, revenues will likely stay flat this year at about $80 million, Brown said.
And to keep the company at breakeven for 2020, Brown said he cut salaries 10% across the board in April. And he will postpone until 2022 a capital raise that had been planned for 2021.
Brown and Chopra both learned the value of equity and diversity from their personal struggles.
Early in her career Chopra, a lesbian of South Asian heritage, didn't feel she could come out of the closet as a litigator in the L.A. office of the old-line law firm of Fulbright & Jaworski, now Norton Rose Fulbright.
Nor did she think the nearly century-old firm's ways of doing business made sense. So, she left to launch her own company, an enterprise to deliver more efficient legal services where she could be herself.

Eventually, Chopra sold her company to a larger competitor, UnitedLex, and joined that company as senior vice president in sales. But, she said, "I had to go back into the closet."
While at UnitedLex she spied more legal services efficiencies that could be made possible through technology and data analysis, but she lacked capital to act on her ideas.
That's when she decided to talk to Brown, who also understood societal rejection.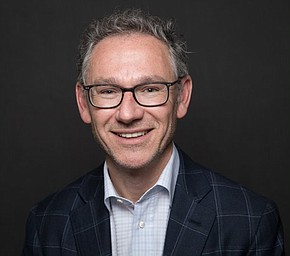 He had grown up in Britain, the son of immigrants who didn't speak English and who moved the family often. He weathered the harsh rejection of Britain's rigid class culture and didn't feel he belonged anywhere.
"I think over time, it informed how can I create a workplace where people can bring their whole self," Brown said.
In Los Angeles, he found an accepting culture. And in Chopra, he discovered a partner who shared his views about how to succeed in business.
"Kunoor and I want people to feel they belong," Brown said, "to feel safe."
For reprint and licensing requests for this article, CLICK HERE.