Snap Revenues Rise as User Growth Slows
Originally published July 21, 2020 at 4:51 p.m., updated July 24, 2020 at 10:34 a.m.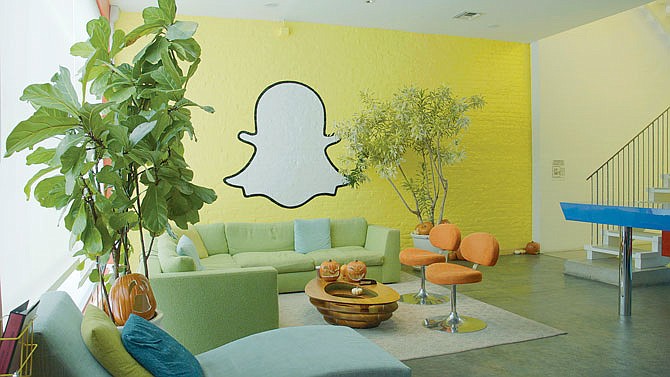 Snap Inc., the Santa Monica-based social media giant, reported mixed results for its second-quarter earnings.
While the company beat expectations with a 17% increase in revenue to $454 million, it disappointed analysts after reporting a slowdown in user growth for the period.
The company also a posted a net loss of $326 million, a 27.8% increase compared with $255 million during the same quarter a year earlier.
Chief Executive Evan Spiegel said in a statement that Snap's revenue growth "continues to be impacted by ongoing market disruptions" caused by the pandemic.
The company reported 238 million daily active users for the quarter, an increase of 35 million, or 17% compared to the same period last year. The growth rate is slightly lower than the 20% year-over-year increase in daily active users for the first quarter.
During the second quarter, Snap made several content deals and rolled out new features to develop Snapchat's Discover section in an effort to attract and retain users.
"With so much happening around the world today, our Discover platform is more important than ever in helping our community stay educated and informed about current events," Spiegel said. "In addition to news, Discover has also provided a premium mobile entertainment experience for our community as they are sheltering in their homes."
In June, Snap launched Happening Now, a feed on Snapchat's Discover section that provides real-time curated news from media outlets including The Washington Post, ESPN and BuzzFeed.
Also last month, the company renewed its Discover content deals with media partners, including NBCUniversal and ViacomCBS, which will keep shows like "Stay Tuned" and "The Rundown" on the platform.
The company said it has also expanded international programming with media partners in Europe and the Middle East.
On average, Snapchat users opened the app more than 30 times every day in the second quarter, the company said.
And in a sign that the app is expanding its reach beyond its core youth audience, the company reported a 40% year-over-year increase in the number of daily users over the age of 35 engaging with Discover content.
Snap declined to provide revenue expectations for the third quarter, citing "uncertainties related to the ongoing Covid-19 pandemic and the rapidly shifting macro conditions."
For reprint and licensing requests for this article, CLICK HERE.