Jamison Sells Multifamily Site in Koreatown for $32 Million
Monday, July 20, 2020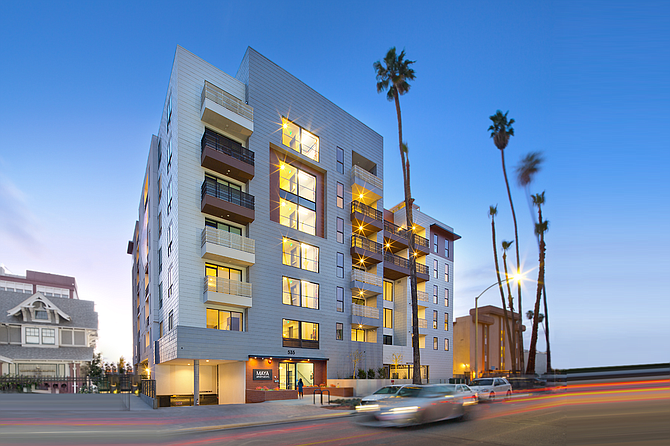 Jamison has sold a 72-unit multifamily property in Koreatown for $32.4 million to real estate investment firm Omninet Capital.
CBRE Group Inc.'s Laurie Lustig-Bower and Kamran Paydar represented Jamison in the transaction.
The building, the Maya Apartments, is located at 535 S. Kingsley Drive.
"The Maya will be a good addition to our multifamily holdings in Los Angeles," Michael Danielpour, a managing partner at Omninet Capital, said in a statement. "We were able to close this transaction in seven days, and it is the seventh transaction we have completed in the last five months with over $250 million in acquisitions for this period."
The property, built in 2018, has one- and two-bedroom units, a rooftop deck and is located near two subway stops.
"The Maya's excellent location just north of Wilshire Boulevard, attractive unit layouts and proximity to two Metro subway portals make it well-positioned within the bustling Koreatown community," Lustig-Bower said in a statement. "Not surprisingly, we received great interest and hosted a number of tours."
The Maya was Koreatown-based Jamison's first ground-up multifamily development. The family-owned company had previously done adaptive reuses of two former office buildings into multifamily sites.
The sale will allow the company to move on to other projects. "Given our current robust apartment development and delivery pipeline, the sale of The Maya Apartments enables us to make our operations more efficient with a focus on larger projects," Jaime Lee, chief executive of Jamison Realty Inc., the leasing and brokerage arm of Jamison, said in a statement.
Jamison is behind many of the buildings in the booming Koreatown multifamily market. Earlier this year, the company had roughly 3,000 units under construction, with a focus on Koreatown.
Multifamily investors have also flocked to the area, making a string of high-profile investments in 2019 and so far in 2020.
Earlier this year, Klein Financial Corp. recapitalized the 449-unit Wilshire Vermont at 3183 Wilshire Blvd., valuing the building at $135 million.
The company brought in Divco West Real Estate Services as a joint venture partner, replacing Hearthstone Housing Foundation and CalPers.
Last year, Century City-based Cityview sold an equity stake in the 346-unit the Pearl on Wilshire at 687 S. Hobart Blvd. to an entity led by Hankey Investment Co., valuing the property at roughly $171 million.
Equity Residential purchased the 398-unit Next on Sixth for $189 million, and Alhambra Place Partnership purchased the 60-unit Kodo at 2867 Sunset Place for $29.25 million from CGI Strategies.
For reprint and licensing requests for this article, CLICK HERE.