Fitness App FitOn Reports 200% Increase in Users
Monday, July 20, 2020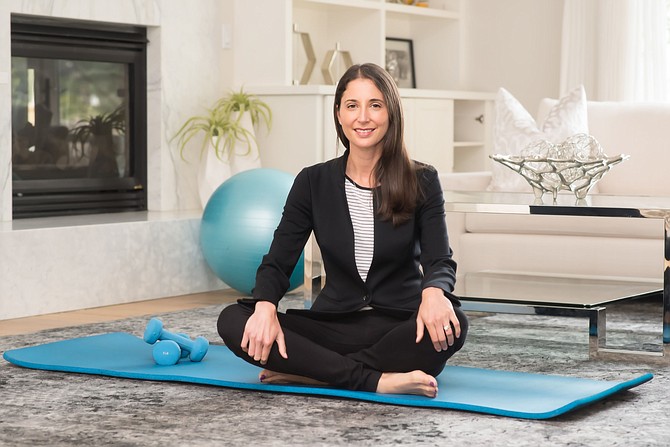 Century City-based FitOn Inc. is trying to turn the phone into a pocket-sized gym.
The company's fitness app, which offers training classes and meal plans, has seen the number of users increase more than 200% since mid-March.
According to co-founder and Chief Executive Lindsay Cook, Covid-19 has been a boon to the digital fitness business.
"I think it's going to be a long time before people are going to be fully confident of relying on just going to the gym," she said. "And even for those that are going to the gym, it's a great supplement and an opportunity to fit in workouts on the days when you're not able to make it."
The FitOn app is free to download on the App Store and Google Play. Users can access on-demand classes ranging from yoga to cardio. They can also add workout reminders.
FitOn charges a $69.99 annual subscription fee for premium features such as meal plans, music playlists and the ability to do offline downloads.
The company launched the "FitOn Party" feature in early July, allowing users to do a live video call with friends while they work out. "It's like Zoom for working out right in the app," Cook said.
FitOn has an in-house production team to film the classes and create original content.
"L.A. is really the center of film production. So, we've really, I think, mastered over the course of the last two years how to produce premium fitness content that's optimized for your mobile phone," Cook said.
She said there are about 15 trainers on the app, including Cassey Ho, a Pilates instructor with more than 5 million YouTube subscribers.
Before FitOn, Cook was the head of consumer devices and vice president of product marketing for San Francisco-based wearable technology company Fitbit Inc.
Cook left Fitbit at the beginning of 2018 and founded FitOn with her husband, Russell Cook, who previously founded AllTrails, the San Francisco-based developer of a hiking app that offers hand-curated trail maps, photos, reviews and user recordings.
FitOn launched in 2019 and today has more than 4 million registered users. Combined, those users have completed more than 250 million workout minutes on the app, according to Cook.
The company has raised $15 million in total funding. Its investors include Santa
Monica-based Crosscut Ventures Management, Accel and Telstra Ventures. FitOn plans to raise another $25 million later this year to help the business expand internationally, according to Cook.
"We are still working on what target markets we'll go after," she said.
For reprint and licensing requests for this article, CLICK HERE.