CREXi Increases Its Focus on Digital Offerings
Monday, July 20, 2020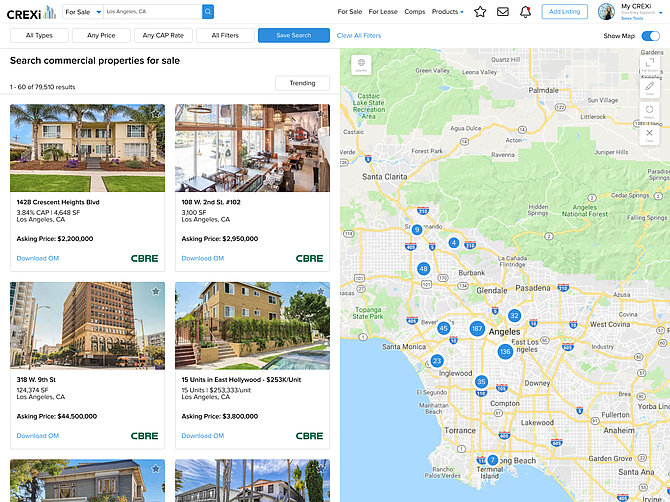 Marina del Rey-based Commercial Real Estate Exchange Inc., or Crexi, has had a busy few months.
The rapidly growing company recently raised a $30 million Series B funding round led by Mitsubishi Estate Co. Ltd., Industry Ventures and Prudence Holdings. That followed a Series A funding round in 2018.
Crexi aims to use the funding to streamline commercial real estate buying, selling, leasing and lending using its marketplace. The company also creates extensive data reports.
"The way commercial real estate has been brought online prior to us is there's a listing site or you can buy data. … We're trying to take the process and digitalize the whole experience," said Crexi founder and Chief Executive Mike DeGiorgio.
He said the company's software is used by about 3 million members, including more than 90,000 brokers, and has been used to close roughly $300 billion in sales.
Currently, DeGiorgio said, there are almost 250,000 spaces for lease on the site, which recently added an auction platform and enhanced data offerings.
The site has more than 400,000 total listings and more than 300,000 buyer actions in a month.
Crexi now has historical property records on 40 million properties — that's up drastically from 100,000 at the end of last year.
The addition of the auction platform was another way for Crexi to expand its usefulness. Before that, DeGiorgio said, "some of the brokers wanted to run an auction for certain properties and had to go somewhere else."
Crexi created the auction capability in response to requests from users.
For the rest of 2020, DeGiorgio said, the company is focused on growing its data and product offerings.
According to DeGiorgio, Crexi would also like to work on digitizing the "little parts of leasing, (which would) make it fully digital and speed those processes up."
In addition to serving as a place to lease and buy properties, the site allows brokers to create profiles. DeGiorgio wants to add more social aspects to the profiles, allowing brokers to do more on the site.
One of the company's goals for 2021 is to find a way to connect buyers with lenders. DeGiorgio said he thinks this will help Crexi become a one-stop shop for buyers to research, buy and finance a property.
He believes Crexi could overtake CoStar Group Inc. as a go-to source for information in the commercial real estate sector.
"We want to offer a better product, more accurate data, more usable data ... and be able to charge a lot less for it," he said. "They have a big head start on us, but I feel like we see so much of the actual transaction happening on Crexi."
Despite the ambitions, DeGiorgio said, the company has "taken a more cautious approach to growth this year" with Covid-19.
From March of last year to March of this year, its team doubled. Today, the company is growing at a slower pace, DeGiorgio said.
The pandemic has also made Crexi more essential, he added, because more business has to be conducted online.
"In a lot of brokers' minds, we became a lot more necessary," he said. "The industry has found us more of a necessity to use Crexi when things need to go more digital and things get tougher to do."
Most features on the company's software are free. Premium offerings, with auctions and extra data, use a subscription model.
"We want to keep that and be able to offer a better free version than you would pay for on other sites," DeGiorgio said. "A lot of where I saw the big gaps in the industry are people paying for things they shouldn't have to pay for."
For reprint and licensing requests for this article, CLICK HERE.