Herbalife Launches $750 Million Share Buyback Program
Originally published July 14, 2020 at 12:58 a.m., updated July 17, 2020 at 12:36 p.m.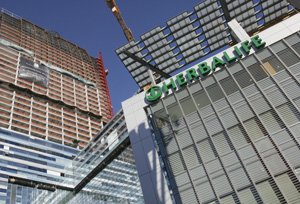 Downtown-based nutritional supplement company Herbalife Nutrition Ltd. has launched a modified Dutch auction self-tender to purchase up to $750 million of its stock.
The offer is priced between $44.75 and $50 per share and will expire Aug. 11, 2020, at 2 p.m. Pacific Time.
Modified Dutch auctions allow companies to buy back a set number of shares in a short period within a predetermined price range. Stockholders can choose to tender the number of shares they would like to sell at any price within the indicated range.
At completion of the offering, the company will purchase all shares tendered at or below the lowest purchase price that allows it to fulfill the full offer value — $750 million in the case of Herbalife's offer.
The offer is part of a $1.5 billion buyback program announced by the company in 2018. "Substantially all" of that program's capacity remained available prior to the current share repurchase initiative, according to Herbalife.
The offer is not contingent on any financing, the company said, indicating that Herbalife has the funds on hand to make the purchases. This circumstance lowers the chances of delays and complications arising from mandated third-party approval.
There is also no minimum number shares required for the purchases to go forward, according to a regulatory filing, giving individual shareholders a higher likelihood of being able to successfully sell off — especially if they tender for a relatively low value.
"With our strong cash flows and favorable debt maturity schedule, we believe we can drive future growth and invest in our business while continuing to return value to shareholders," said Herbalife Chairman and Chief Executive John Agwunobi.
For reprint and licensing requests for this article, CLICK HERE.