Consumer Confidence Reaches Record Low in Second Quarter
Jolts from Covid-19, social justice protests take their toll on LA County
Monday, July 13, 2020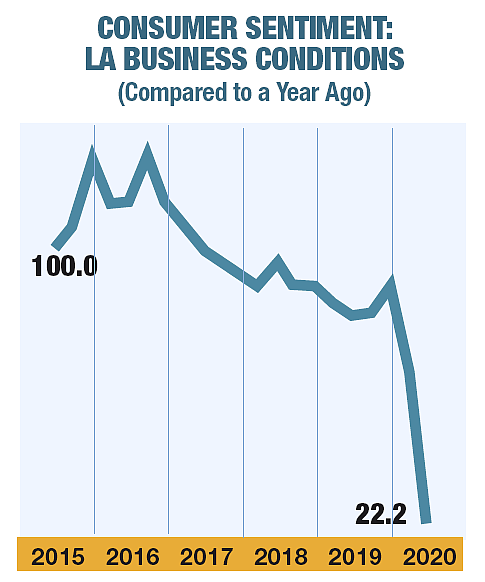 Consumer confidence plunged to another record low during the second quarter as the region's economy was ravaged by the Covid-19 pandemic and resulting business shutdown orders.
The survey from the Lowe Institute of Political Economy at Claremont McKenna College in Claremont showed the consumer sentiment reading for current business conditions in Los Angeles County at 22, down nearly 44 points from the 65.8 reading in the first quarter and off 60 points from the 82 reading in the second quarter of 2019.
The baseline of 100 was set in the second quarter of 2015 when the Lowe survey program launched. A peak reading of 126 was reached in the third quarter of 2016.
"This is almost as bad as things could possibly go, where everybody says the conditions are very bad," said survey author Cameron Shelton, director of the Lowe Institute of Political Economy and associate professor of political economy at Claremont McKenna. "It's completely new territory for us."
But Shelton said the reading was not surprising, given that much of the local economy was shut down for most of the second quarter.
Shutdown orders started lifting in late May, but then came the second shock of mass protests and looting throughout L.A. County in the wake of the killing of George Floyd by police officers in Minneapolis.
The June survey period ended just before Covid-19 caseloads started rising again, prompting a renewed shutdown of bars.
The broader consumer confidence index reading also plunged, though not as much. The second-quarter index reading was 60.7, down 18 points from the first quarter and 26 points from the 87 reading in the second quarter of 2019. This index measures both current conditions and expectations of future business conditions, the outlook for both the local and national economies as well as personal finances.
The second-quarter survey was from a sampling during mid-June of roughly 500 Los Angeles County residents who answered questions about their current economic situation, their outlook for their own finances and spending in coming quarters, and their outlook on both the local and national economies.
The Lowe Institute conducts these quarterly sentiment surveys in partnership with Chapman University in Orange.
Because of unprecedented jolts to the economy, the Lowe Institute also conducted a nearly identical sentiment survey in mid-May. That survey showed a reading of 26.1 for Los Angeles County business conditions, so the June survey showed continued deterioration.
But the broader index reading was 56.5 in mid-May, meaning overall sentiment among L.A. County residents ticked up slightly from the May level to 60.7 in June.
Income levels played a significant role in confidence. Sentiment among those with annual incomes below $100,000 fell 25% from the first quarter, while sentiment among those with annual incomes over $100,000 fell 16%.
"Those with higher incomes, their jobs were less impacted by the business shutdowns," Shelton said. "They were more easily able to transfer their work to the home setting ,and I suspect many had more of a cushion to withstand the economic shocks."
Likewise, Shelton said the 18-to-24 age group registered the largest drop in sentiment between the first and second quarters.
"They appear to be hardest hit by job loss, not the disease itself," he said. "They don't have a history in the job market that enables them to put this downturn into perspective. They also don't have any safety cushion of assets or savings they can draw on — in fact many have huge student loan payments. Also, many have rent payments that, while they can be postponed for a few months, must all eventually be paid. So there's a lot of fear and worry in that cohort."
For reprint and licensing requests for this article, CLICK HERE.