Goodman Group Completes El Monte Industrial Site
Company wraps construction on large logistics property
Monday, July 6, 2020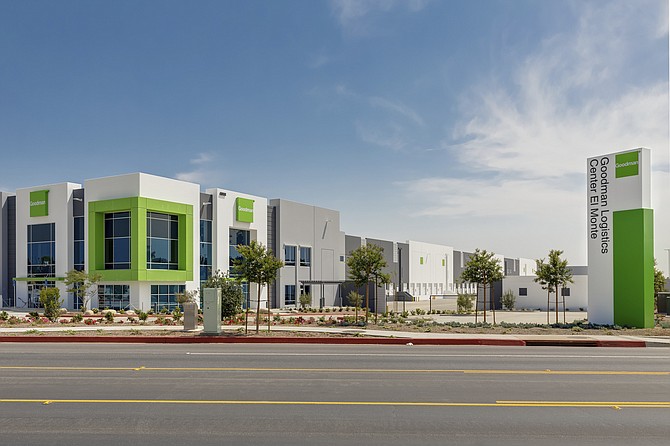 Goodman Group, which has been actively acquiring and developing industrial properties across Southern California, has completed a 1.2-million-square-foot logistics facility in El Monte.
The property, located at 4300 Shirley Ave., has spaces available from 227,850 square feet to 935,657 square feet.
"Over the past three months, Goodman has seen increased demand for both temporary and permanent space from customers in varying industries, particularly related to ecommerce operations," Anthony Rozic, Goodman Group chief executive, said in a statement.
"We understand that consumer needs and demands are growing more rapidly than ever before. Companies are now required to be faster, more agile and quick to adapt operations. Through the El Monte facility's design configuration, we can provide companies with the space needed to help successfully deliver products to consumers when they need it," Rozic added.
The facility has a 36-foot clearance height, 185-foot truck courts and 536 parking spaces for cars. It also has 164 trailer stalls.
Japanese supply company Mutual Trading Co. Inc. leased nearly 300,000 square feet at the facility last year.
Goodman Group has been on a tear in Southern California with industrial facilities.
Last year, the company acquired large properties in Long Beach and Commerce.
The Long Beach acquisition was the 90-acre former Boeing C-17 manufacturing plant.
The Commerce purchase was a 37-acre distribution center now called the Goodman Commerce Center Los Angeles.
The company also acquired a 65-acre manufacturing and distribution center in Fullerton that it will redevelop. The logistics campus will be called the Goodman Logistics Center Fullerton.
Goodman Group now has more than $34 billion in assets under management across 17 countries.
Industrial real estate has been a favored asset class among investors for years and is expected to be one of the areas of the real estate market to fare the best now and coming out of the Covid-19 epidemic.
"We expect weakness to persist in the investment-transaction market for the next quarter at least," Richard Barkham, CBRE Group Inc.'s global chief economist and head of Americas research, said in a statement about the state of commercial real estate investment nationwide. "When activity picks up, it is likely to accelerate first in the multifamily and industrial and logistics sectors."
For reprint and licensing requests for this article, CLICK HERE.