American Drops International Flights From LAX
Wednesday, July 1, 2020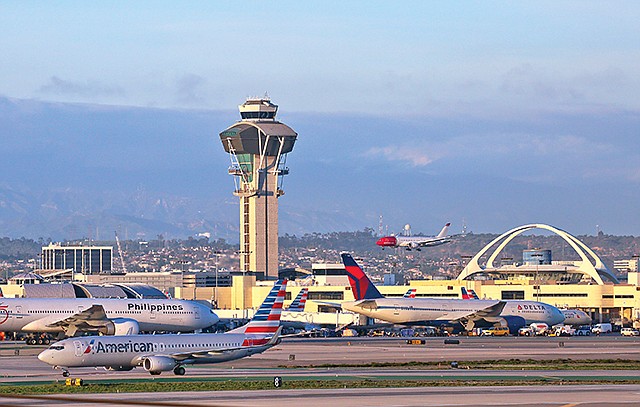 American Airlines Inc. announced July 1 that it is dropping five international flights from Los Angeles International Airport and moving its trans-Pacific hub from LAX to Dallas-Fort Worth International Airport near its headquarters.
Qatar Airways also announced it was resuming service to LAX starting July 1 from its base at Hamad International Airport in Doha, Qatar.
But it is American's flight lineup changes that will likely have more significant longer-term impact at LAX. The airline cited lower demand for international flights, saying that even in 2021, international travel is expected to be down 25% from 2019 levels.
"Covid-19 has forced us to reevaluate our network," American's Chief Revenue Officer Vasu Raja said in the announcement. "American will have a significantly smaller international network in the year ahead, but we are using this opportunity to hit reset and create a network using the strength of our strategic hubs that we can build and grow upon and be profitable on in this new environment."
The airline added, "As American resets its international network for future growth, Dallas Fort Worth International Airport will be the airline's major trans-Pacific hub."
The carrier said it is cutting "five underperforming routes to destinations in Asia and South America" but did not specify the routes.
American's realignment of its trans-Pacific hub could have longer-term implications for the local tourism economy since international visitors spend more on average than domestic visitors.
In 2018, international passenger traffic comprised 23% of total overnight visitors but accounted for 49% of total spending for all overnight visitors, according to figures from the Los Angeles Tourism and Convention Board.
But American did present some positive news for LAX. The airline announced service from LAX to London's Heathrow International Airport will resume this winter while flights to Sydney will resume next summer. It also announced plans to launch one new international flight from LAX – to Auckland, New Zealand – early next year.
Qatar Airways said in its announcement that as of July 1, it has resumed service to LAX, starting with three flights per week. It plans to increase that to five flights per week on July 17 and six flights per week on Aug. 1.
Health care/biomed, energy, engineering/construction and infrastructure reporter Howard Fine can be reached at hfine@labusinessjournal.com. Follow him on Twitter @howardafine.
For reprint and licensing requests for this article, CLICK HERE.