Pritzkers Give UCLA $30 Million
Simms/Mann Foundation also donates $18M
Friday, January 31, 2020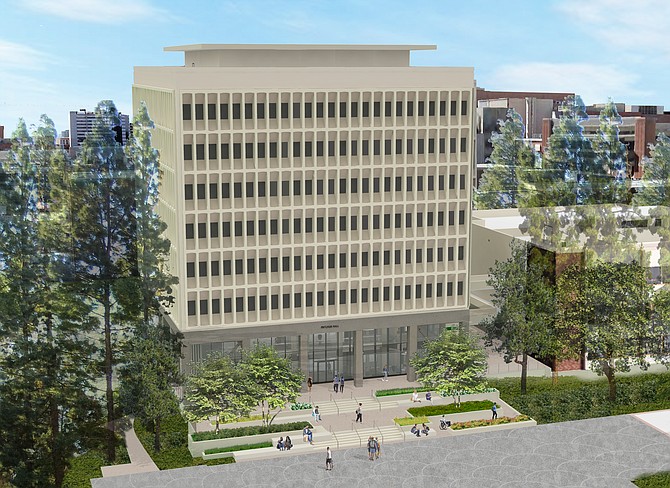 UCLA has received a $30 million commitment from the Anthony and Jeanne Pritzker Family Foundation to support the renovation of the outdated Psychology Tower building on UCLA's Westwood campus.
In recognition of the gift, the building has been named Pritzker Hall. The tower was designed by Los Angeles architect Paul Revere Williams and completed in 1967. Seismic retrofitting began in 2018, and the full renovation is expected to be completed in 2020.
"UCLA is a great university, matched by a world-class psychology department," Anthony Pritzker said in an email. "Through this gift, our foundation aims to strengthen UCLA's capacity to continue to attract the best faculty and students to Los Angeles and serve as a significant driver of our local economy." 
UCLA said in a statement that the $30 million commitment is the largest in the history of UCLA College's life sciences division, which includes the psychology department.
A $10 million portion of the gift will be used to create the Anthony and Jeanne Pritzker Endowment for Excellence, which will provide faculty and student support and fund ongoing infrastructure costs.
"We are immensely grateful to Tony and Jeanne Pritzker for taking the lead in investing in a new era for UCLA psychology," Victoria Sork, UCLA's dean of life sciences, said in the statement. "I am especially heartened by this gift, because the values the Pritzkers espouse align with our own values of service and investment in our communities."
The commitment represents the next step in the Pritzkers' longtime commitment to UCLA. Tony Pritzker served as co-chair of the Centennial Campaign for UCLA, which concluded in December. The campaign exceeded its $4.2 billion fundraising goal 18 months ahead of schedule.
Other gifts to UCLA from the foundation include $15 million to the UCLA Institute of the Environment and Sustainability in 2013. The foundation has given nearly $100 million to the university in the areas of athletics, law, medicine, neuroscience, education, public policy and programs to support foster youth on campus.
Separately, UCLA announced that the Simms/Mann Family Foundation has made an $18 million donation to the school.
The foundation, led by Victoria Mann Simms and Ronald Simms, is the lead donor in a campaign for a $50 million endowment for the Simms/Mann-UCLA Center of Integrative Oncology.
The center provides psychosocial care to patients and families dealing with the emotional, psychological and physical burdens of cancer.
For reprint and licensing requests for this article, CLICK HERE.