NantHealth Stock Surges Again on News
Investors respond to promising AI test, software partnership
Friday, January 31, 2020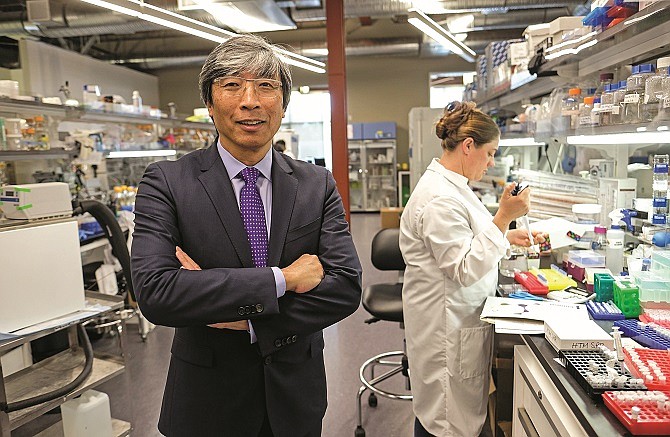 After months of relatively little news from billionaire Patrick Soon-Shiong's Culver City-based network of health care businesses, the past few weeks have brought multiple developments that sent shares soaring at two of the companies.
On Jan. 28, Soon-Shiong announced that digital health information company NantHealth Inc. had developed an artificial intelligence platform to help pathologists identify types of lung cancer. NantHealth shares shot up 56% that day to close at $2.05.
That same day, NantHealth said it had signed a partnership agreement with The Health Plan, an HMO based in Wheeling, W.Va., that would use NantHealth's multipayor software platform.
The two announcements followed a mid-January statement from Soon-Shiong about a potential breakthrough treatment from immunotherapy company NantKwest Inc. Soon-Shiong revealed that an early stage clinical test of the company's main experimental drug therapy had resulted in a dramatic improvement in a single pancreatic cancer patient. The report initially sent shares up 91% to $6.50.
Also that week, NantHealth announced it was selling its medical device connectivity business to Irvine-based Masimo, a non
invasive monitoring technology company, for $47.3 million.
AI cancer detection
Last week's AI platform revelation from NantHealth, at a Silicon Valley imaging science symposium, garnered attention from investors.
Soon-Shiong said in the announcement that the company's software correctly identified different subtypes of lung cancer 86% of the time, closely matching the diagnosis rate among human pathologists.
Until now, Soon-Shiong explained, accurately identifying tumor-infiltrating white blood cells required manual review of multiple slide images, which requires significant time and money.
"Our goal was to develop a scalable remote cloud-based diagnostic imaging system, a NORAD of pathology diagnosis so to speak," Soon-Shiong said.
One local bioscience expert said this could be a promising development. "If the results are as good as described in the announcement, it means we are a step closer to having in place a high-precision means for detecting cancer, developed by a Los Angeles (area) company," Ahmed Enany, chief executive of the Southern California Biomedical Council, a downtown-based trade group, said in an email.
"This is a good development that enhances the profile of the greater Los Angeles digital health community," he said.
Upon hearing this news, investors swarmed NantHealth stock, which is usually thinly traded. On Jan. 28, trading volume topped 21 million shares, compared to the stock's average daily volume of 250,000 shares. The price closed up 56% at $2.05 per share. The next day it fell back 11%, closing at $1.83.
Payor-provider communication
NantHealth's software partnership with The Health Plan, which has about 200,000 enrollees in West Virginia and Ohio, will facilitate communication between health care payors — chiefly insurers — and providers, about plan eligibility and benefit criteria, claims status inquiries, claims management, authorizations, referrals and document exchange.
"We're excited to be working in partnership with The Health Plan to enable a direct connection with their provider networks with an outcome of impressive cost savings, ongoing support, product improvements, and enhanced communications," Mark Mozley, NantHealth's senior vice president for global sales and marketing, said in the announcement.
Financial terms of the partnership were not disclosed.
For reprint and licensing requests for this article, CLICK HERE.