Laemmle Theatres Plans Expansion
After turning down sale, chain will open in Newhall, Azusa
Friday, January 31, 2020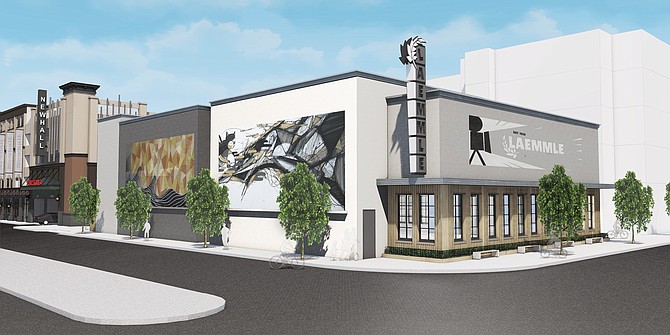 Despite reports of a possible sale last year, Laemmle Theatres now says it has turned down recent buyout offers following improved financial results in the second half of 2019.
"We did see a significant drop in revenue in early 2019," confirmed Greg Laemmle, president of the 82-year-old family-owned Southern California art house theater chain. "There was interest, and there were offers. But by the time we got to the point of decision-making time, we decided we were better off sticking this out."
Laemmle declined to disclose the identities of the would-be buyers or the offer prices.
In fact, the Sawtelle-headquartered company said it will expand. It plans to open a seven-screen multiplex in Newhall in the second quarter — in time for the summer movie season, Greg Laemmle said. The company has also broken ground on a four-screen theater in Azusa, although he said there is not yet an opening date. Laemmle is also planning a theater in Bellflower.
The Newhall complex will have approximately 650 seats on multiple levels, Laemmle said. The structure is located on the corner of Lyons and Railroad avenues and is adjacent to the Newhall Crossings mixed-use development as well as a multistory parking structure.
Laemmle called Newhall an "underserved market" for art house fare. However, he added that having seven screens will allow for programming a wider range of movies.
"It depends on the competitive environment," Laemmle said. "(Our films are) films for adults, but we're not going to turn up our nose at Hollywood films. Some venues may (turn) a little more toward the Marvel universe. But some of the art films that have not been reaching the community will be shown as part of our mix."
Laemmle said a larger number of screens allows a theater more economies of scale in operating costs, including staffing. But bigger is not always better, he said:

"In some situations, you are fitting into a smaller space because it may be desirable for the overall development."
Laemmle closed its Santa Monica location from 2014 to 2016, after 44 years of continuous operation, for a massive renovation during which it also secured for the site a license to serve beer, wine and restaurant-quality food.
Laemmle theaters in Glendale and North Hollywood began serving wine, beer and added an expanded menu in 2018 as well. Laemmle said the company hopes to do the same in Pasadena and Claremont soon.
The theater chain ended its lease agreement to operate the Music Hall in Beverly Hills late last year. The venue has reopened under new management.
For reprint and licensing requests for this article, CLICK HERE.