Airports Post Mixed Results
LAX slipped, Ontario surged in '19
Friday, January 31, 2020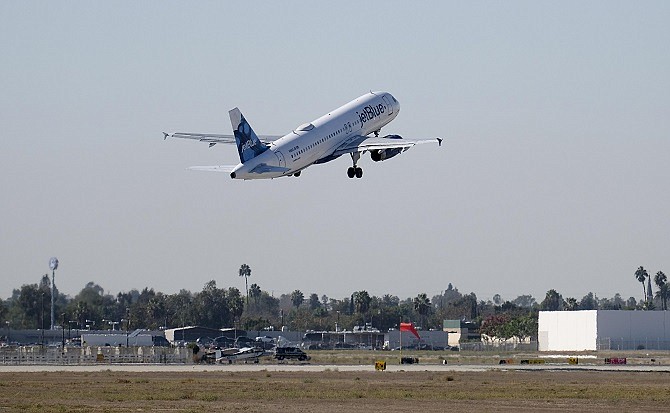 The passenger traffic picture was mixed for 2019 at three of the Los Angeles region's airports.
At Southern California's mega-airport, Los Angeles International, passenger traffic growth slowed last year to 0.6%, nudging just past 88 million, airport officials reported Jan. 24.
That was the smallest increase at LAX since the Great Recession.
At Ontario International Airport, meanwhile, the passenger count rose 9.1% last year to nearly 5.6 million.
Passenger traffic at Long Beach Airport fell 7.8% last year to just under 3.6 million, despite increases in November and December, according to data released Jan. 28.
Hollywood Burbank Airport had yet to report December and full-year figures as of Jan. 29. For the first 11 months of 2019, Burbank registered a 13% increase in passenger traffic as more than 5.4 million passengers went through its gates.
Decline at LAX
The 88.1 million passengers traveling through LAX in 2019 represented only a slight uptick from 87.5 million in 2018. The 0.6% increase marked a significant drop from 2018's gain of 3.5% and was the slowest growth since a 5.5% drop in passenger traffic in 2009.
"For the last several years, we've been growing like gangbusters, but this year, we're definitely seeing slower than average growth," Justin Erbacci, interim chief executive with Los Angeles World Airports, told the Business Journal in October.
The slowdown was across the board, LAX officials said.
International traffic dropped 1.4% at LAX to 25.7 million when compared to 2018. Airport officials had told the Business Journal in October that the drop in international travel was due to a more costly dollar and cutbacks in flights to saturated markets, such as Mexico.
Domestic passenger traffic grew 1.45% last year, compared to a rate of 3.1% for 2018.
Airport officials in October attributed the drop partially to flight cancellations due to the grounding of Boeing Co.'s 737 MAX planes in late March. Two of the planes had crashed, killing all aboard, in Indonesia and Ethiopia.
The passenger traffic drops came despite a robust increase in December. LAX passenger traffic rose 3.8% over the same period in 2018 to nearly 7.5 million.
The biggest jump in December came in domestic passenger traffic, which rose 4.7% to 5.35 million. But that was largely due to a fluke of the calendar.
Because the Sunday of the Thanksgiving weekend — one of the two biggest travel days of the year — fell in December this year, it counted toward that month's total. Last year, that Thanksgiving weekend Sunday landed in its traditional November slot.
Meanwhile, air cargo volume at LAX in 2019 saw its worst year in over a decade, falling to 2.3 million tons. That marked a 5.5% drop compared to 2018, when LAX posted a 2.4% increase in air cargo traffic.
In 2009, air cargo volume at LAX plunged 7.4% to less than 1.7 million tons.
Airport officials blamed trade tensions between the United States and China for the drop in 2019, which saw the scope of trade tariffs widened.
Ontario takes off
With 5.6 million passengers last year, Ontario International Airport's 9.1% year-over-year gain was its biggest since the start of the Great Recession in 2008.
That year 6.2 million passengers went through the gates at Ontario.
In 2018, the airport posted a growth rate of 12.1%.
These rapid growth rates reflect an aggressive push by the Ontario International Airport Authority — which took control of the airport from Los Angeles in November 2016 — to market the airport both domestically and internationally.
Ontario's 2019 growth was led by a 33% jump in international passenger traffic to 304,000 though that was off a relatively small base of 228,000 passengers.
In March 2018, China Airlines began the first transoceanic international flight between Ontario and Taiwan's Taipei airport; a total of 175,000 passengers took that flight during its first 12 months.
Domestic passenger traffic at Ontario rose 8% during 2019 to reach 5.3 million.
Air cargo at Ontario rose 5.1% to 760,000 tons, in large part due to the continued rise of the Inland Empire as a major warehouse and distribution hub.
JetBlue turbulence
At Long Beach Airport, passenger traffic fell 7.8% last year to 3.58 million, according to data from the city, which administers the airport.
A drop had been expected because in late 2018 New York-based JetBlue Airways Corp., the dominant carrier at Long Beach, cut about a third of its flights after its bid to start international service was derailed a year earlier.
As of mid-2018, roughly 80% of all passengers at Long Beach flew on JetBlue.
Throughout 2019, other carriers — chiefly Dallas-based Southwest Airlines Co. – began to pick up some of JetBlue's flight slots at Long Beach.
This was reflected in the November and December passenger numbers, which rose 5.2% and 7.9% respectively. December's rise to nearly 322,000 was also aided by the late Thanksgiving holiday.
For reprint and licensing requests for this article, CLICK HERE.