Verity to Close LA's Oldest Hospital
Debt-laden St. Vincent dates to 1856
Friday, January 10, 2020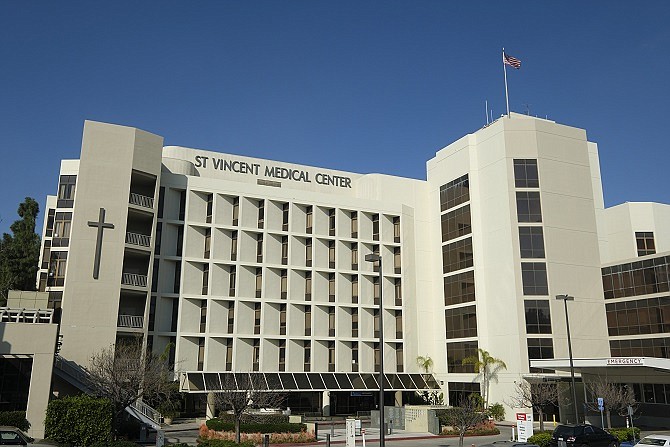 El Segundo-based hospital operator Verity Health System, which filed for bankruptcy protection in 2018, will close St. Vincent Medical Center in Westlake — the oldest continuously operating hospital in Los Angeles — at the end of January.
The decision to shutter St. Vincent, which traces its roots back to 1856, came after an agreement for Verity to sell its remaining hospitals to KPC Group, a Corona health care conglomerate, fell through in late December.
Verity announced its plan to close the hospital on Jan. 6; two days later, the plan was approved by U.S. Bankruptcy Court Judge Ernest Robles.
St. Vincent, located at the intersection of 3rd and Alvarado streets about a mile west of downtown, is licensed for 366 beds, though by Jan. 8 only 80 patients remained, according to a Verity Health representative.
The representative said the bulk of the patients would be transferred to nearby Good Samaritan Hospital at 1225 Wilshire Blvd., which is licensed for 408 beds; the rest would be transferred to other hospitals within a 3-mile radius.
While Verity will be shutting down St. Vincent, it said in its Jan. 6 announcement that it plans to keep its three remaining hospitals open, including St. Francis Medical Center in Lynwood and two hospitals in San Mateo County in Northern California.
"We are deeply saddened to announce the planned closure of St. Vincent Medical Center," Richard Adcock, Verity Health's chief executive, said in the announcement. "This decision has not been taken lightly and comes only after exhausting every option to keep this hospital open. … While we regret the closure of St. Vincent, we know that this community will continue to be well-served by nearby hospitals."
In the announcement, Verity Health said it had $80 million remaining in debtor-in-possession financing of the original $185 million it had obtained at the time of the bankruptcy filing in August 2018.
Upon filing for bankruptcy, Verity Health had "more than a billion dollars of bond debt and unfunded pension liabilities" and was losing about $175 million per year, Adcock said.
Verity's largest creditor is Integrity Health, which was formed in 2015 to manage the Verity Health hospitals. Integrity is now majority-owned by billionaire Patrick Soon-Shiong's NantWorks.
Since 2015, Soon-Shiong and Nantworks have contributed more than $300 million to recapitalize Verity Health.
Verity Health's financial position is far from unique. According to a preliminary report from the California Health Care Foundation released last month, 40% of hospitals in California lost money in 2017. Among the reasons commonly cited for pressure on hospital margins: insufficient reimbursement rates from government or private insurers, having to treat uninsured patients and sharply rising drug prices.
"With nearly 40% of California hospitals operating in the red, this is a reality that many organizations must confront," said Adam Blackstone, spokesman for the nonprofit Hospital Association of Southern California.
Speaking to the St. Vincent closure, Blackstone said, "A succession of owners has done everything possible to keep the doors open, but ultimately it just wasn't possible any longer."
The roots of St. Vincent Medical Center go back to 1856, when the Daughters of Charity, a Catholic charity, started treating sick patients at an orphanage and school in the fledgling city of Los Angeles, which at the time had a population of fewer than 4,000.
A fully dedicated hospital opened in 1869 under the name Los Angeles Infirmary. In 1884, the hospital moved to the intersection of Sunset Boulevard and Beaudry Avenue in present-day Silver Lake; that hospital took the name St. Vincent in 1918.
The hospital witnessed a number of medical firsts, including the first successful open-heart surgery on the West Coast in 1957 and the first hemodialysis treatment for kidney failure patients in 1962.
In 1971, St. Vincent broke ground for a building at its current location at 3rd and Alvarado.
In recent decades, ownership of St. Vincent Medical Center changed several times. In 1985, St. Vincent Medical Center broke off from the Daughters of Charity and affiliated with Catholic Healthcare West. But in 2002, the hospital reaffiliated with the Daughters of Charity's statewide health system.
For reprint and licensing requests for this article, CLICK HERE.