The Problem Solver
When it comes to his community, low-key Anthony Pritzker is highly engaged
Friday, January 10, 2020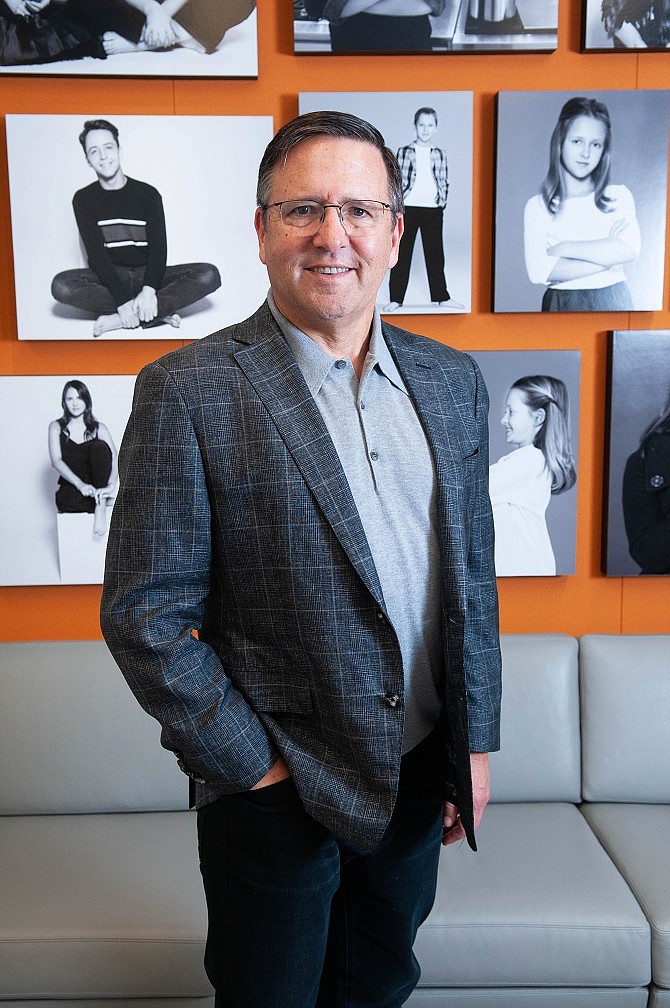 During a recent conversation in his West Los Angeles office Anthony Pritzker, the 59-year-old co-founder, chairman and chief executive of Pritzker Private Capital, was, as usual, mixing business with philanthropy.
Pritzker was handling company affairs while looking forward to a favorite event that would take place the same evening: the Pritzker Emerging Environmental Genius Award ceremony and dinner.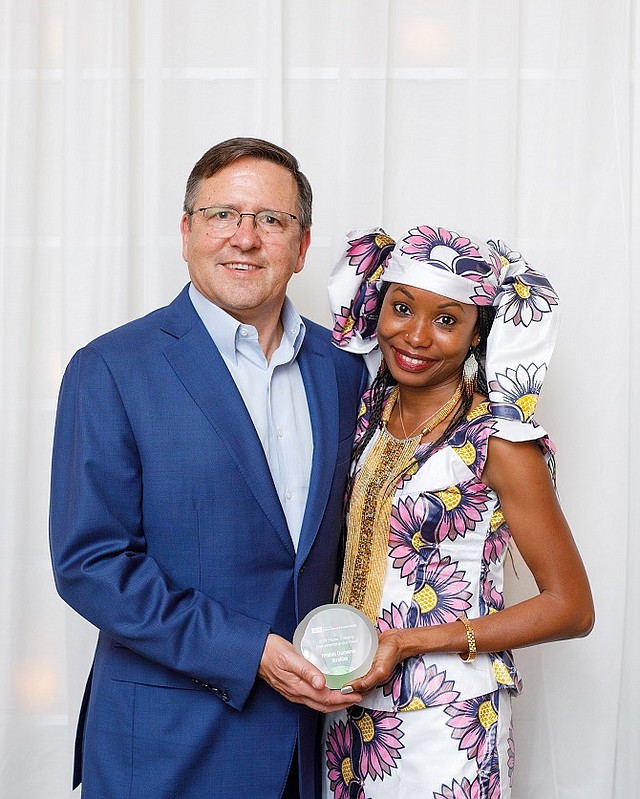 Funded by the Anthony and Jeanne Pritzker Family Foundation, the award, managed by UCLA and founded in 2017, provides $100,000 annually to a scientist, entrepreneur, engineer, activist or artist under the age of 40 who, according to the foundation, "stands poised to make a game-changing difference."
Pritzker said it's more effective to invest in young innovators rather than giving out, say, a lifetime achievement award.
"It's a little more work to give (an award) to people who are just emerging, to give it to the 30-year-old scientist who is doing great work," he said. "The 55-year-old guy or gal … is generally not going to be discovering something new."
The 2019 award went to environmental activist Hindou Oumarou Ibrahim of Chad, but all finalists receive some funding and attend the dinner. It's all part of Pritzker's dedication to leveraging philanthropy to create the widest possible influence.
An heir to the Hyatt Hotels Corp. fortune, Pritzker has a net worth of more than $4 billion (he ranked No. 16 on the Business Journal's most recent ranking of Wealthiest Angelenos).
He is co-founder with his brother, Gov. J.B. Pritzker (D-Ill.), of Pritzker Private Capital and Pritzker Group Venture Capital, which are both based in Chicago, with offices in Los Angeles. J.B. Pritzker stepped down as managing partner of the entities in 2017 to run for governor. He was elected in 2018.
The venture capital arm focuses on early stage technology companies, while Pritzker Private Capital is involved in manufactured products, services and health care.
Tony Pritzker also is co-founder of the nonprofit Anthony & Jeanne Pritzker Family Foundation, which over the past 10 years has donated more than $100 million in Los Angeles County alone, including $14 million in 2019. About 20% of the foundation's giving is outside of L.A. Causes include medical research, education, Jewish life, environment, and foster youth — an area Pritzker describes as Jeanne's primary passion.
"We may not be the biggest givers, but we are so engaged that we help bring in other dollars, right?" Pritzker said during a recent conversation.
A practical approach
Pritzker trained as an engineer and businessman, earning a BA in engineering from Dartmouth College and an MBA from the University of Chicago. "I actually love knowing how things are made," Pritzker said. "So, I ended up studying engineering and from that, ended up in … our family business."
Had the family business not presented as a natural career choice, Pritzker said, he might have become an architect. But even in an architect's role, he admits a primary fascination would have been engineering and how practical materials shape aesthetics.
On this particular day, Pritzker is talking about windows while looking out at a spectacular city view from his 15th floor office. "If you look at the contemporary architect, what's really fascinating is the use of materials and how materials have changed," he said.
The Pritzker companies are looking for new office space in Chicago. The search has triggered Pritzker's interest in how strength of materials has dictated the size of windows over the decades in this Midwestern capital of architecture.
"In the '20s and '30s, the windows are small … and then you get into the late '80s and '90s, and the windows are bigger; the buildings don't even have columns, and the (windows) can cantilever out," he observed.
Pritzker admitted that all the reading he does for business leaves little time to pick up a book and read for pleasure, but audiobooks fit his schedule. He was listening to John Steinbeck's "East of Eden" at the time of the Business Journal interview.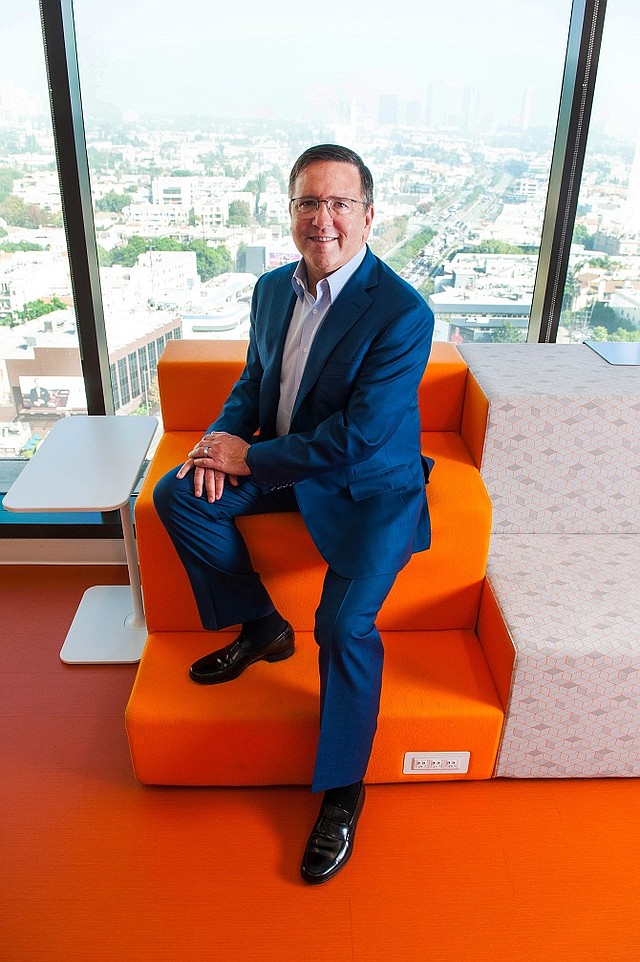 "I can't write, but I (admire someone) who is so skilled with his use of words," he said. "It's the same way with engineering. I'm all about efficiency, but when someone solves the form, fit and function of an item, I marvel at it."
Pritzker applies an engineer's problem-solving ability to his philanthropy. When he engages with others on boards or in support groups, he wants people to walk out not just with big ideas, but with "action items" to get the job done.
"I'm not putting my name on things just to put my name on things," he said. "We are super involved."
Just ask Los Angeles County Museum of Art Director Michael Govan. Pritzker, a former trustee and longtime museum supporter, is one of a long list of donors who have collectively contributed $250 million toward LACMA's renovation, which includes a $650 million Peter Zumthor-designed building soon to break ground.

Govan harked back to another project that was part of LACMA's ongoing multiyear reinvention: the underground Pritzker Family Foundation Parking Garage, more commonly known as the Pritzker Parking Garage.
Govan convinced Pritzker and Pritzker's wife, Jeanne, to allow the museum to use their name by offering the couple a practical reason: The Pritzker name could help draw new donors to the museum.
"No one else asked had asked about the naming opportunity of a parking garage," Govan added with a laugh. "He is so smart, so contrarian and smart. I love that story because it's about being generous and modest at the same time. That's philanthropy."
Pritzker said that supporting the garage was a unique way to serve and educate L.A. youth. "Community access is the focus," he said. "Sometimes it can be something simple, but essential, that no one else wants to pay for that can make a difference in making it easier to get more kids into the museum."

Pritzker also is a board member of the U.S. Olympic and Paralympic Foundation, as well as a founding member of the LA 2028 Olympic committee. An avid skier, he has a passion for athletic competition and has completed nine Ironman Triathlons, 22 marathons, and numerous other triathlons and distance events.
Christine Walshe, chief development officer of the committee and president of the U.S. Olympic and Paralympic Foundation, said it is important to have that kind of donor on your side.
"He has been a huge advocate for us in L.A.," Walshe said. "You want to find people that others will follow; it's not really about the gift. … When you say Tony Pritzker is involved (potential donors) don't have to do as much homework, and (he) has already kicked the tires. Tony was that person for us — in L.A. and across the country."
Investing in California
The Pritzker Family Foundation is a huge supporter of UCLA. Multiple major gifts to the university include $13 million in 2013 to support environmental and sustainability research and $12.5 million in 2018 to benefit the Hammer Museum at UCLA, which launched a $180 million expansion campaign in 2018, as well as the university's School of the Art and Architecture.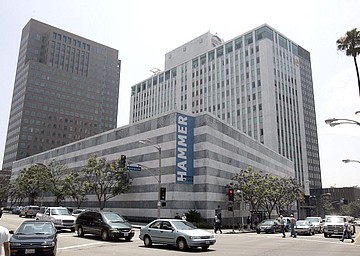 The Hammer's central courtyard will be named the Pritzker Family Commons. And in keeping with the Pritzkers' passion for serving the public, the area will be used for the museum's annual Family Day and community events such as public station KCRW's free summer concert series.
Pritzker's biggest UCLA involvement to date has been serving as co-chairman of the university's $4.2 billion Centennial Campaign, which UCLA said is the largest fundraising effort ever undertaken by a public university.
UCLA Vice Chancellor Rhea Turteltaub said the deadline was reached in December, 18 months early, and she estimated that following the official tally, the total will be more than $5 billion.
Since the campaign launched in 2014, the Pritzker Family Foundation has contributed nearly $60 million, including $10 million to establish the UCLA Pritzker Center for Strengthening Children and Families.
Pritzker's role as co-chairman satisfied his need to find out how things work, including learning how the wheels turn at a major research university. "The first thing you had to do was go around the campus and meet all the deans." Pritzker said. "That's so cool."
Although he supports his alma maters, Pritzker said backing a large public university serves a broader community. "Eighty percent of UCLA grads stay in California. Investing in UCLA is investing in California," he said.
Living the dream
Even Pritzker's main residence is part of the family's philanthropic picture. The 49,300-square-foot home on Angelo Drive in Beverly Hills is often reported to be the second-largest private residence in greater Los Angeles, after the Spelling Manor.
"So I live in a fancy house, right?" Pritzker said, anticipating a question about the estate, one of the family's multiple homes. "But … we've done over 300 events, whether it's UCLA-focused things, or foster (child) programs, or to convene different groups. That's why we built it that way.

"But guess what — there's a little secret byproduct that I get out of it: I don't have to drag my kids off to things because they can see that we're involved," Pritzker said. "Part of what leadership is is walking the walk, not just talking the talk."
UCLA's Turteltaub has seen the philosophy in action. "I remember being at an (environmental) event with 400 people sitting on their tennis court with an event going on," she recalled. "And a couple of kids would wander in and quiet down, sort of curled up on his or Jeannie's lap and listen for a while. They experienced it on their own terms, age appropriately.
"When you see a parent being a champion, a cheerleader, it definitely rubs off," she added.
The Pritzkers have seven children. He acknowledged that having a big family is an unusual choice today and with that comes the responsibility to foster seven individual dreams without being overshadowed by a wealthy, successful and admittedly competitive father.
"The biggest challenge I think is the seven kids. How do I allow them to do what they love and not feel intimidated about having to live up to some equal number of what I might have done?" Pritzker said pensively. "How do you do that in a way that makes them feel excited about being the best in their field, without any burden?"
Added Pritzker, "I got lucky. I got to do that."
Keep Reading: 2020 Philanthropy Special Report
For reprint and licensing requests for this article, CLICK HERE.