Arts & Institutions: The Academy Museum is almost ready for its closeup
Friday, January 3, 2020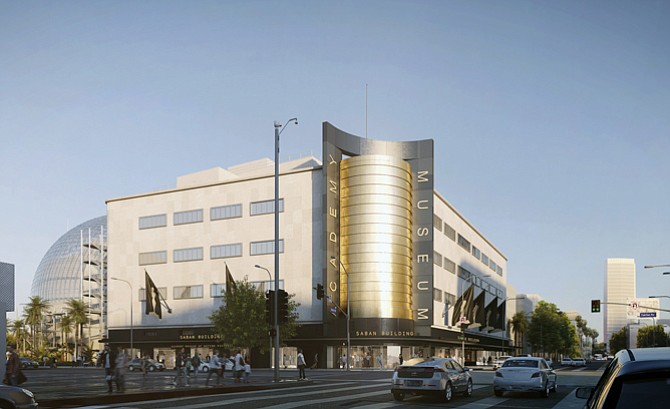 L.A.'s investment in its cultural capital has increased markedly over the past few years with the announcement of a number of splashy new or expanded museums or arts institutions fueled by mega-donations from some of the city's wealthiest philanthropists.
While significant progress on these projects is expected this year, only one of those institutions — the $388 million Academy Museum of Motion Pictures on Museum Row in mid-Wilshire — is slated to open its doors to the public in 2020.
The Renzo Piano-designed museum, under construction by the Academy of Motion Picture Arts and Sciences, has been plagued by construction delays and cost overruns since breaking ground in November 2016.
A previously announced early 2020 opening has been postponed to an unspecified 2020 date, a museum spokeswoman confirmed.
Another high-profile entertainment industry-related museum, the estimated $1 billion Lucas Museum of Narrative Art, broke ground in March 2018.
Founded by filmmaker and philanthropist George Lucas and wife, Mellody Hobson, co-chief executive and president of Ariel Investments, the 300,000-square-foot, Ma Yansong-designed museum was initially projected to open to the public in 2021.
Museum spokesman Alex Capriotti said via email that while an opening date has not been announced, substantial construction on the museum in Exposition Park is set to be completed by the end of 2021.
Unlike many of the city's cultural institutions, this museum has no worries about being slowed by fundraising woes: Lucas and Hobson are footing the full bill for the museum's construction, collection and endowment.
The National History Museum of Los Angeles County ended 2019 by announcing a facelift for its Mid-Wilshire outpost, the La Brea Tar Pits. New York-based architecture film Weiss/Manfredi will lead the redesign, which includes a bridge across the lake pit, a new garden and an expansion of the Page Museum.
The remake, which is the first major update to the property since the Page Museum opened in 1977, has announced no end date. Museum officials predict the project will require five to seven years to complete. No further details have been revealed since the announcement of the project.
Meanwhile, stay tuned for 2023. Los Angeles County Museum of Art announced in December that its planned $650 million renovation, designed by Swiss architect Peter Zumthor, would move ahead after the Los Angeles City Council voted unanimously to allow the renovated building to cross Wilshire Boulevard. According to museum officials, the groundbreaking will take place early this year.
The Zumthor renovation, announced back in 2013, has run into community protest in recent years because the plan reduces total exhibition space.
Keep Reading: 2020 Year-Ahead Special Report
For reprint and licensing requests for this article, CLICK HERE.