SpaceX Ramps Up Constellation Efforts
Starlink project aims for global broadband service
Friday, February 28, 2020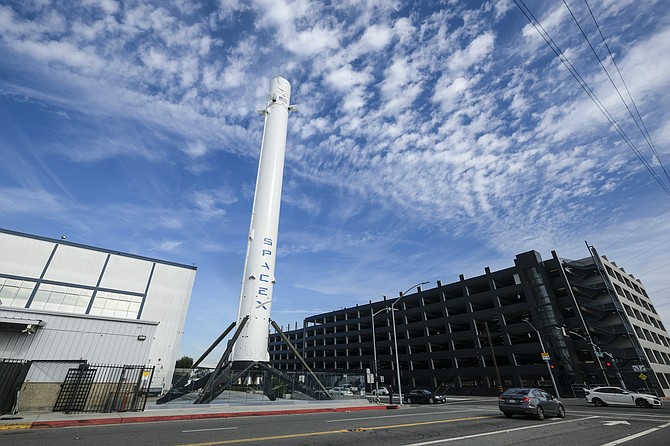 Since Hawthorne-based Space Exploration Technologies Corp. began its ambitious Starlink project in late 2018, the company has launched roughly 300 small satellites into low Earth orbit.
The effort is part of a plan by SpaceX Chief Executive Elon Musk to provide high-speed broadband service around the globe. The company plans a limited rollout of the service later this year.
The latest SpaceX launch, featuring a Falcon 9 rocket loaded with 60 small satellites, launched from Cape Canaveral Air Force Station in Florida on Feb. 17.
While the launch was successful, SpaceX failed to recover the Falcon's first-stage rocket booster, a setback for a company that keeps launch prices low in part because it's able to reuse hardware.
Prior to that February launch, the Falcon 9 booster had been used three times, SpaceX said. It was the first time since 2016 that the company failed to recover a booster.
The aerospace company also noted that while it had to abandon the boosters it will try to recover the rocket's nose cone.
By launching the satellites on a Falcon 9, which is nearly 230 feet tall and 12 feet wide, SpaceX can cram large payloads into a single launch.
The 60 satellites weighed roughly 570 pounds each, the company said. That's nearly half the size of the average small satellite, which can weigh up to 1,100 pounds.
The Starlink mission began launching satellites in May and is "targeting service in the Northern U.S. and Canada in 2020, rapidly expanding to near-global coverage of the populated world by 2021," SpaceX said on its website.
According to paperwork filed in October with the International Telecommunication Union, the United Nations' radio-frequency oversight board, SpaceX plans to launch up to 42,000 satellites to complete the mission.
The ITU and the Federal Communications Commission need to approve this expansion before SpaceX can add to its constellation.
Musk has said the Starlink mission could become operational with only 1,000 satellites, which would still give the company a sizable chunk of the working devices orbiting Earth.
According to the U.N. Office for Outer Space Affairs, less than 9,000 satellites and man-made objects have been launched since the space race began in 1957.
Musk's ambitions have worried some astronomers and satellite operators who say 42,000 satellites could make low Earth orbit far too crowded.
Astronomers from the Cambridge, Mass.-based Harvard-Smithsonian Center for Astrophysics said in a May report that satellites launched in bulk could obscure parts of the night sky from even the most powerful telescopes.
SpaceX says it is working to reduce the amount of light pollution its satellites create, in part by adjusting their solar panels once they are in orbit and painting them darker.
"It seems that once the Starlink (satellites) point their solar panels at the Sun properly they are significantly fainter," Harvard-Smithsonian astronomer Jonathan McDowell wrote on Twitter. "That is still brighter than we had expected and still a problem, but somewhat less of a sky-is-on-fire problem."
SpaceX's satellites aren't the only ones responsible for light pollution in space, and more competitors are looking to launch their own versions into orbit soon. Amazon.com Inc. Chief Executive Jeff Bezos revealed in April that the company is planning its own constellation, called Project Kuiper. The constellation is registered with the ITU and will consist of 3,236 satellites when completed. Bezos' rocket launch firm Blue Origin will help facilitate the launches.
Canadian telecommunications firm Telesat is also working on a low Earth orbit internet satellite constellation, aimed at a 2022 launch.
SpaceX hasn't yet disclosed how much Starlink will cost monthly subscribers, but Musk expects his plan will become a large revenue driver for the company and generate up to $50 billion annually.
Musk told Space.com in May that "total internet-connectivity revenue in the world is on the order of $1 trillion (annually), and we think maybe we can access about 3% of that, or maybe 5%."
One of SpaceX's potential first customers is the U.S. military. In December 2018, the Air Force Strategic Development Planning and Experimentation Office awarded SpaceX a $29 million contract to test the military applications of Starlink.
In a May interview with SpaceNews.com, SpaceX Chief Operating Officer Gwynne Shotwell said, "This is a very different business for SpaceX; it's leveraging space technology, but it's a consumer business."
Shotwell added that she considers Starlink "additive to our business," and noted it isn't expected to replace launch revenue, which SpaceX reports totals roughly $3 billion per year.
For reprint and licensing requests for this article, CLICK HERE.