CUSTOM CONTENT: Uribe Joins Infogen Labs as Special Advisor
Dr. Betty will help drive innovation!
Monday, February 24, 2020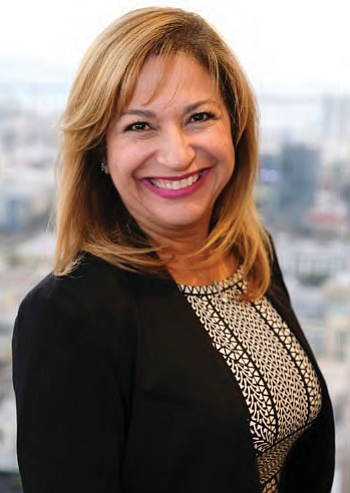 Dr. Betty Uribe is joining Infogen Labs as a special advisor to help drive innovation.
Dr. Uribe — a member of the Business Journal's LA500 as one of the most influential people in the Los Angeles business community — also plans to focus on her burgeoning Dr. Betty brand, which spans speaking engagements, consulting and philanthropic work.
During her tenure at California Bank & Trust's Irvine corporate office, Dr. Uribe fashioned the bank's Greater Southern California Division into a $6 billion line of business. Dr. Uribe's value-driven leadership has won her international acclaim as both a shrewd corporate strategist and a leading voice in female and minority empowerment. Just six months after arriving at CB&T, Uribe set aside $500 million for lending to women- and minority-owned businesses.
The unit increased its year-over-year pretax profit growth from 3% to more than 37% in four years under Uribe, and California Bank and Trust was voted best bank in Orange County six years in a row.
Her best-selling book, "#Values: The Secret to Top-Level Performance in Business & Life," has been endorsed by leaders at the U.S. Federal Reserve and the Vatican. Monsignor Giacomo Pappalardo called it "a book every reader in the world must read," according to her website.
In addition to her extensive banking career, Uribe is a longtime entrepreneur, coach and award-winning author. She holds a doctorate from Pepperdine University in organizational leadership.
"I have always felt that innovation is the key to success" Uribe said. "When the executives at Infogen Labs approached me for guidance on developing the key strategies to help companies in the U.S. innovate, I realized that they shared values very similar to what I held."
Infogen Labs has built a strong global team comprising highly skilled engineers, architects, technologists and project managers. The team has delivered exemplary technology solutions embracing cloud computing (AWS, Azure), SaaS solutions (Salesforce, Service Prime) and core technology innovation (AI, AR, VR) for its partners and mid-market customers.
"When we met Dr. Uribe, we realized that her vision and exceptional network would help us not only grow, but inculcate an organizational culture that is conducive to driving innovation," said Sanjeev Kuwadekar, CEO of Infogen Labs.
"We are all very appreciative of the significant contributions Dr. Uribe made in her role as a senior executive," said Dr. Subbu Murthy, Chief Strategy Officer at Infogen Labs. He added, "Her strong dedication to helping companies thrive on technology innovation will help us bring products and services to the five verticals we serve: construction, education, financial services, healthcare and public agencies."

Infogen Labs was founded on core values of employee empowerment and wealth sharing to create a company that has one of the lowest attritions in the highly competitive technology landscape. Values were also key to Uribe's own story — a riches to rags to riches again journey that saw a young Colombian girl from a wealthy family become a poor immigrant in the United States before rising to the C-suites of corporate America, a very similar story to the journey of the founders of Infogen Labs.
"We are very proud to have Dr. Uribe as one of our principal advisors. Her guidance and extensive network will propel our growth and retain the core principles that (are) so dear to her," added Kuwadekar.
For reprint and licensing requests for this article, CLICK HERE.