Skechers Tops Expectations for 2019
Footwear manufacturer passes $5 billion in revenue during 'milestone year'
Friday, February 14, 2020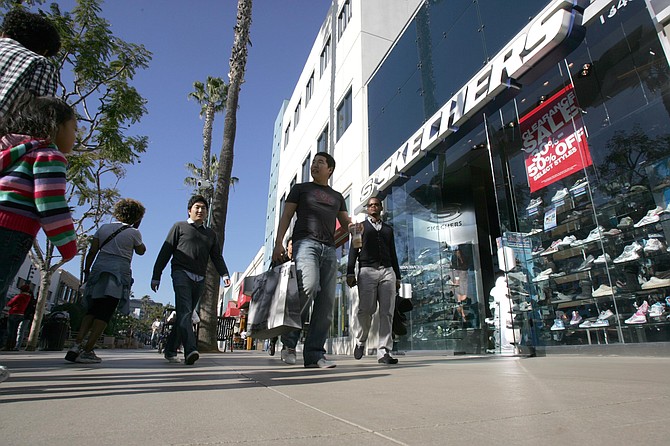 For Skechers USA Inc., 2019 was a "milestone year," according to Chief Operating Officer David Weinberg.
The Manhattan Beach-based footwear manufacturer and retailer surpassed $5 billion in revenue and set records in each quarter last year, Weinberg said.
Better-than-expected sales in the fourth quarter helped drive annual revenue to $5.22 billion, a 12.5% year-over-year increase, and delivered net income of $346.6 million, a 15.1% gain.
"Typically, the fourth quarter is our smallest quarter of the year, yet it was the second highest in our history, with net sales of $1.33 billion, a 23.1% increase," Weinberg said during an earnings call with analysts earlier this month.
The company's international businesses led the growth, accounting for 59.3% of its total sales in the quarter, and 57.9% for the year. Its domestic wholesale business increased 10.4% to $295.9 million for the quarter, lifting annual totals to $1.25 billion, or 1% below the 2018 results for the segment. Skechers' international wholesale business was up 32.8% to $638 million for the quarter and for the year up 19.8% to $2.462.
"With our strong backlog and growing direct-to-consumer business, we are extremely optimistic about 2020 and beyond," Weinberg said.
So, what is Skechers doing right?
"The bottom line is, they got some trend-right product, they do a great job in the key price points that they're in and channels that they're in, and they've got a global growth story," said Christopher Svezia, an analyst with downtown-based Wedbush Securities. "So that translates into very strong topline growth."
More stores
Skechers' direct-to-consumer segment — which includes ecommerce and sales generated at 3,547 stores ― was up 19.4% to $396 million for the quarter. It contributed $1.5 billion to the annual revenue, or 13.7% more than in 2018. Domestic same-store sales increased 10.3% for the quarter while international same-store sales were up 8.8%.
The company operated 497 stores in the United States in 2019 and plans to open an additional 75 to 85 this year.
"We are cautious about how and where we open stores," said Chief Financial Officer John Vandemore. "We don't keep unprofitable stores, by and large. … The stores we're opening right now are our big-box format. They're a family solution that offers the whole range of the product. … Obviously, we don't feel like we're fully penetrated in the United States. We feel like there's significant room to run. And again, with the advantageous (lease) rates we're seeing … these will be profitable locations."
Vandemore added that Skechers is "not chasing what seems to be a deteriorating marketplace here in the United States."
Instead the company is focusing on smaller cities and stand-alone locations that "don't require the same sort of turnover as you do in some of the malls we've been in," he said. "So, when you put the economics together with the isolation in some of these territories, it's worked very, very well for us."
The company is also investing in ecommerce, with plans to "replatform our site in the U.S., and then we will take that out across the globe," Vandemore said, adding, "we're also going to completely revamp our (point-of-sale) system for our existing store base so that it will have greater functionality and interoperability with our online account."
Skechers' international footprint consists of 3,050 stores, of which 2,747 are owned and operated by its international distribution partners, joint ventures and a network of franchisees. This year, it plans to open 600 to 700 stores, of which 40 to 50 will be company- owned stores, including 15 in India.
China impact
The cheery outlook is marred by concerns over the spread of the coronavirus. About $850 million of Skechers' 2019 sales came from China. The country also produces a "little less than a half" of Skechers' merchandise although "a big piece in that production is China for China," according to Weinberg.
"We are set pretty much for first quarter with the production that's available, with … what's on the water and even some things that we pushed some of our factories to make before Chinese New Year that they didn't have a chance to ship, that they will now be shipping as soon as they get in for the quarter," he said.
"I don't think there's a significant amount that's at risk for first quarter. April is not a big month for us, so we're waiting to see what happens. We certainly would need more production as we get all the way out to June, but it's kind of early to go through that whole scenario," Weinberg added.
For reprint and licensing requests for this article, CLICK HERE.