Bernal Capital Bullish on Hollywood Market
Skye Urban unit will create 18 single-family homes
Friday, February 7, 2020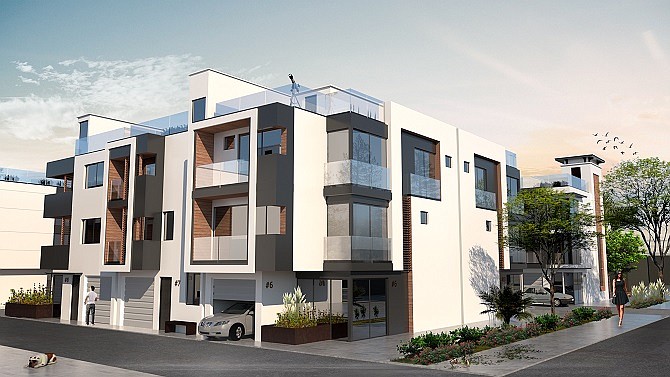 Hollywood may be a hotbed for multifamily development, but one developer is betting on demand for single-family homes in the area.
Bernal Capital Group's small-lot development team, Skye Urban Home, has announced plans for Skye Lexington, a project to create 18 single-family homes in Hollywood.
The development is at 6517-6533 Lexington Ave.
Skye Lexington is the group's third project in the neighborhood, following Skye Hudson and Skye Curson.
Local architect Farzin Maly is designing the project. Raimondo Construction Co. Inc. will be the contractor for the project.
Albert Bernal, managing member at Skye Urban Home, said the company loved the area and product type.
"There's a demand for entry-level,
single-family housing," Bernal said. "There are thousands of apartments being built but very few single-family homes."
There are 5,000 rental units coming online in the area in the next few years, but Bernal estimated that only around 150-200 are single-family homes.
Bernal added that most of the multi- family units being built were more expensive offerings, with costs that are comparable to those for mortgages on single-family homes.
While the exact price of homes in the Skye Lexington community has not been announced, Bernal said they would likely be in the $1.1 million to $1.2 million range.
The community will not have the same amenities as in the multifamily buildings being constructed nearby.
"We are building a community within the neighborhood right now. But with small-lot subdivision, there is not a lot of extra room for pools or parks," Bernal said.
Nearby, Reliable Properties has filed plans for a rental unit complex with 412 units at 5525 W. Sunset Blvd. The group had previously received entitlements for a 293-unit complex at the site. The project would replace a commercial building and parking lot. It would also have at least two restaurants and a grocery store.
Also nearby, at Sunset and Western Avenue, American Commercial Equities filed plans for a 735-unit apartment complex. The site will also have 96,000 square feet of ground-floor commercial space and parking for up to 1,400 vehicles.
Bernal said he was confident that there will be strong demand for Skye Lexington given the influx of new employees to the area. About 15,000 high-wage jobs are coming to the area, and the population is predicted to grow 100% by 2022, according to Bernal. Companies like Los Gatos-based Netflix Inc. have been leasing large amounts of space in Hollywood.
The streaming giant has preleased 355,000 square feet at Kilroy Realty Corp.'s Academy on Vine at 1341 Vine St., as well as Hudson Pacific Properties' 13-story Epic development at 5901 Sunset Blvd. The company already leases part of the Sunset Bronson Studios from Hudson Pacific.
More projects are likely ahead for Skye Urban Home, which Bernal said is especially bullish on the Hollywood and Culver City markets.
A Small Lot Subdivision Ordinance was introduced in L.A. in 2005. It reduced minimum lot sizes with the goal of making it easier for developers to build single-family homes in dense areas.
Small lot subdivisions, proponents say, allow for a path to homeownership in L.A.'s expensive real estate market.
For reprint and licensing requests for this article, CLICK HERE.