Affordable Complex Set for WeHo
Wetherly Palms will replace parking lot, create 100 units
Friday, February 7, 2020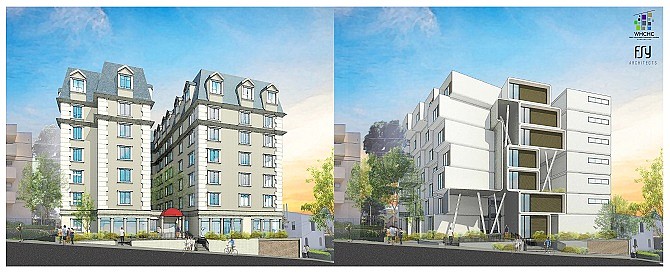 The nonprofit West Hollywood Community Housing Corp. has announced plans to build a 100-unit affordable housing project.
The project, dubbed the Wetherly Palms, will be at 910 N. Wetherly Drive in West Hollywood.
"Wetherly Palms is exactly the type of apartment community that is supposed to be here," WHCHC Chairman Karl Lott said in a statement. "In addition to affordable housing, it offers the opportunity for us to provide workforce housing to the 'missing middle.'"
The project will replace a surface parking lot.
"Opportunities like this are incredibly rare," WHCHC Director of Real Estate Development Matt Mason said in a statement. "There is no tenant displacement, no environmental remediation and no historic preservation. The existing surface parking lot is a nonconforming use in an area zoned for high-density, multifamily residential housing.
"Wetherly Palms is consistent with West Hollywood's general plan and advances the city's long-standing commitments to preventing homelessness, providing affordable housing and enabling aging-in-place," Mason added.
Once completed, the project will have a mix of unit types, including studios and two-bedroom options. Amenities will include a community area, fitness room and on-site social service providers.
The project will be designed by FSY Architects Inc. There are currently two conceptual designs — one with a more contemporary style, and one with a more classic look. The building is expected to stand seven stories tall.
The WHCHC said it is aiming to start construction in March 2021 and be ready for residents to move in 18-20 months later.
Founded in 1986, the WHCHC now houses more than 800 residents in 17 affordable apartment projects and has six projects in development.
For reprint and licensing requests for this article, CLICK HERE.